I suddenly feel hungry so i shall blog about food today. Since i'm already procrastinating by playing spider solitaire instead of writing PA essays, might as well just relent on this slightly more productive activity called blogging.
Ahh... missing Korea's food the most. :/ I can share with you guys how it all tasted like but it will only be by memory. ://///
Let me tell you one odd fact from our trip to Korea - our first meal there wasn't Korean food. It was Kebab, a Turkish cuisine. After flying for many many hours in the air, by the end of the day we reached the destined location in Korea and we decided to dine in on some Turkish cuisine. Odd.
My tummy didn't mind though.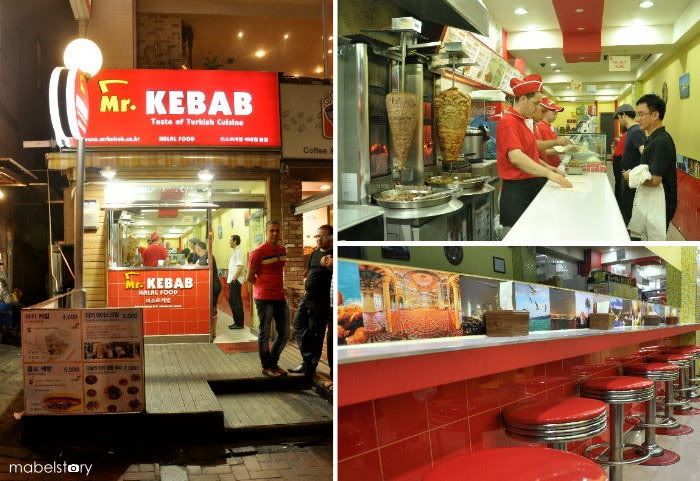 #1 "Taste of Turkish cuisine."
#2 Stephanie and BoonJin explaining the itinerary for the following day. 3 kebabs shared among 6 people.
I think i didn't mention that this was actually our supper - "Light" supper at around 2245hours (GMT +9).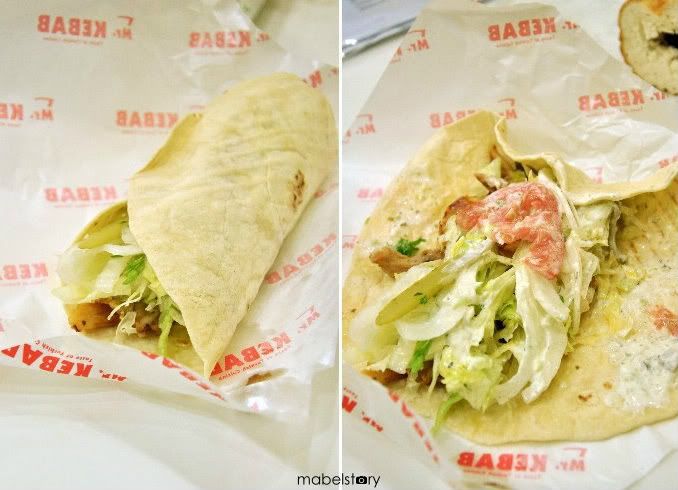 #3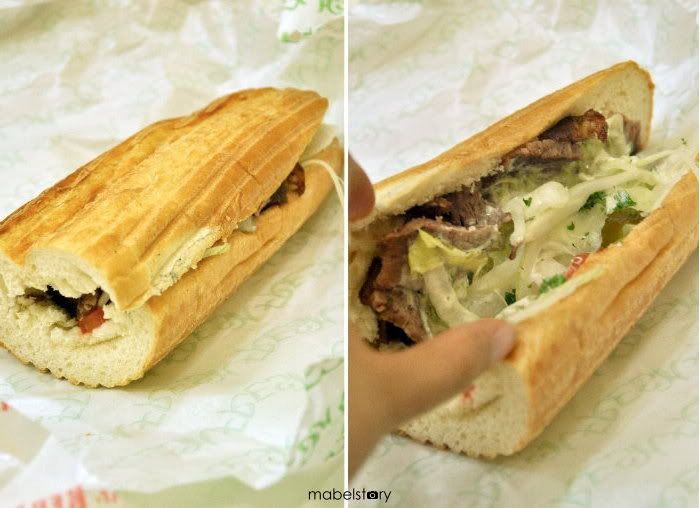 #4
You can also get Kebab locally in Kuala Lumper (KL) as well.
Destination : Kebab at Sultan Turkish Kebab House
Direction : 127-28 Itaewon-dong, Yongsan-gu, Seoul
Phone : 02-749-3890
Price : 3,000won (MYR 9.00)
Rating : 6/10
Comment : Minus the hunger factor, it tasted pretty good and filling.
#
Kebab definitely wasn't enough to keep our tummies filled for the night so we headed out randomly around our hotel area and stumbled upon this small restaurant along an alley.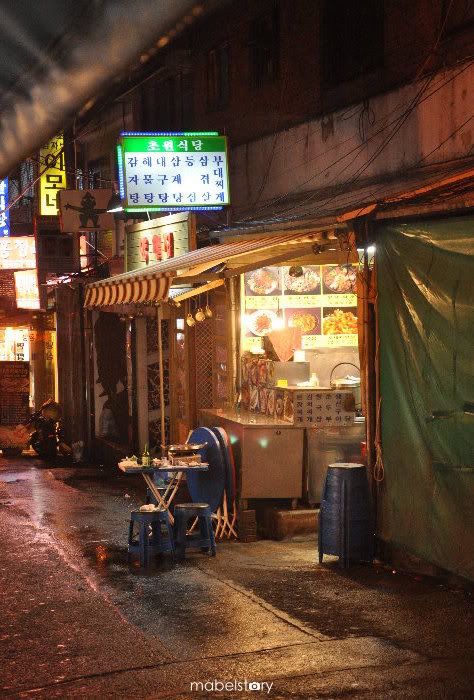 #5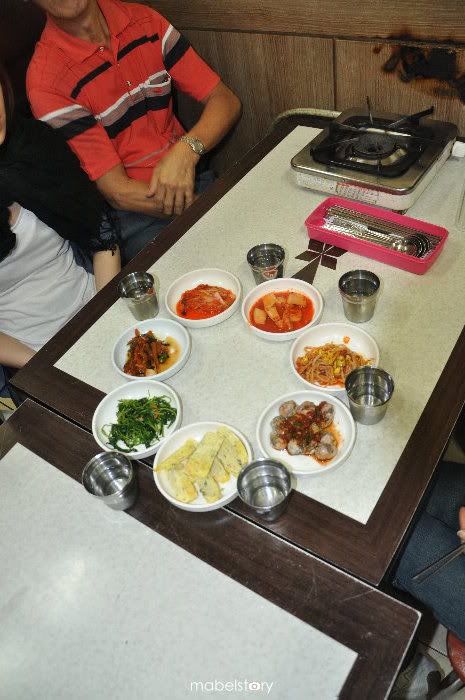 #6
That night was our first encounter with a Mandarin speaking Korean. She was the owner of the shop and her fluency in the language made it easy to place our orders. No actually it was easier for my cousin since she was good in Mandarin. It wouldn't make any difference if i, the banana, made the orders.
The funny thing that happened was when she served us with those little plates of food (as seen in the picture above), we declined the offer because we wanted to save some money lah. My cousin even reminded her that we didn't order these stuffs. But the lady ensured us those little dishes were actually free of charge!
Not because we were tourists but it was actually something like those containers of
cili padi/cili jeruk
you sometimes find lying around tables in our local hawker food centers, yeah those that just sits by the table longing for someone to eat them. Those are definitely free 'cause you can just order a beverage and simply put all the
cili jeruk
you want and they won't charge you extra. Same case with these Korean 'side dishes'.
Not that i'm suggesting you should put these dishes in water lah =.=
#7 All the food were cold. Literally coooool. They were 'fresh' from the refrigerator.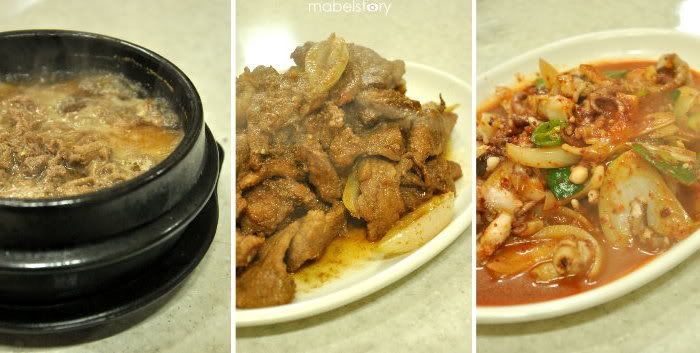 #8 Tried out three of their home-made dishes : (from left-right) Beef soup, beef with onions, spicy seafood.
The beef. Oh my goodness. The beef!
So dang good!!! For those who doesn't take that particular meat, you are definitely missing out a lot!
Oh so tender, so soft, so gooooooooood! One bite will leave you craving for more!!!
Like what
Kimberly
would say,
"....literally jeez in the mouth!"
Destination : Restaurant by the alley.
Direction : Around Hamilton Hotel, Itaewon.
Phone :???
Price : ???
Rating : 8/10
Comment : Loving the genuine taste of home-made Korean food. I couldn't give it a 10/10 because i don't know how to rate seafood - not a fan of those dishes.
#
Within the our 5 day trip we definitely had a lot of chance trying out Korean snacks.
#9 Deep fried with red bean paste as filling, coated with a lil bit of sugar. It had a very very thin crust.
Destination : One of the stalls in Namdaemun market.

Direction : train : Itaewon > Samgakji(line6>4) > Hoehyeon staton (15min, 5stops)

Phone :???
Price : ???
Rating : 2/10
Comment : The paste filled up about two-fifth inside and it is very very oily. Nothing very fascinating as it is similar to one of our local kuihs... except that ours had a thicker crust with sesame seeds on them instead of sugar. The two points goes to its fine crust and the fairly sweet paste within.
#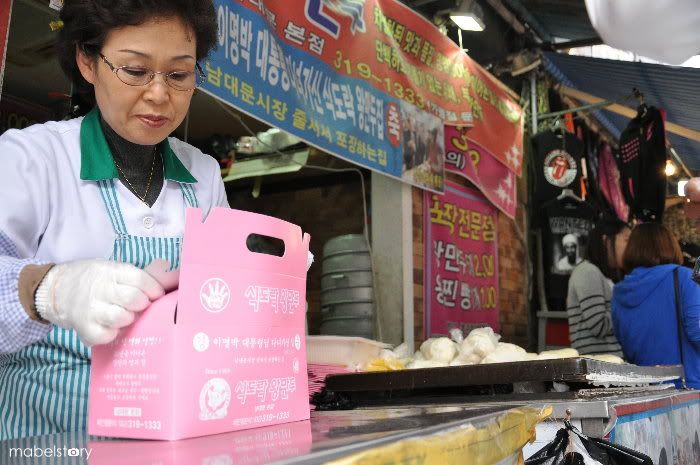 #10 A pao shop. I think we ordered one with red bean paste.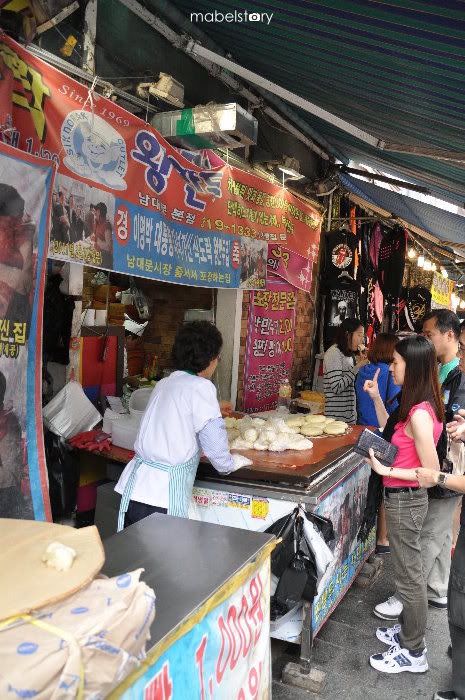 #11 Ordered one only because we wanted to leave our stomachs for a better meal.
Destination : One of the stalls in Namdaemun market.

Direction : train : Itaewon > Samgakji(line6>4) > Hoehyeon staton (15min, 5stops)

Phone : 319-1333
Price : ???
Rating : 4/10
Comment : My mother always tells me a good pao is one with filling richer than the dough. In this case, the volume of the filling wasn't enough.
#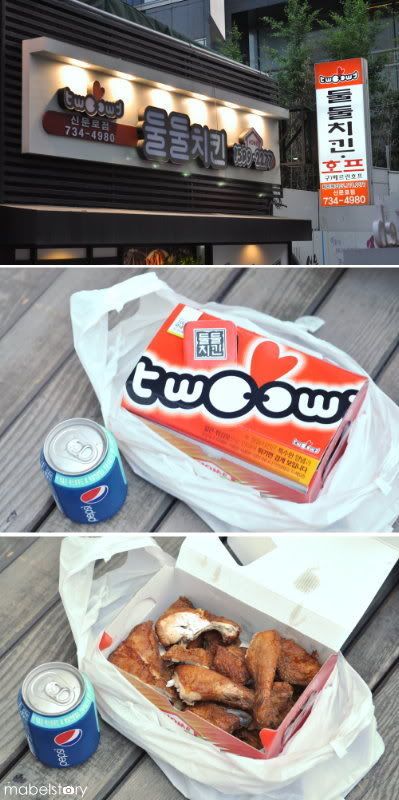 #12 Grilled, i think. Come with a free can of pepsi.
Destination : Twoot

Direction : train : Myeongdong > Tansfer at Dongdaemun history > Granghwamun station

Phone : ???
Price : ???
Rating : 6/10
Comment : Pretty greasy but it compensates the slightly dry meat.
#
#13 Sushi from a convenience store.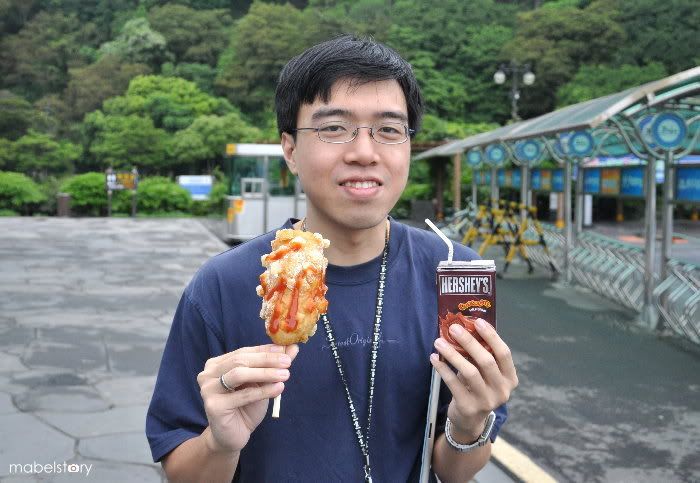 #14 Fried bun on a stick coated with potato cubes and white sugar topped with tomato/chili sauce. On the other hand was Hershey's chocolate drink.
Destination : Outside of the Jyeongbang falls entrance, Jeju Island.

Direction : Jyeongbang falls, Jeju Island.

Phone : ???
Price : ???
Rating : 5/10
Comment : The fried bun on a stick was something different. Wasn't something i would buy on a second time but it was good to try. I would recommend you share this with someone because it really was too oily to finish 'em all by oneself.
#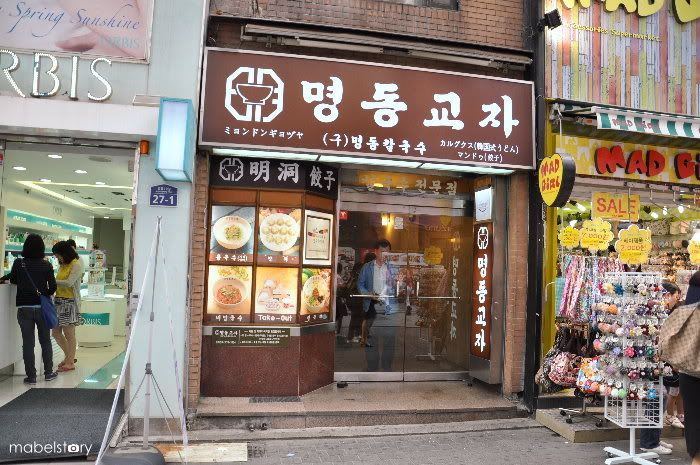 #15 Myeongdong Gyoza
.
#16 The recommended dish : dumplings. Dipped in some black sauce that tastes like soy sauce. It had minced meat (dunno what meat was it) with some sort of green vege.
Bought these to snack on while waiting for our plane in the airport.
Destination : Myeongdong Gyoza
Direction :
25-2 Myeong-dong 2-ga, Jung-gu, Seoul
From Exit 8 of Myeongdong Station -subway line no.4- , proceed between La Bellavita (coffee shop) and Crown Bakery about 150meters (you'll pass two intersections).
Phone : +82-2-776-5348, 3424
Price : ??? (credit card allowed)
Rating : 7/10
Comment : I am a fan of dumplings and i think they tasted pretty good. The additional black sauce made it taste even better but be careful with the greens, they are quite stubborn to the teeth.
#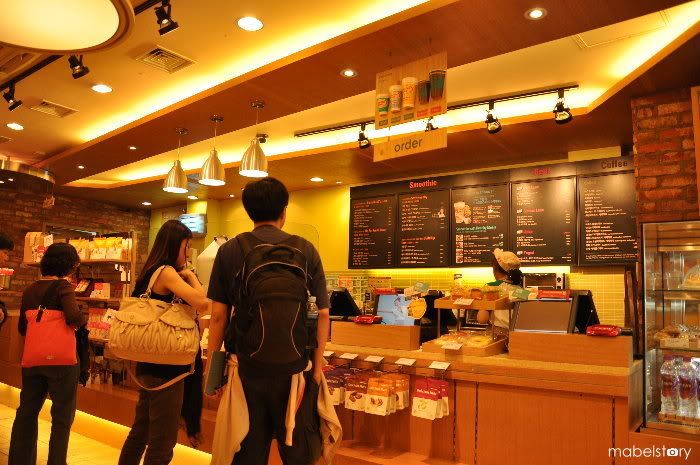 #17 Smoothie King makes custom-blended smoothies with real fruit, pure juices, and nutritional supplements. Pretty popular in the U.S.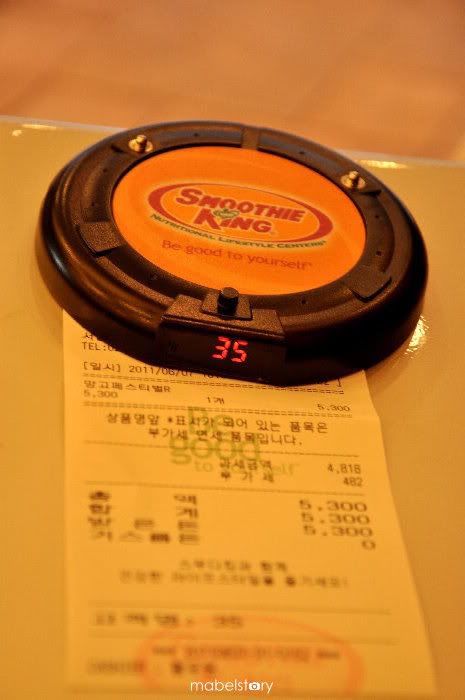 #18 Lining up with a buzzer. This thing vibrates when your order is ready.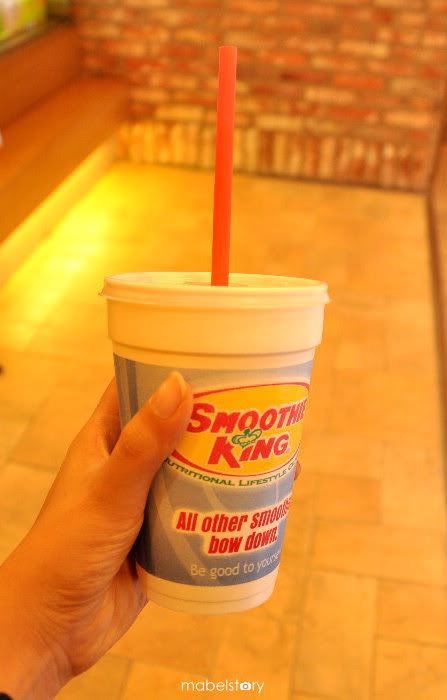 #19 Ahhh smoooooothie!
Destination : Smoothie King.

Direction : Myeongdong street.

Website : http://www.smoothieking.co.kr/
Price : Around 5,000won (MYR 15.00)
Rating : 6/10
Comment : Pretty good for a smoothie, but not good enough to have me remember what flavor it was.
#
#20 BBQ honey chicken. Or was it pork???
Destination : Outside of Seongsan Ilchulbong Peak [UNESCO World Heritage]
Direction : Jeju Special Self-Governing Province Seogwipo-si Seongsan-eup Seongsan-ri 114
Phone : +82-64-710-7923
Price : ???
Rating : 7/10
Comment : The meat was tender and the generous amount of honey compliments it very well. It was so good you don't feel like sharing. But then the honey drips.. so there goes your jeans.
#
And this is my favorite, the ice cream from Myeongdong street!
#21
#22 Layers! Bring it on!!!
#23 Super tall!!! (both the consumer and the product. Hehe.)
Destination : Myeongdong street.

Direction : Myeongdong street.
Phone : ???
Price : 1,500won (MYR4.50)
Rating : 9/10
Comment : This is the most unsinful ice-cream ever! It has a rich milky taste with very minimal sugar content. The layers just made it the winning snack of the trip! I usually dislike vanilla but this had a stronger milk flavour in it! The chocolate tasted just as good!!! And the price is very reasonable! If only they replaced the wafer cone with the waffle type, then it would have been PERFECT.
#
Another one of my sinful favorites.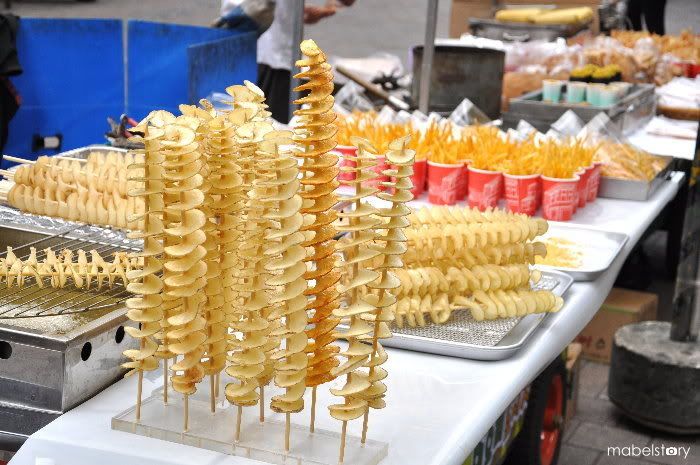 #24 Twist potatoes!
#25 This is how they made it. They use gloves! So hygienic! Really unlike the local ones :/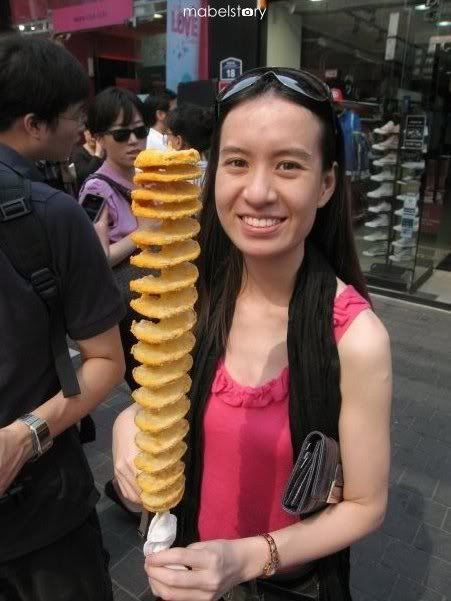 #26 Look at the layers!!!
It had cheesey seasoning powder by the sides of the spiral.
Destination : Myeongdong street.

Direction : Myeongdong street.

Phone : 02-965-5887 ~ 8
Website : http://www.twistpotato.com/eng/main/main.php
For more info : http://www.twistpotato.com.my/
Price : 1,000won (MYR 3.00)
Rating : 9/10
Comment : Oily but not too oily. Crispy. Tasty. Crunchy. A snack you would definitely wanna share because the faster you finish, the more you can buy.
I found the same product in the local night market (Bercham, Ipoh) and it wasn't good AT ALL. Too much oil and flour which creates an uneven texture to the layers. They were a lil heavy on the seasonings also, plus most parts had a very dark color to it (unlike Korea's) and had the burnt bitter taste. Moreover, to make things worst, the ones here are more expensive too! Bleh... Not good at all. Korea does it BETTER!
#
To be continued the next time when i hunger for Korea's food. :P
Kay bye!