A few days ago, we were mentioned in an article of the Star here :
link
.
Today.....
Weeeeeee are the champions, my friends!
Proudly presenting the winning team : SPLOOSH from St Michael's Institution of Ipoh!
#1 - Clockwise from the upper left : HengJian, Tracy, Jane, Kelly and Me.
This is the video that my team submitted for the NiE Video Competition 2011.
Embed from here : link.
And this is the blooper video. Contains quite a number of inside jokes you may not understand.
Embed from here : link.
To begin with, this competition was presented by the STAR-NIE and Pizza Hut in cooperation with the Ministry of Education. You can check out more about it here :
link
.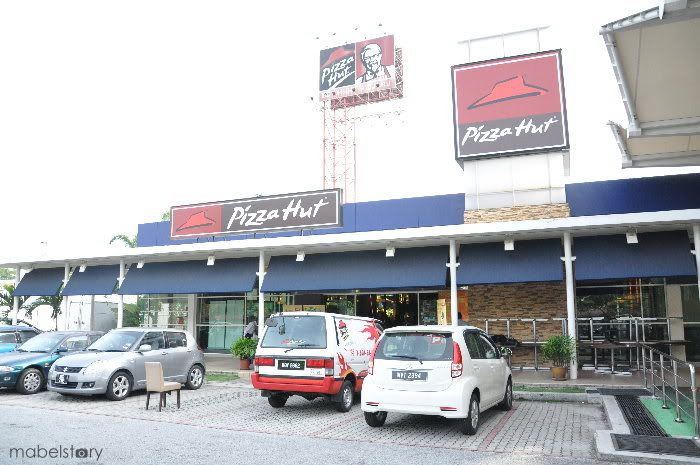 #2 - Pizza Hut, Kota Damansara.
I don't even know where to start or what am i supposed to write here! If you'd ask me how i feel right now, i'd give you a big, wide, smile showcasing my teeeeeeeth!
Okay here goes...
How did you guys pick up the topic - stereotyping?
By rule, the topic of our video had to be linked to our magazine submission; which was another section of the NiE competition. Basically the topic stereotyping began from our magazine. We actually came across this topic by accident from a conversation which began something like this:
Jane : I wanna write about fashion for my personal magazine!
Me: Good idea! It's something you like best! Maybe you can also say being shopaholic doesn't prove you to be a bimbo?
Jane : Yeah yeah! Just because i like branded clothings and dressing up doesn't mean i have no brains!
Tracy : Oh then i can write about people saying i have the looks and zero in the head. =.=
Me : Ahahahhaha! That will be interesting.
Jane : Eh then Heng Jian can be the vain metrosexual while Kelly is the NERD.
Me : Hmmm.. then how about me?
Jane : ...
Tracy :...
Jane : You're... normal. D:
Me : Oh no. D:
...The following day...
Me : KELLYYYYYY!!!! What stereotype am i????
Kelly : Huh?
Me : Jane is the bimbo, Tracy - looks with no brains, HengJian - the metrosexual, while you are the nerd. Me leh????
Kelly : *
thinks hard.
I'm sorry. You don't have one.
Me :
*calls for our first group meeting
. Okay peeps.. put your heads together and think of what stereotype am I?
...awkward silence...
Somewhere along the way while discussing for our own personal magazines, i suddenly thought why not have our group magazine revolve around the topic : Stereotypes - and walah! The topic based on our very own stereotypes ----- except for me because i don't have one, apparently. =_=
How was the making of the video?
We divided the jobs among ourselves. The following are roughly some of the basic things that we did:
1. Get organized. Know what should be done and identify each member's forte.
2. Discuss on what message to send to your viewers in relation to your video's topic. Then decide what events that are suitable to exemplify your main idea.
2. Plotting. Steal some inspiration from Youtube to get a general idea of what genre you would like your video to be (I recommend the
WongFuProduction
which i admire to the MAX!). Then get your creative engine going.
Kelly and I really got our heads cracking - she did the general plotting while i visualized them in the form of sketches in little boxes. Putting four stories together was tricky, plus we wanted to make a small twist in the end that would sort of speak out our main message. For me, drawing it out makes it easier to arrange your story properly.
3. Get approval. Share the final storyboard with the rest of the team members and the teacher adviser. Correct, improve and finalize the storyline.
4. Plan your setting. Decide on the location of your shoot. What to wear? Who are the actors? Plan your dates. Get your camera all set, a tripod on stand-by, along with some extra batteries and SD cards for emergency use.
5. Run through the scenes with your actors/actresses before shooting away! Kelly did a great job directing while I handled the camera (who else but me right *
sinister laughs
). All five of us were involved in the video because, well, we enjoyed acting. Then we had to get actors and actresses from outside our team who were Eva, ChinYoong, CheeGen & his team of basketball players because we needed more people.
6. Video compilation. Jane did the general compilation of the videos and she recommended us to use Videopad (a video editing software) and Audacity (an audio editing software) because these were user friendly and free.
7. The detailed compilation was done based on the storyboard that i sketched. We literally put all five of our faces in front of Jane's laptop while editing the video, together. Every second had to be precised.
8. Remember the rules and regulations. It was stated that the video had to be 3 minutes, so we kept revising and cutting unnecessary parts to limit the time. It was a very tedious work involving difficult decisions in selecting scenes to delete.
9. As for the audio, we had music and narration. We recorded the narration and selected two songs (which were merged together); edited them separately in Audacity before adding them into the video.
10. Save your file. Show your friends. Get feedback to see if they catch your main idea - that's the most important factor. If they don't understand anything, then decide what went wrong and make amendments, otherwise you'll have to start all over again.
How long was the process in making the video?
Kelly said it was less than a month. We had very little time because we only began on our project after our mid-year exam, which was about a couple of months away from the dateline. We took quite a long time making the magazine.
Initially, our participation for the video section was not even confirmed because some of us wanted to avoid the hassle and the extra stress.
Eventually, we found the magazine to be rather manageable so we decided to try out the video. I remember we had roughly about three to four weeks left before the submission date.
What were the difficulties that were faced?
1. I find the audio editing process to be very troublesome. Ask Jane and she'll tell you ALL about it. She had to sacrifice her sleep just to make the audio perfect!
2. It was quite difficult to select a narrator among us because we each had our personal favorite.
Teacher liked HengJian's voice while i preferred a female's over a male's. After all the recording and compiling, we had our first video with HJ as the narrator, but his voice was too low that we couldn't hear what was he saying at all.
So we had to re-audition our voices, select the best one which was Kelly's, record the narration, and then Jane did the editing and compilation once more. Verdict on final product - failed because there were some error in the pronunciation (or something like that).
And the process began all over again.
3. We also had a great deal of complications with Videopad.
What was/were your inspiration/s for the video?
For me, personally, i owe a BIG thank you to WongFuProduction for being SO INSPIRING! As for the group, we would agree our main concept of the video was inspired by one of PinkDot's production.
What hardware/software did you use?
We used the Videopad and Audacity for editing which i think you can search them out in the net. The video was shot with my Nikon D90.
Here are some pictures i took during our trip to Kota Damansara , before and after we received the results...
#3 - A group shot for the school magazine. That's our awesome teacher adviser. Don't ask me why Kelly posted like that.
#4 - After we received the award. We were literally jumping with joy.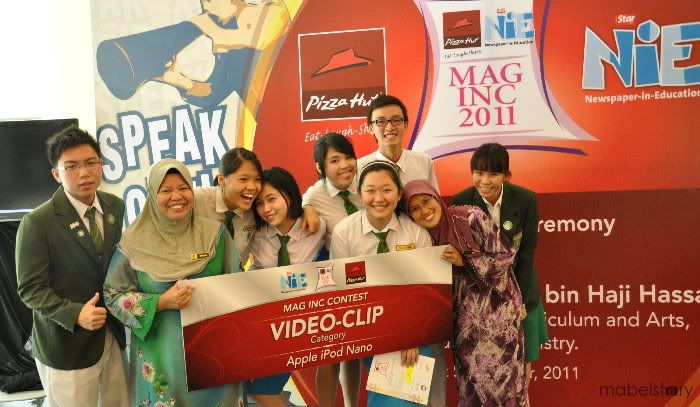 #5 - The two students in green blazers were the supporters from our school.
#6 - We received an Ipod Nano each! Plus a certificate and a RM100 pizzahut voucher each.
The experience was definitely worth it.
Any questions just feel free to ask me in the comments. Tell me if you have written a review on our video and i'll link your post up here! :D
Check out our team member, Jane's point of view! ( link )
And here is what another one of our member, Suet Yeng's view! ( link )
Read Kelly's write out for the school's magazine too. ( link )
Also, read the review by Kimberly Ong ( link )
and
Alex Morris ( link )
.
* * *
I would like to sincerely thank :
-PN SHAFINAZ for giving sufficient guidance and ample of positive support.
-KELLY, JANE, TRACY & HENGJIAN for being the best team mates ever!
-EVA, CHINYOONG, CHEEGAN & THE REST OF THE BASKETBALL TEAM MEMBERS for cooperating with us voluntarily!
-PIZZAHUT and THE STAR for giving us students the opportunity and the exposure.
(Thanks for the Ipod too!)
-and to THE SCHOOL for sponsoring our trip down to Kota Damansara!
P.s. : Thanks mum, thanks dad, for letting me buy my camera!! :')
See.. i made full use of it!