Bacon alert! Bacon alert!
WARNING : Incoming stimulus on your saliva glands! Be prepared to drool.
A gem that hides itself not, from the food lovers of Ipoh made itself very much loved by me who have fussy taste buds.
I'm serious.
Presenting to you "
IPOH"S first authentic American Wood Fire Pizzeria, serving the very best in American pizzas and foods.
" !!! Whoop!
#1 Nelson is to be blamed for infecting this love for Michelangelo's to me.
It's Michelangelo's Pizzeria we're talking about. How can any food lover not be besotted with their fresh-from-traditional-oven pizza?!
But on second thoughts maybe such frenzy is only valid for Ipoh motor-mouths lah. It has been around for quite some time now so if you're from Ipoh and still haven't tried it, then shame on you!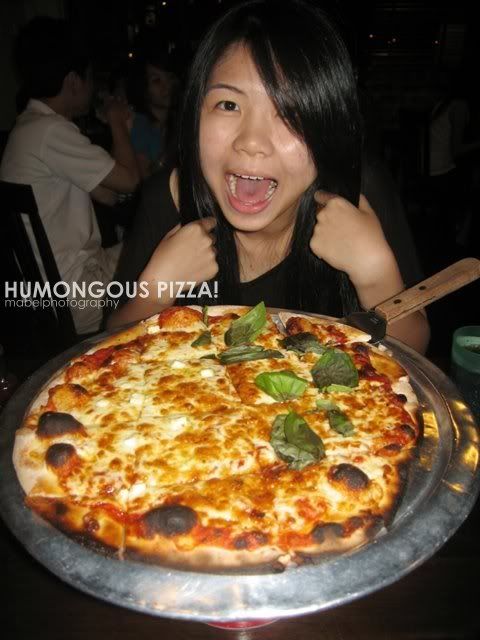 #2 Drool no more! Eat!
This
crispy crusted pizza
definitely beats the dough outta Domino's and puts the ones from Pizza Hut to shame. Though in terms of price you may debate that Domino's and PH's promotional coupons may assist them in winning more customers, i'd like to justify Michelangelo's to be worthy on the money spent, for they DO have REAL food compared to Domino's and PH's.
It all comes back to one's willingness to either spend on satisfaction in the stomach or on your taste buds. Decisions, decision. Juggle, juggle.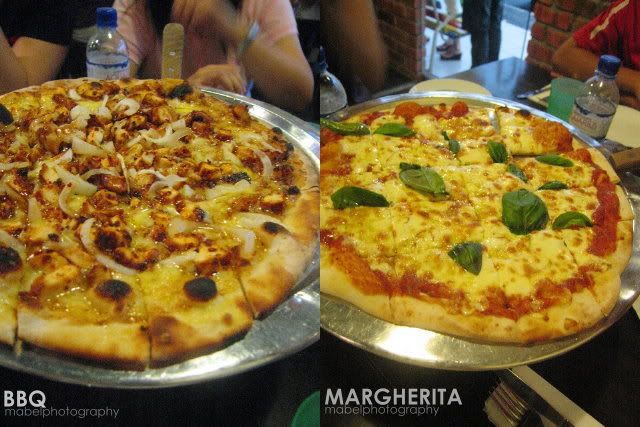 #3 Just to name a few.
BBQ (RM32.80) - Tangy BBQ sauce with grilled chicken and onions, topped with cheddar cheese.
If you're a fan of chicken, this one is highly recommended for you. However, some may find it to be slightly salty.
Margherita (RM25.80) - Simple and rustic, with fresh herbs, tomato sauce and mozzarella cheese, a classic favorite.
This one is MY classic favourite. Loving those green basil leaves that even meat lovers may flag this as a favorite. The herb is very well complimented by the cheese and the tomato teasers. *yum.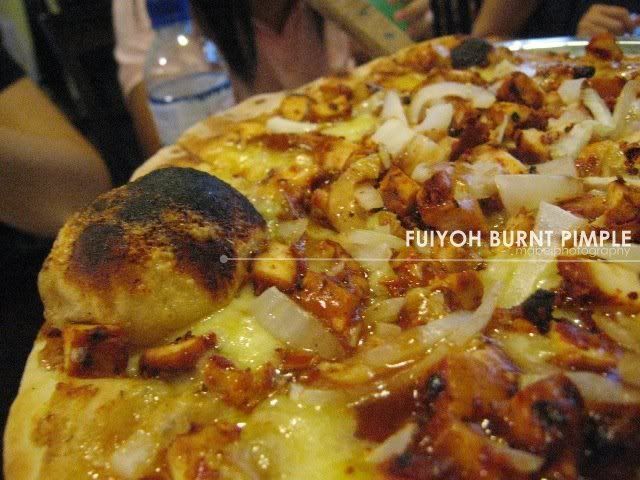 #4 A closer view.
Don't worry about the burnt parts. It is removable. It also serves as an authentic proof that it is "
baked at 750 degrees Fahrenheit in a wood-burning brick oven
", just as they claimed. You don't see such complexion on any of Domino's or PH's pizzas, don't you?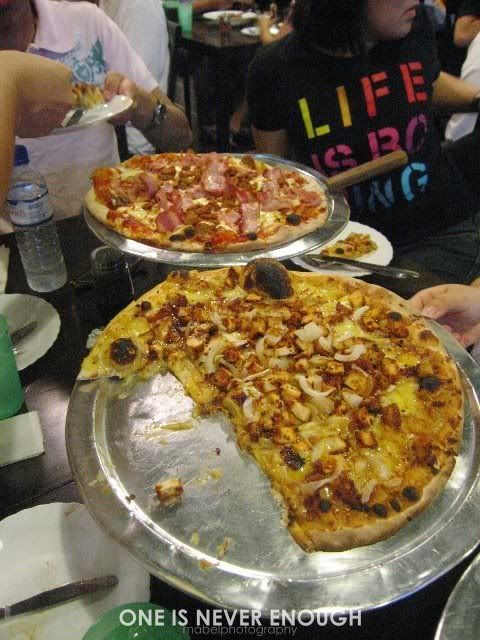 #5 The pizza at the back : The Hog.
The Hog (RM39.80) - Italian pork sausages, smoked streaky bacon and Virginia ham.
I found this to be just slightly less salty than the BBQ but the bacon strip is highly addictive! You may wanna watch those naughty fingers of your friend's from stealing them strips from your slice of pizza!
#6 Expression spotted by Nelson during my first dining experience there.
Need i say more? The FACE defines it all. *munch munch munch!
#7 It's the '3 Cheese' pizza!!! <3
3 Cheese (RM34.80) - Combination of mozzarella, parmesan and feta cheese, truly for the cheese lover.
Damn sinful, i tell you. But damn seductive lor this pizza. The only people who can forgive themselves for ignoring this pizza are those who are lactose-intolerant. I can almost feel their pain for missing such good food. ),: *grieves.
One bite on this cheeeeeeeese-heaven you'll be off with your calorie counting business while you dive into this indulgence. *grins. Don't worry, it is forgivable. HEHE.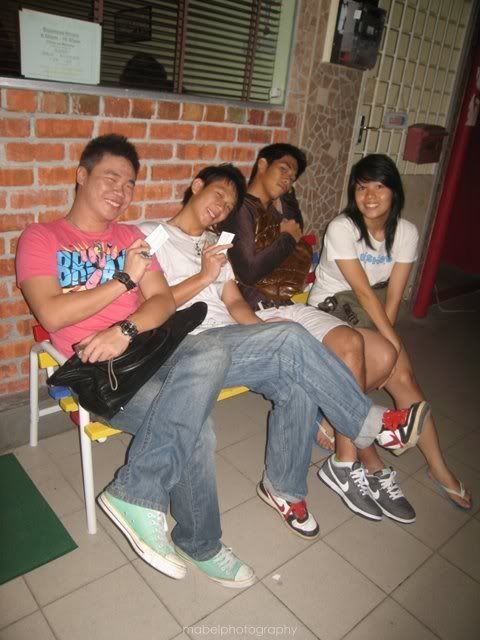 #8 Satisfied customers.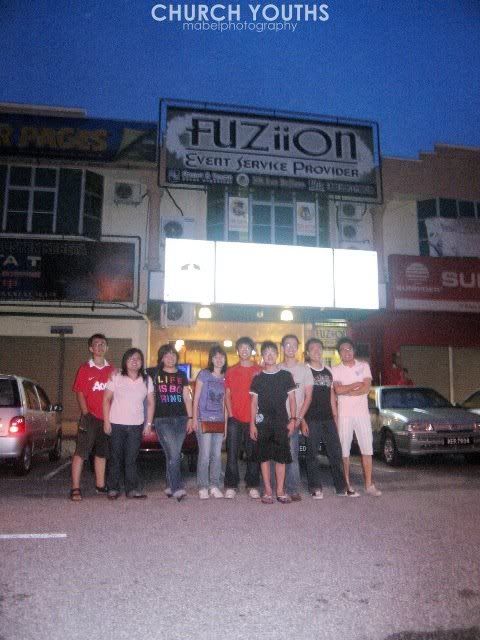 #9 Satisfied customers batch 2.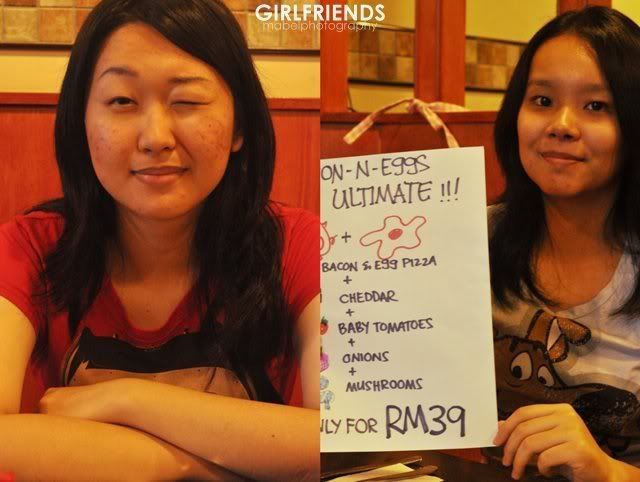 #10 Satisfied customers batch 3.
If my memory serves me correctly, i have gone to this food haven for six times now. The first four visits were all done in a week, with different groups of people.
It is only on the sixth time dining there did i actually got the chance to try out their other dishes. Such as this cheesy pasta!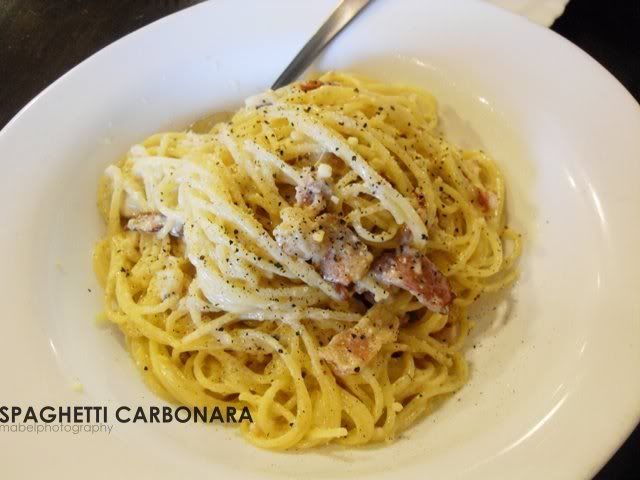 #11 Super love this please! Can take in 5 plates without guilt!!! If only i wouldn't get fat!! ):
Spaghetti Carbonara (RM22.90) - Spaghetti with tantalizing chunks of bacon bits cooked in a rich cream base.
Mm mm mmm! The bacon is love-ly. Very nicely cooked. It is so nice i feel that they should make one dish solely with/for that bacon only!
However, the creamy spaghetti is to be highlighted as well. Each bite on the creamy pasta is made perfect by a small chunk of bacon bit. With such generous amount on the spaghetti, i think a plate could cater for 2 to 4 diners.
Tip : Share it wth more people so you can try out other pastas. ;) And eat like kings!
If you're wanting to save on the cash, i would also suggest that you skip any fancy beverage and order the bottled water to be shared. You can request for cups filled with ice too. I don't think they allow outside food or drinks there.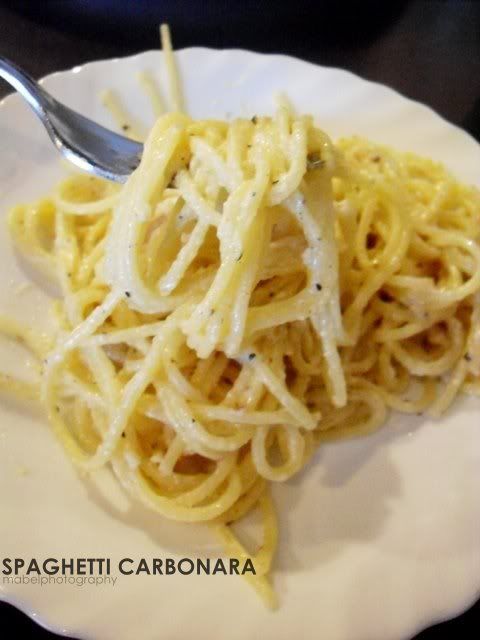 #12 A closer look.
We ordered the Caesar's Salad as well, because we were sure the spaghetti (shared among two) wouldn't be enough. It seemed like a good decision for both of us big eaters.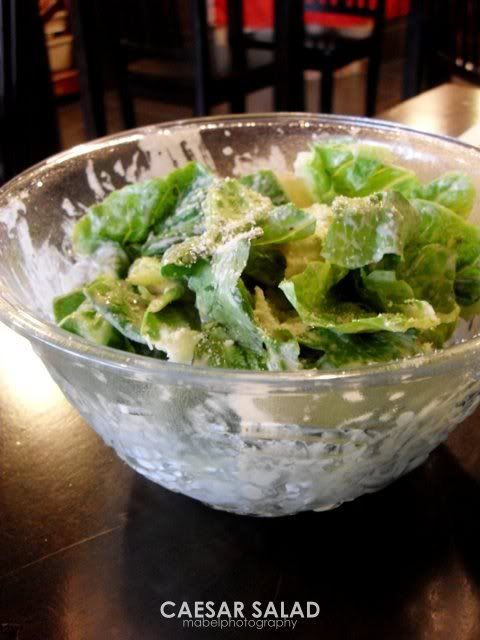 #13 Must have something green.
Caesar Salad (RM9.50) - Dressing made with real anchovies and olive oil.
Nothing special to me, maybe it is because they didn't have any cheesy creamy stuff in the recipe. Hehe. It was still nice though.
Sadly, we were wrong about our assumption of it being enough. It didn't fill our stomachs to a satisfactory level. :S
So we ordered the pizza.
We didn't expect our pizza to turn out... funny.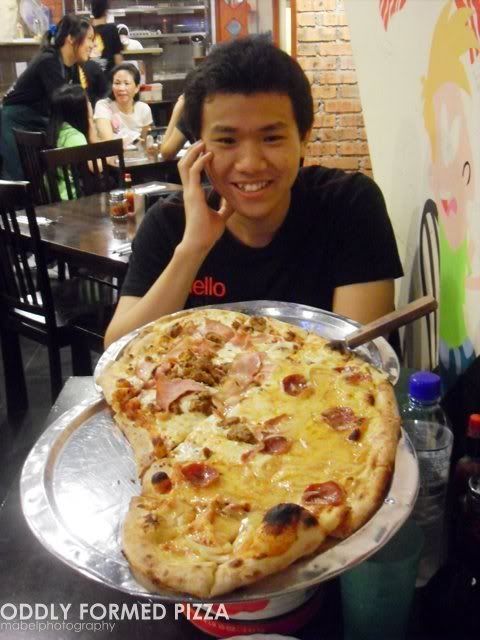 #14 LOL.
The staff apologized for the oddly shaped pizza but assured us it was still edible. Hahahaha. First time. It wasn't a bad thing though cause the shape made it look really huge; almost like the size of one and a half of a normal one.
The only con to it was that the other customers kept looking at our table. HAHAHA. I could only think of two possible thoughts that got them spying on us. 1) Wow that pizza is so ugly. 2) Wow two people eating a humongous pizza. Hahahah.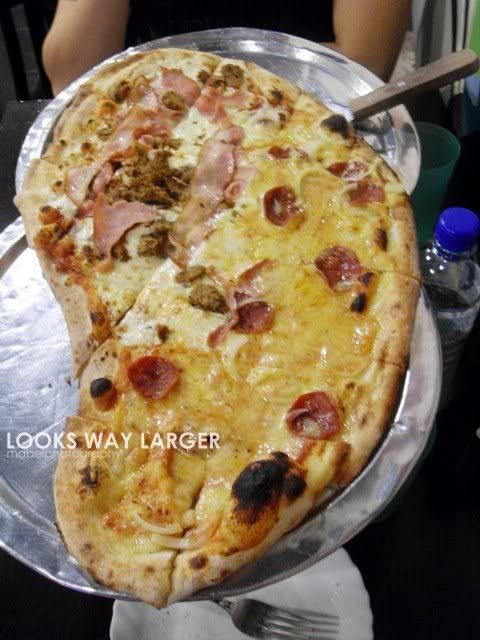 #15 The hog and 3 cheese.
It didn't matter because the pizza was still very delicious. And it was special because it wasn't in the menu. HAHAHA.
By the way, you can have two flavors to one pizza - each on one half. The price will also be cut in half.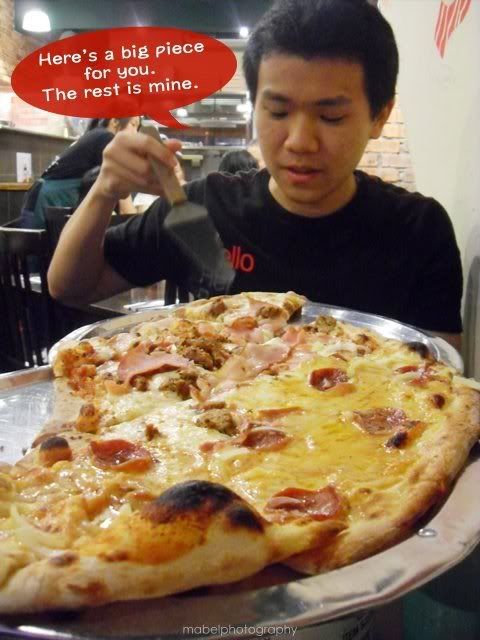 #16 Julian making the move.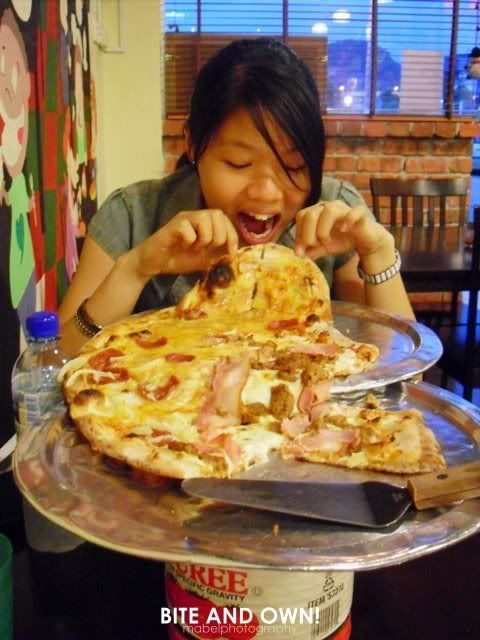 #17 Me countering his moves.
So do you wanna experience such american indulgence in Ipoh? Check out their facebook page
here
for new pizza specials available for a limited time only, or head to their website
here
where you can find their menu. Also, have a quick view on how they make their pizzas
here
.
From their website, you'll learn about how you can built your own pizzas. As for the price, it ranges between RM25 - RM35 for each pizza (excluding the custom made ones and the sides/appetizers).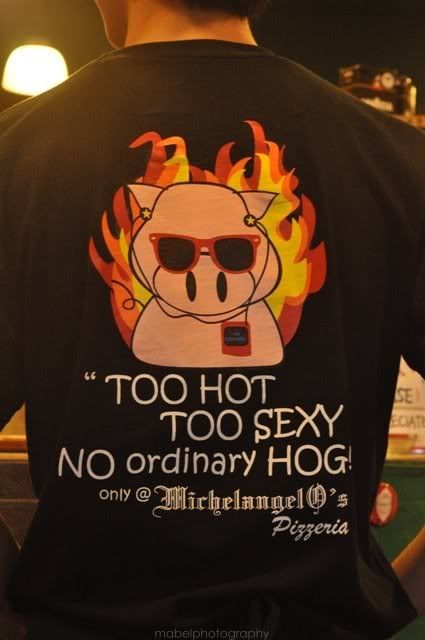 Business Hours : 6.00pm – 10.30pm daily, closed on Mondays.
No. 40, Jalan Medan Ipoh 1B, Medan Ipoh Bistari,
31400 Ipoh.
For takeaways, call
05-549 9099.
Please note they do not take reservations.
Note : This post was not sponsored and reviews are based on my first hand experiences.
P.s. : Do you know how painfully torturing it was to take pictures of the food while my starving level increases at each sniff on the aroma of ze food??? Talk about
starving
yourself to
feed
the camera. @@
* * *
Note : This section is totally unrelated to the glorious food above.
I find that the word
bimbo
is overly used these days, not because my tablemate has been casually using it for
teasers
, but just in general.
You may be surprised to find that the word
does
exist in the English dictionary. To be precise, you will definitely find it in the Macmillan Dictionary.
The last time i found reference on the definition of this word was from the net which refers bimbos as
beautiful, dumb, blond ladies.
I think i saw that from the urban dictionary - can't remember.
What i'm trying to point out is that most people are unaware of how insulting this word may turn out to be. Why? Because calling one a bimbo is equivalent to calling her stupid/dumb/
not very intelligent.
And when it comes to matters regarding intelligence, it is a sensitive issue (especially for girls who are clearly not stupid to understand what bimbo means).
However, when this word is used and referred to your own self, it is ironically considered to be sarcastic and perhaps a humorous too.
Just like how people use the f-bombs like nobody's business. And when exploded on another person's mother, the consequence may be deadly. People get angered by such speeches.
Funny how words go about stirring people's emotions. Funny how many are ignorant of such danger. Foolish are those who plays with such fire.