Adv: This is a sponsored post.
It is the taste from Paris, these lil french cookies! They're finally here in Ipoh and these little lovelies are incredibly addictive to some!
#1 Macarons, also known as Macaroons.
Here is what
wikipedia
says about macarons :
A macaron is a sweet confectionery made with egg whites, icing sugar, granulated sugar, almond powder or ground almond and food coloring. The macaron is commonly filled with buttercream or jam filling sandwiched between two cookies.
The one that i had didn't have any artificial food coloring. Instead, it had natural colorings from natural ingredients such as fruits.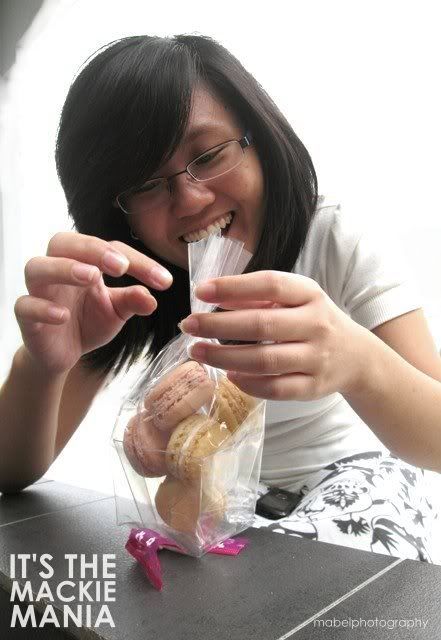 #2 Cute packaging huh? Easy to open as well.
#3 A close up on the mackies.
Y'know i haven't heard of macarons nor have i seen 'em before this. So at first i actually thought they were the size of a Big Apple Donut. Little did i know it was actually five times smaller than i expected! Say about 1" - 1.5" of diameter each.
Don't laugh at me please because i like to expect nice things to be big in portion=_= And i bet there are many other people out there who are as ignorant as i was towards its size.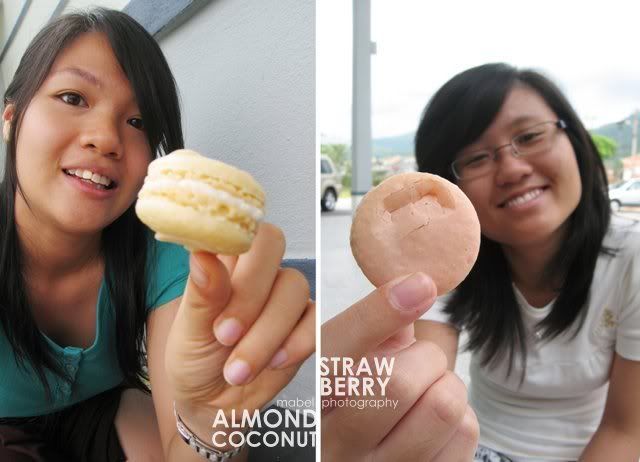 #4 Tried two flavours, the almond + coconut and the strawberry.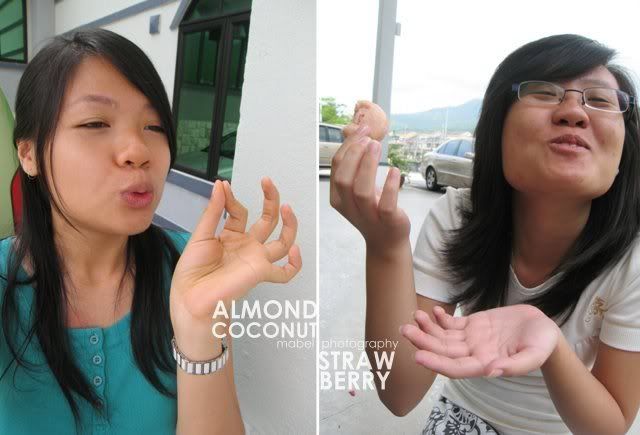 #5 Nom nom nom nom!
So here is our verdict with extreme honesty : Very Sweet.
It definitely lives up to it's definition for being
"a sweet confectionery"
and taking in one could put you in a sugar rush for awhile. I'm serious.
#6 Before and after.
These macarons would compliment dark coffee very well and if you're not a fan of coffee's bitterness, these macarons come in handy when taking in chinese herbal medicines. Haha. But no, if you're a fan of all things sweet, these macarons will be purrr-fectly sexy for you. *winks.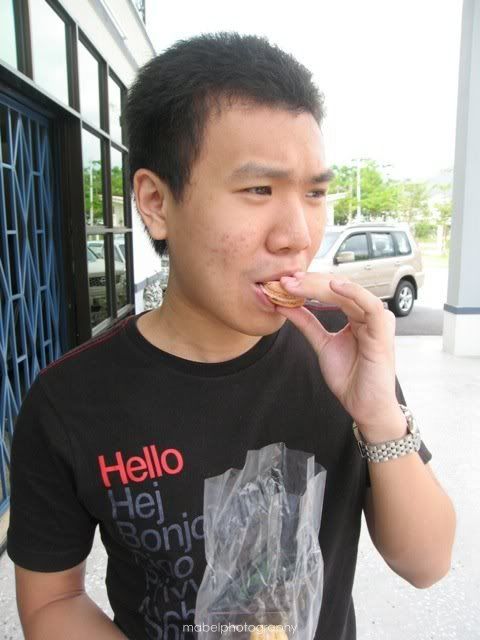 #7 One bites blows away the serious frown.
You should definitely give it a try, and if you're in/from Ipoh, you're lucky because you can get 'em
here
.
You're the lucky star if you're in
Kampar
because they are making a stop there at
A-Station
tomorrow (
19 April 2011
). Time of event will be from
12PM
til
2PM.
First come first served as there will only be a limited stock of 100 packets (if i'm not mistaken). For more info, check
here
.
How much is it you ask? It is
RM18
for a packet of
six
.
Grab one now, Ipoh-ians!!! :D
P.s. : Guys, charm your girls, while girls, indulge away! Teehee.
P. p. s. : Getting a sugar-rush is healthier than being on drugs.
* * *
No, my blog does not specialize in food porn.




I know, i know - i've been displaying a lot of pictures that trespassed the privacy of many food. But i can't help it! I like to show off the stuffs i fed my camera with :P Blame those food for being so seductive in the first place. Hah!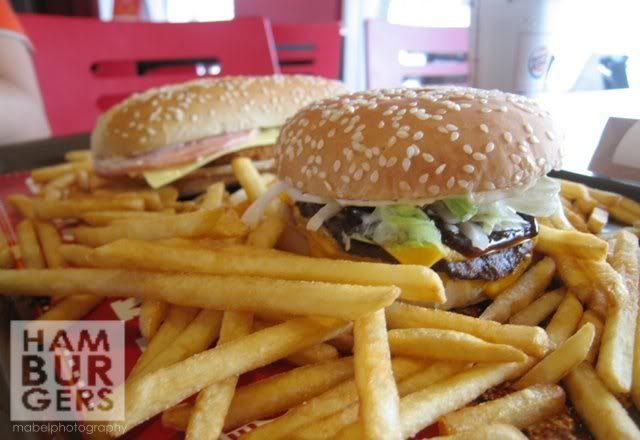 #8 Hamburgers! In burger king.
That burger was around 16 bucks. I '
upgraded
' its size, fillings and brought it to an extreme deli-
bbq-fied
-cious level. It is so good that you wouldn't even understand what i'm talking about!!! *swallows saliva.
Do you know what's beyond deliciousness??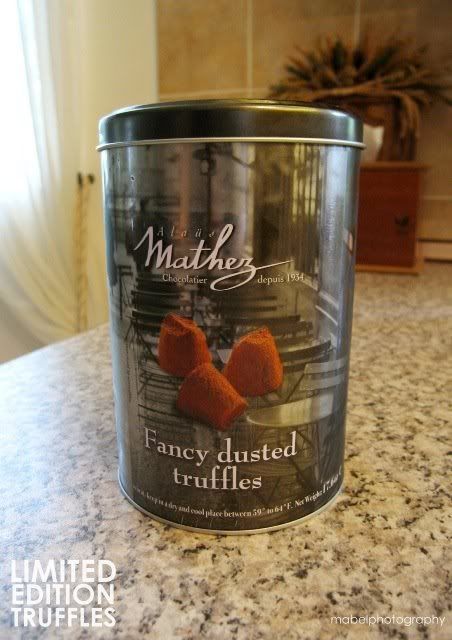 #9 Gaaaaaahhhhhh!~~
CHOCOLATE MANUFACTURER Since 1934!
AAAAHHHHH! So good i can't even explain!!!
Apparently, from what i've collected from Julian, this product is only made during certain festive seasons (e.g. Christmas?) and they limit the quantity produced.
Obviously these don't come by cheap, plus they only cater for 1) members only, which means no matter how much money you have but yet not a member, you no get the truffles. 2) their shop is in FRANCE so i'm guessing that you have to actually go there to collect them. 3) pre-orders (from members only). Sound so fussy right? I wouldn't be entitled to buying one even if i am King!
Thus, it was actually a GREAT PRIVILEGE to actually get to MELT ONE down MY THROAT! *faints. *dies. *resurrects.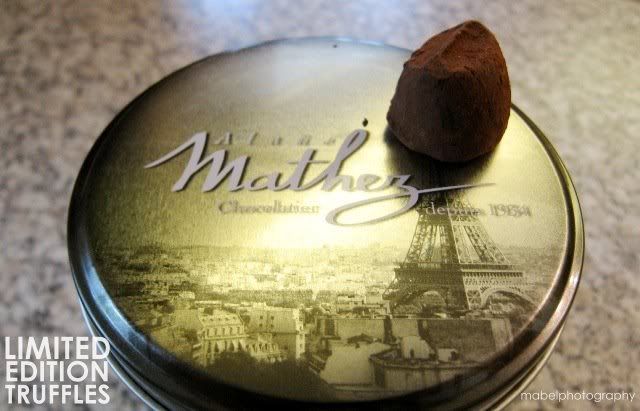 #10 The truffle, close up.
If i were a thief, i would specialize in stealing truffles and only truffles alone. TRUFFLES (
here
)!!!!