I do not intend a bazinga when i typed the title out.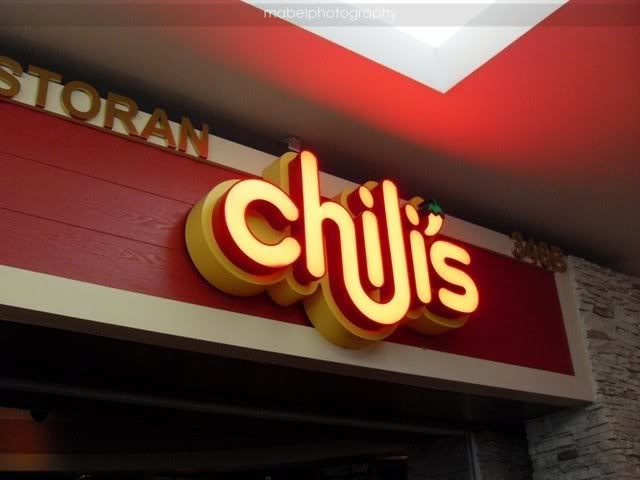 #1 THE
place to
chillax
.
I believe many may have stepped foot into this place before to dine, and probably not all may see the madness as i do
because they probably
do not own equal levels of in/sanity as the mabel.
No seriously, i find it kinda hard to believe that there is actually such good food in
Kay-Elle
! And i speak from an
Ipoh-lang's
point of view.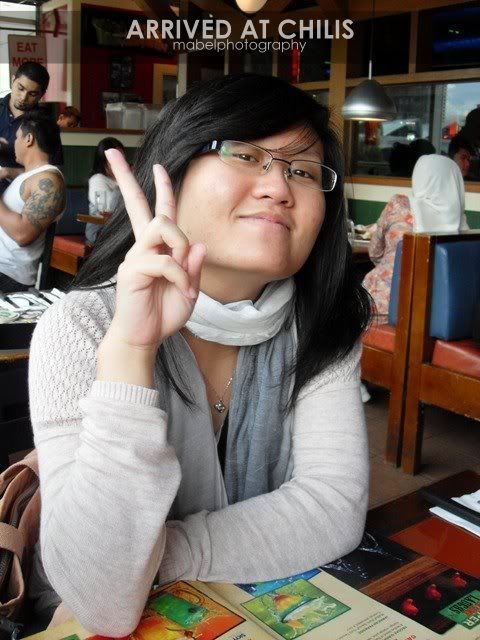 #2 Still smiling even after the wait for a vacant table for five.
Ever since we parked our butts on our respective sits, til the time we left, we spent approximately one-third of the time there... WAITING.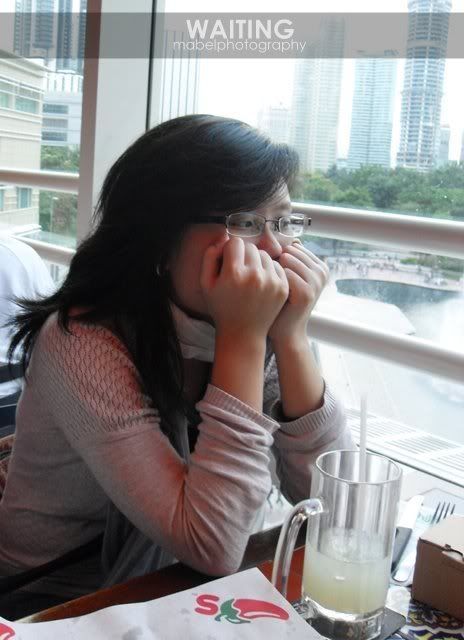 #3 No more peace sign.
Our moods were literally written on our faces already, really!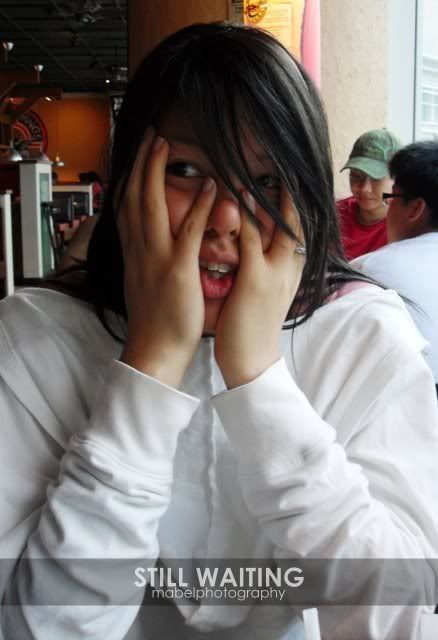 #4 "Where is the foooooooodddd????"
I, being very impatient in the stomach, can almost feel like eating myself up. That is what waiting for food can do to you after a whole day of walking and shopping. Tiredness and hungriness just makes time seem like eternity!!!
#5 Madness Point One : The waiting that stirs your emotions.
And when you're really really toooooo hungry, you start hallucinating. You can seriously see food coming to you! Crying out "Eat me! Eat me!" from inside the menu! I felt like planting my face on ze hard pages and eat the food pictures!!! I bet they would have tasted as good!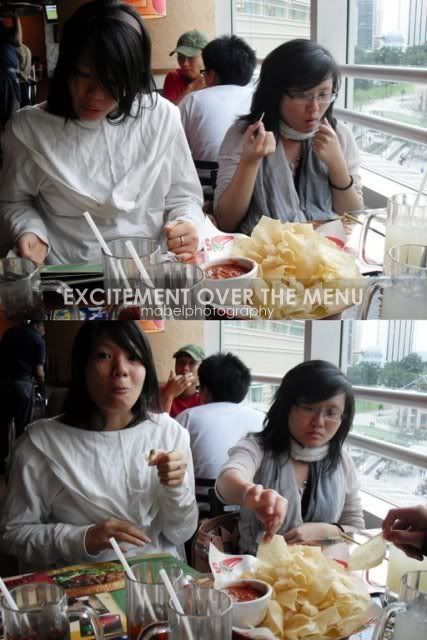 #6 Madness Point Two : Food pictures in the menu are seductive.
Each bite of cracker tasted like the burger i saw in the menu. Every time i flipped the pages, the cracker tasted like something else. Oh...Did i mention that i was insanely hungry??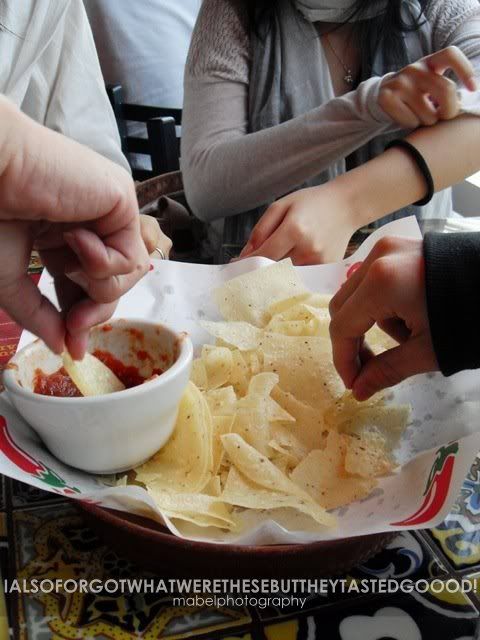 #7 This was bottomless (refillable for free). Our drinks were refillable too.
Madness Point Three : Unlimited supply of drinks and food!
Refillables are definitely the best choice for
yumcha
(having tea) sessions with friends if you intend to hangout for 12 hours. Bring some cards and games and settle down. Built a tent if you have to.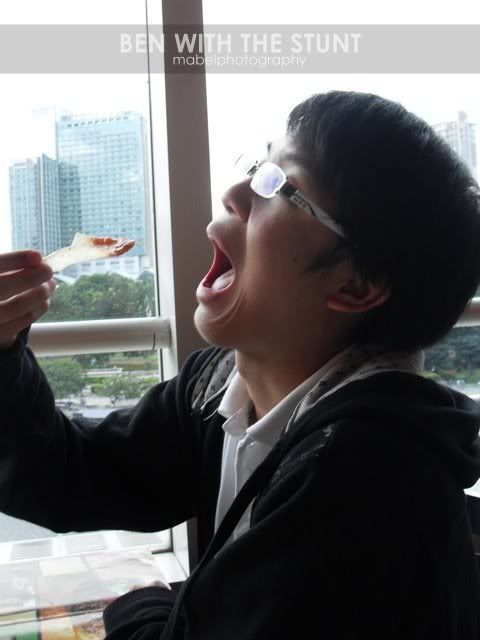 #8 We were all hungry. We all ate in our own 'styles'.
We waited for the menu at first, feasted on the crackers while having a hard time shutting down the saliva engines and also deciding on our orders while slurping on our never ending supply of water.
And then there was another period of waiting. For the food. The main food.
#9 SzeWei's.
The salmon is incredibly nice! I was expecting some fishy smell like those of the not-so-fresh seafood, but no! It was most genuine! And the best part is the oil content in the fish is minimal but yet is no where near dryness/harshness/hardness despite it's thickness.
Mammamia!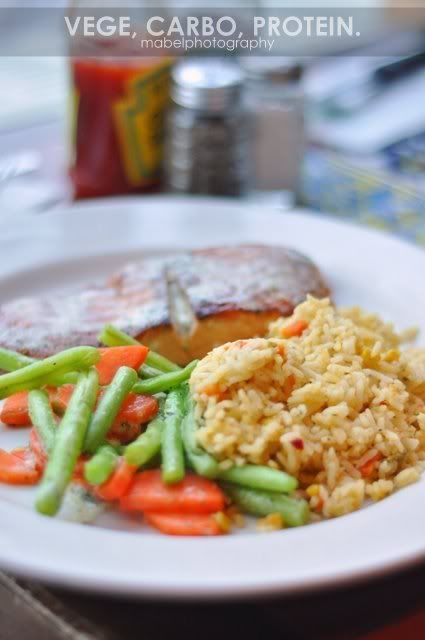 #10 And with a generous amount of vegetables and fried rice. Nice!
Next up will be Julian's order : the burger.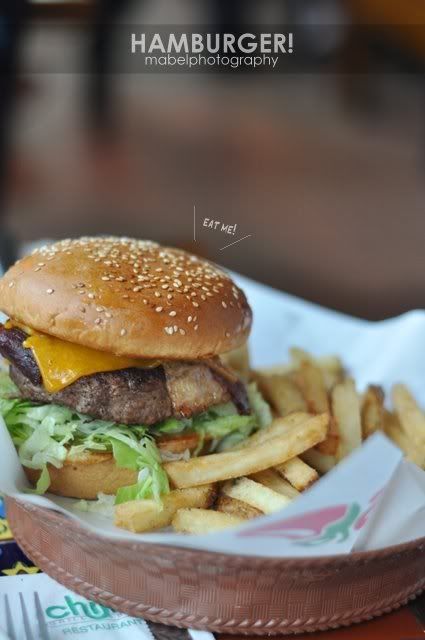 #11 Look hard! And you'll feel the connection between you and the burger!
The picture may not have done the piece any justice in terms of size, but trust me, if you think McD's burgers are way smaller than the printed ones on billboards, this baby here is the direct opposite. Girls in the size of S will perhaps give up half way (but since i tasted good, one wouldn't mind bloating the stomach once in a while). Two burgers, however, would be enough for one with a beer belly (or did i underestimate?).
The taste was undoubtedly good of course! The patty is authentic with its meat (holly molly it was bacon baybeh!). And the cheese and the shredded veges (was it salad?) compliments it as a whole perfectly, fresh from the oven too.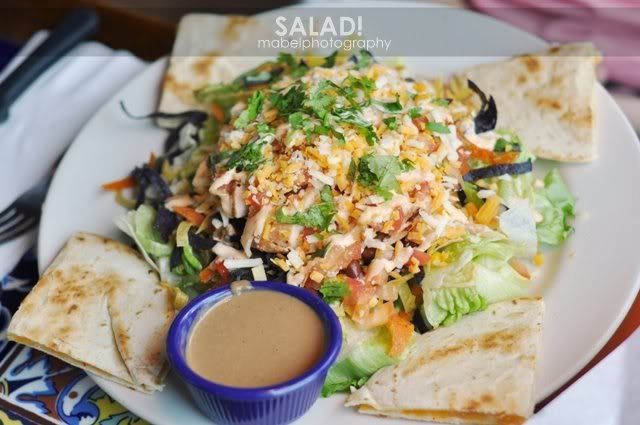 #12 Mine : the salad!
Ingredients (that i can remember) : Fried turnip
(?)
leaves, shredded salad, cheddar cheese flakes, IMPRESSIVE AMOUNT OF CHICKEN MEAT!, and i can't make out what were the rest because my mouth took over the thinking process. It's actually written on the menu but i forgot to take note of it...
Haih. Regrettable mistake.
I really loved the idea of adding crispy vegetables to the salad. And the small chunks of chicken meat, oh, there were so many! It's really unlike any western style salads here in Ipoh - all are very stingy one, in general.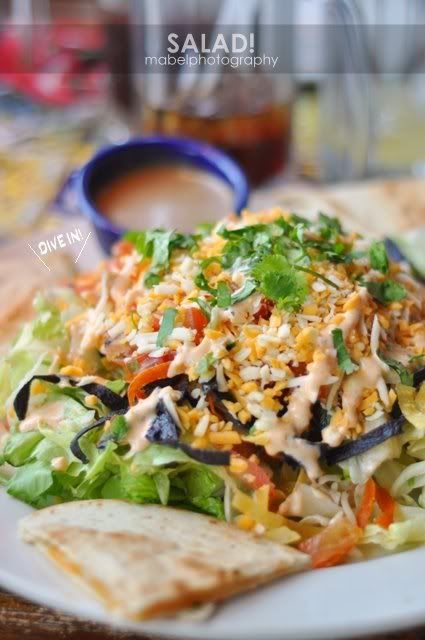 #13 Yum yum yum. Don't you feel like having a salad now?
Indeed i was wrong to have doubted the portion of the salad (blame the source of prejudice on Ipoh's western salads). I was thinking that it wasn't worth paying so much on what i thought would just be vegetables alone, and it definitely wouldn't be enough for a big girl like me. But Alex said otherwise. Boy... you should have seen my face when i saw the dish comin'. For a moment i thought "That could
not
be my salad!" and Alex nodded with an I-told-you-so expression.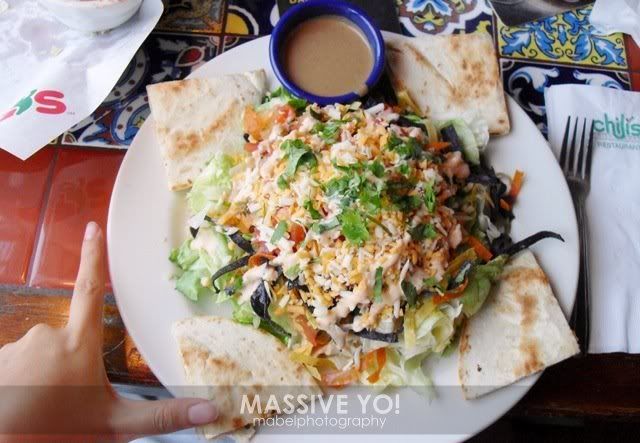 #14 Madness Point Four : Humongous Portion.
Lastly, Ben and Alex shared a dish.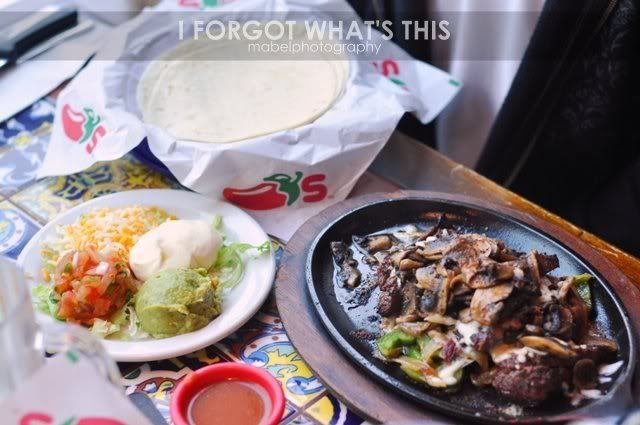 #15 Yes, enough for two males. Plus can save money.
I'm guessing this could fill up the tummies of 3 ladies! Order the salad, and you can dine with another 4 ladies!
Luckily we had the crackers first to fill drive out our hungriness and restore sanity temporarily. It definitely allowed us to indulge on our main course in a controllable manner without performing heavy duty tasks such as swallowing the food. However, i realized that there were a few different emoticons written on our faces while eating.

#16 What say you to the camera about your romance with the food?
Alex - Can't you tell? I'm in love!
Mabel - Taking my time man. This salad's a wonderland.
Julian - Don't you try stealin' ma first bites!
SzeWei -
*Ignores camera with excessive jolliness*
Ben - Please... don't intrude=.= It's my private thang.
But what happens when you indulge too much into such mad-tasty food??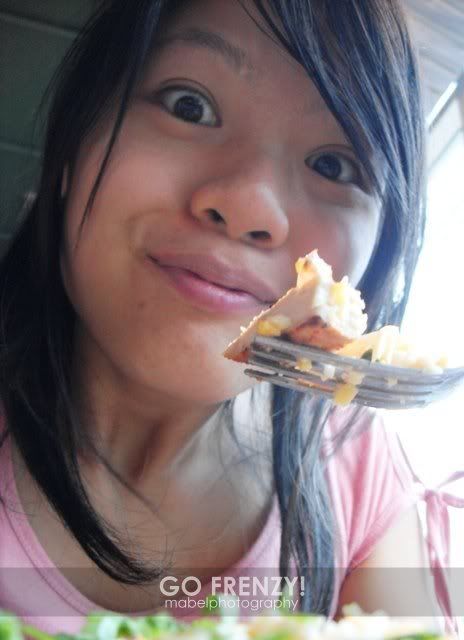 #17 You go frenzy!
We spent an average amount of RM40 for each of our orders (including drinks and snacks i think) which was way more expensive than my usual meals of RM5-RM10. However, despite all the waiting which was countered by the good food, good people and good atmosphere, it was definitely money well spent! And i don't mind having another visit to that place!
#18 Exercising the stomach complete. It was then almost time to shut down ze brain.
I really don't mind going there again, provided if i could engage myself with good company and enough money, of course. Aaaaah... Good food is always worth the money.
* * *
I know i said i won't be updating so regularly but trust me, probably after one or two more rounds of pictures, i'll have to slow down to the point of slugging!



Why? Because imma starta get cooped up in my lil study compound and sit all day and get fat in the brains and butt. D,: It's a sacrifice i've got to make. And probably my only break will be during meals, to the washroom, my beauty sleep and WORKOUT to DESTRESS.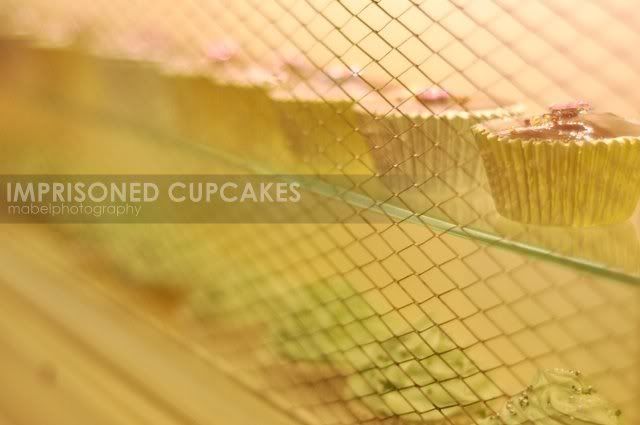 # If i was caged behind this wired fence with ze cupcakes, i will be the only one left.
For the past few years, i've been relying on my emotional hunger to destress. For this year, i don't want to eat my own words
here
. So i am determined. To the hamstrings, inner thigh, the thigh in general, butt and lower abs : BEWARE!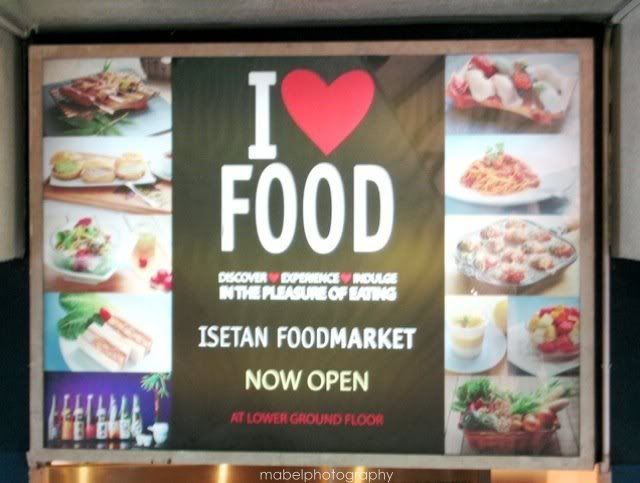 # Everybody loves food, no?
From now onwards, i shall love milk instead.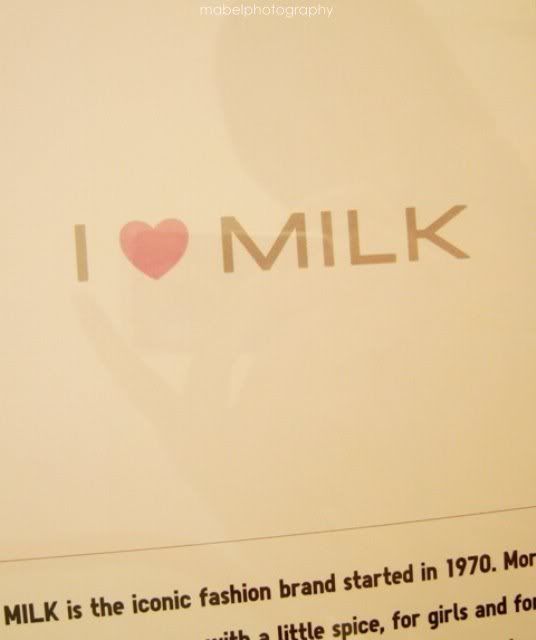 Kbai!