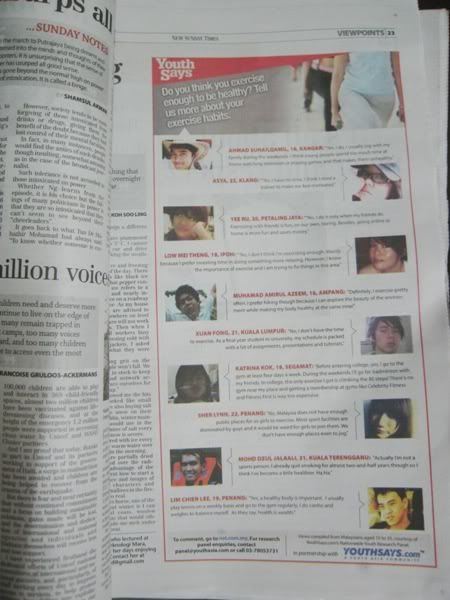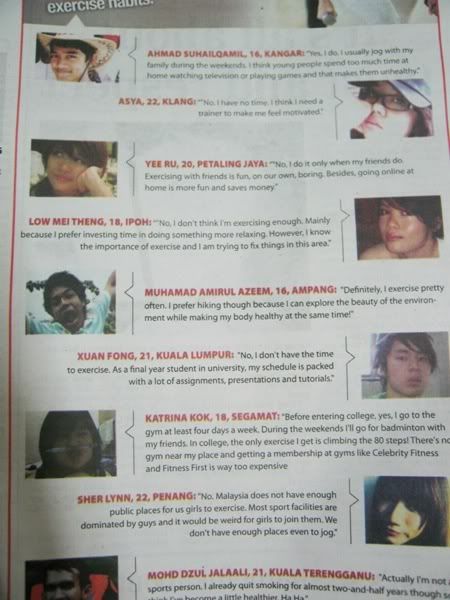 "No i don't think i'm exercising enough. Mainly because i prefer investing time in doing something more relaxing. However, I know the importance of exercise and i am trying to fix things in this area."

After seeing my own say on the newspapers yesterday, i'm awfully determined now to not want to eat my own words. D:<
* * *
Dear Internet,
You used to be a playground of which i enjoyed playing sarcasm in. Falling off a virtual building just lands you with a thud, and scratches are very very easily deleted. However, i'm not the only player around. The others don't understand the ways of which i slide down swings, and swing down slides. And for doing so, your other players think i'm naive.
"i can't believe that mabel doesn't know that jeff is using the word "england" on purpose, as slang, and actually CALLS HIM OUT on it. sheesh.
mabel, you don't have to be such a keyboard-warrior. 18, and acting exactly your age, very naive.
"
And then they also said i'm a keyboard warrior. So should i feel honored? Or otherwise, because they seem to think arguments are by retards trying to win?
"remember, arguing on the internet is like the special olympics - even if you win, you're still a retard!
"
From the little knowledge i've gained from English Lit as well as MUET, there is one thing i've learned : there are no winning sides on either grounds. However it does take a great deal to be convincing and be strongly rooted on your own argument - and you're trying to say a retard can easily get that B6 that many people cannot get??? *shrugs. Arguing, winning, retard - how do these three even relate?
The people who pointed the fingers on me are ones with the paperbag over their faces - they were anonymous. And understood manglish. That's why they have such good,
powderful,
england
.
"It is manglish la
(
referring to the usage of england
)
…like that also dun understand?? Like I say ur England is very powderful means the opposite lah.. "
I believe he was trying to point out about something called 'sarcasm' when i really was just questioning his usage of the word 'england' instead of 'english'. So i do not know what's with the extra length in his explanation.
Well, i guess i should find kids who play my game. And not those whose sarcasm
may
seem over the line and inappropriate.
"I just copy few of your picture from ur blog and had jeez on some of them, r u offended dear? What draws the line of 'not getting easily offended' ?"
I seriously do not want to know whether the act was simply a statement out of sarcasm or an action to create/prove an offense...All i know is that there are certain examples that are being more disturbing, than offensive.
"How do u define shallow? U r 18 yr old? Good. U still have a long way to learn to understand "England" or never will be. Because maybe ur generation dun use that anymore."
As a conclusion, i believe me being handicap in manglish and my so-called naivety (which i believe is because of me not knowing much of the language also) is the main juggle between these bullets. Oh no, really, i very
the
believe it
lor
.
"i also cant believe Mabel was so err
(hmm..there is doubt)
naive. "
"i can't believe you didn't know what "england" was slang for -__-"


Yup. Very serious playground players, who get angry when you know nothing about their favorite language : manglish. And if you're like me who is ignorant of the so-called specialty in the Malaysian English (for certain words, to be precised), maybe you can have a little more insight from these two articles : Wikipedia's
manglish
and NST's
'Wah! Your England so powderful!'
. Very amusing articles, really.
The playground i messed around is
here.
P.s. : Oh wait. I think it was the Olympics of the retards that i participated in (: Probably the one with the anonymity did. So... i wasn't
the
retard.
Cheers to the mask of an eighteen-year-old. And. Toast to cheekiness. >:)