Wooooohooooooo~
Really gave myself a super long holiday from blogging and picture editing and photography et cetera et cetera. Seriously needed the rest after the long hours of designing and re-designing and adjusting and re-adjusting and...... the church concert flyer design (which i'll upload at the end of this post).
Decided to let loose by indulging myself in a miserable gaming mode. Parked myself in front of the computer playing FB's games. Luckily before i could regret further, i managed to switch to doing something more productive - made some new jewelries yeehaaaa!
So back to what i was going to post here.
First off; so sorry to the peeps who have been waiting and contemplating when will i release the last batch of pictures. Well, here they are before they become antiques.
And yes, not forgetting that i'd like to dedicate this post to SY.
#1 Except for the headband, Eva is no where in resemblance to Melman the giraffe. Don't even talk about the height. Shhhhh....
I probably wouldn't wanna screw you here so much SY, since i foresee that i'll get a counter attack from you (for the late update). However, i will try with all my might to poke you whenever i can. WAHAH! >:)
I've received a comment (from the
Jellybean
post) of someone pitying SY after
he
saw one of our highlights :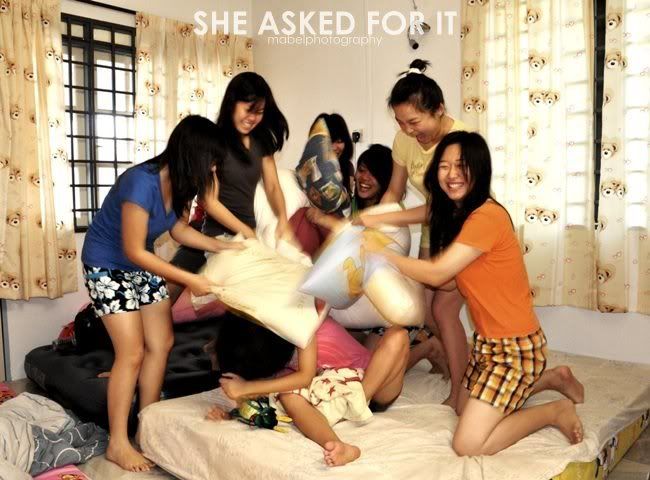 #2 I laughed. And i laughed again. Just look at our sinister faces!!!
The truth is, we're not being devils here or simply acting like buffoons, but it was SY who really wanted to play the victim this time. Seriously, no joke. She actually
volunteered
to be pillow slammed with maximum force and no mercy needed.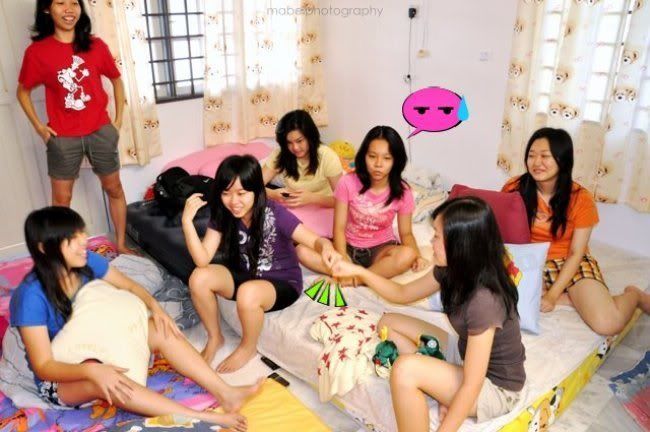 #3 Eva and Angie bumping it out. And SY showing attitude. The rest had the 'wishwecoulddoitagain' look. And JiaMoon, technology disturbance lol.
And i could tell she probably regretted (because we had to hit her like a few couple of times to get the right shot/picture). We still owe her a big thank you though, for giving us the satisfaction and something to laugh about.
Note : No one was injured, so i don't consider our act to be violence. It was simply a 'friendly fire'. Hehe.
Come to think of it, it's actually me doing the counter here attack towards you, SY. You launched your first missile here :
SY tried to kill me
. And not forgetting, the field issue=.= (
here
)!!!
Note : JuEan, if you're reading this, just to update you that SY haven't been behaving very well. Hmph.
If it wasn't for the awesome breakfast SY took us on the last day, i probably wouldn't spare her pictures from the art of graffiti. Or vandalism.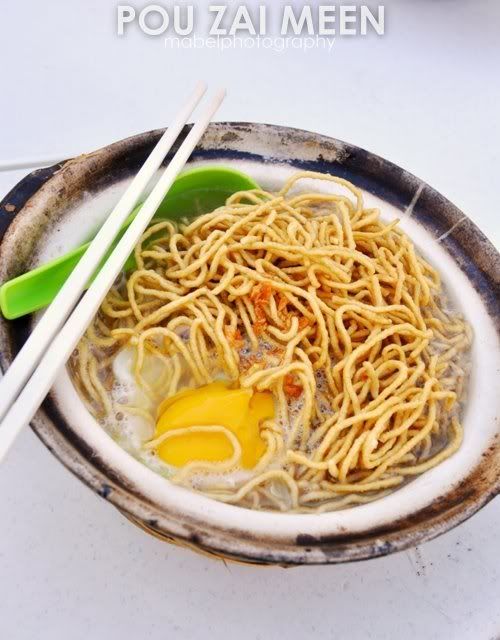 #4 Best 'small pot mee' i've ever tasted so far!
Dang... Looking at this picture makes my mouth water already. Miss it so much. It is not just good but it tastes really authentic as well. There's a generous amount of pork. The mee was just nice and fresh-from-the-stove hot. As for the soup... Oh. The. SOUP! I finished it. Nuff said.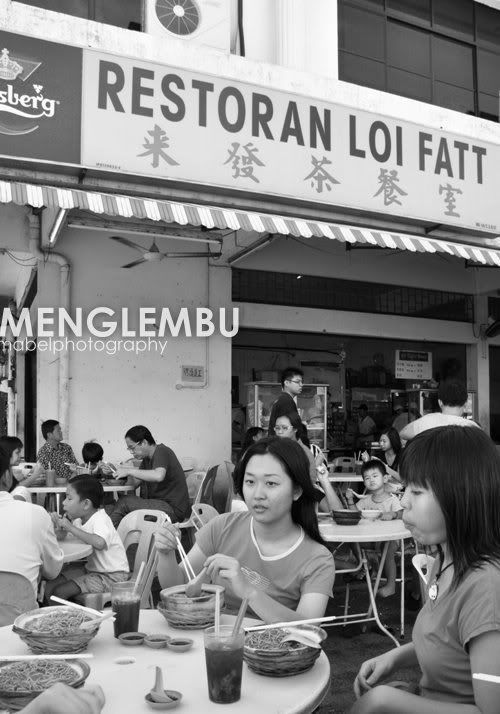 #5 If you're from Menglembu, Ipoh, this place may look familiar.
SY's birthday was actually just around the corner that time. So her lovely mum bought her a cake to be shared among us - and the cake tasted like the perfect dessert right after a good meal.
#6 Tastes like cake. A good tasty cake. Unlike some cakes that doesn't taste like cakes...
Finally, a group picture to end the post.
#7 This ends the pictures about our sleepover at SY's aunt's place (05/11/10-06/11/10).
Ahhh... good time spent well together. *smiles*
To the gang : The rest of the picchas will be in FB real soon. I promise!
P.s. : I changed my mind about putting the flyer design here. Better put it in an individual post instead, since i really wanna make the last picture, the last picture. (: