Those were the days when I used to collect seashells from seashores. But now i've found something else there worth many times more! Ahh... beautiful fond memories. There are no better ways to keep them but turning them into pictures. Or recording 'em in film.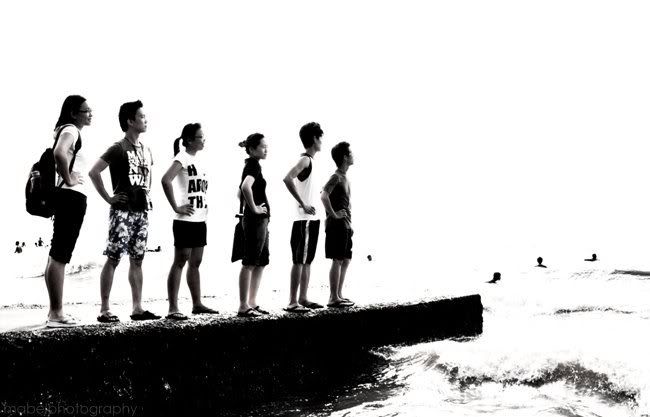 #1 "The Future awaits Us. And we are Ready!"
I seriously CANNOT remember when was my last rendezvous with the mighty salt water and to be introduced with an artificial one (at the
Tiara Beach Resort,
Port Dickson) just wouldn't do. Come on... i bet that mini man-made beach can barely have enough sand for sand-fortresses...
#2 If i could have a pet dog that could take pictures; in other words, my camera ability to come to live, i would most definitely be in that picture!
Fortunately, Uncle Liew was willing to make a trip to the beach, opened to anyone from the camp. I tell you, i could smell salt even from 6km away, hear the rollin' waves doin' the sea dance and me getting carried away til the hour of romance welcomes sunset. Ahhh.... i was so darn excited!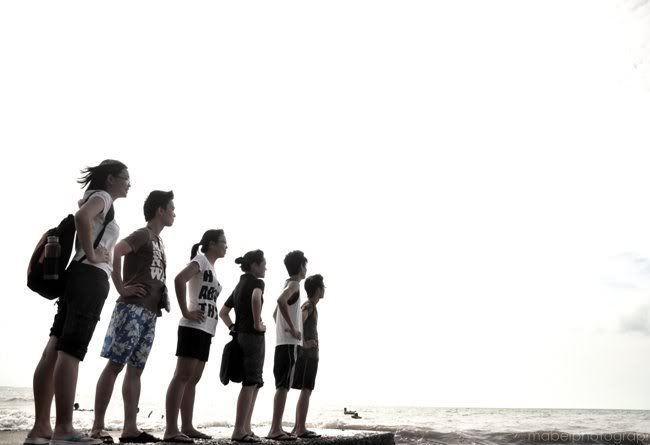 #3 Fresh air. Fresh wind. Fresh minds.
Too bad, we could only stay for one hour. Only one hour of love with the sea - oh sadness. But i'm glad i managed to take THIS many pictures!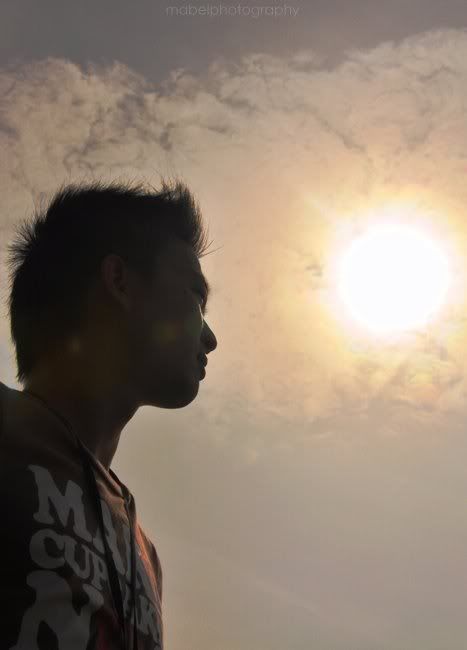 #4 Contemplate and you may get to bring the sun down. Someday.
I was actually too lazy to bring extra clothes there cause i was quite sure i wouldn't get wet. As the guardian of my dSLR, it is only logic that my dryness is well maintained. The waterproof casing unfortunately is only catered for my compact camera, not for big and bulky D90s.
#5 Hermits! With humongous feets!
I think that having a dSLR at hand serves another good purpose as well, to not get splashed from dear friends, or being pushed into the water, or throw sandballs at you - cause they know, doing so comes with a very... and i mean VERY... ex-pen-sive price. It's like the shield with sharp edges, promising you no counter-attacks for any friendly fire you make. Wahah! >:)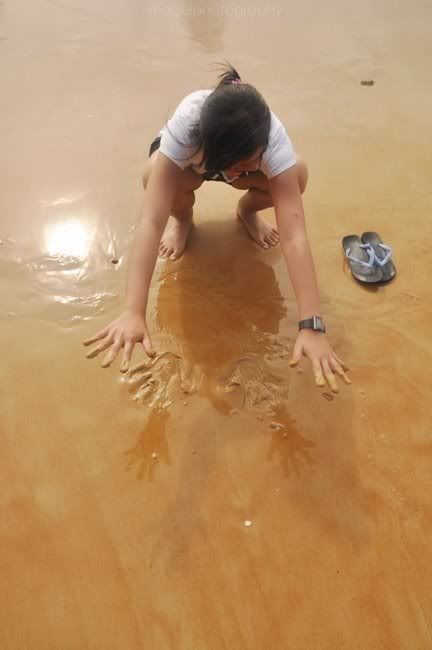 #6 Jiyan making 'the mark' on the sand of fame that lasted for probably a minute or so.
The sand isn't as white as i thought it would be. Too much soil in the mix? Not as much bleaching as the artificial beach back in the resort??? Idunnoe.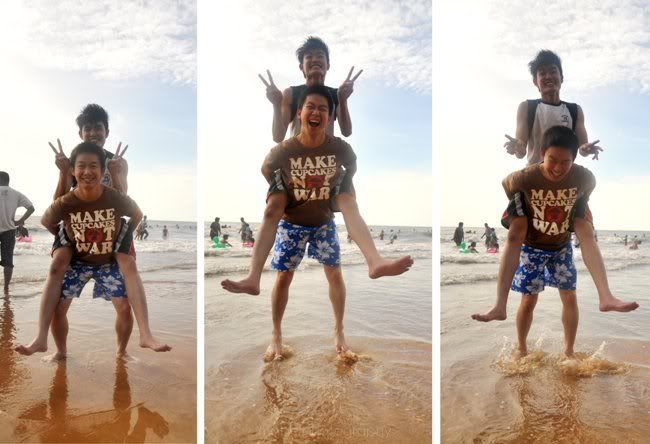 #7 Jump attempt fail.
Not only did Alex fail to do the piggy-back jump, but also fail to notice how damp his rider Joel was. LOL!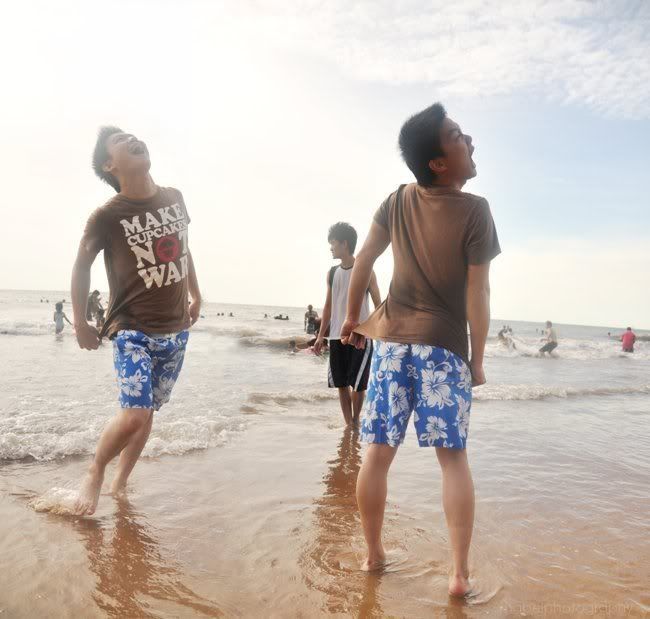 #8 Too late Alex, it has been printed on ya. The not-so-sexy dampened back. LOL.
That wasn't the only failed jump shot actually. We had a few group jump shots which failed terribly. I had to do some editing to turn the epic lose for the win. Heh... it wouldn't have stank so much if the waves didn't vary so much. Thank God i managed to pull it through.
#9 Attempt 1.
#10 Attempt 2
#11 Attempt 3, with me and JeanNee in it. Photograph taken by JiYan.
Then my mind started doing the churn on the brain, and i headed for two more jump shot attempts - with different positions.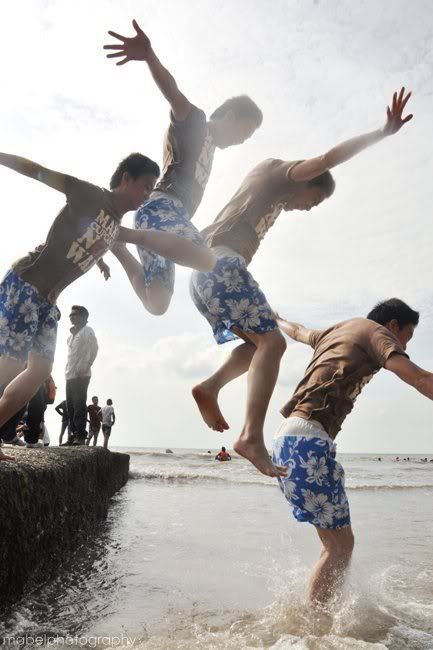 #12 Jump by Alex - obviously it was edited. Crazy attempt in putting four varied pictures yo!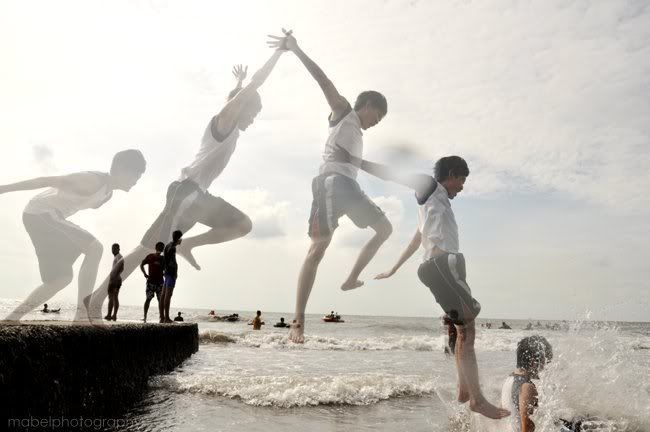 #13 Glorious jump by Joel. He blames the epic landing on me, which i fail to understand why. Lol.
Joel's jump was hilarious! He actually landed on his two feet and we as spectators thought he purposely surrendered his own stability when he splashed his butt in the water. He himself didn't understand why his stable legs gave up on him that very second. LOL. Whatever it was, he gave us a good laugh! XD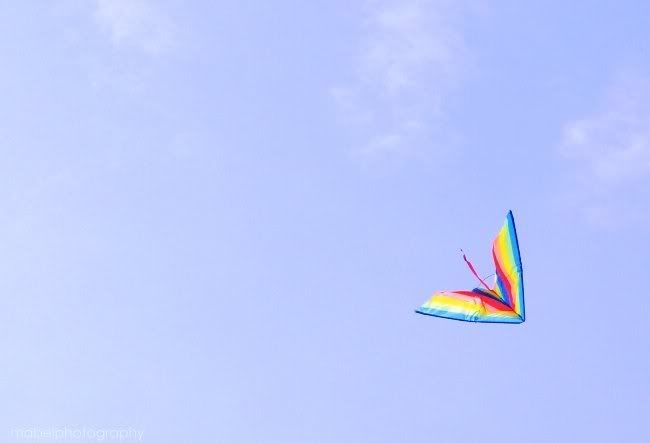 #14 The last picture. The full stop to the one-hour-moments on the beach. Taken desperately before we departed because i haven't seen a kite for yeeeeaaaarrrrssss!!!!!
I wasn't joking in my caption there. Ahh... it was a colourful day, i'd say. (:
* * *

Update (30Dec2010):
I actually intended to upload a video here along with this post before publishing it but because the internet here was being kinda stubborn these few days, i wasn't able to get the video through youtube. Hmph. So here it is! Enjoy! :D