And when i said New Year, what i really meant was the actual NEW year in terms of AGE. That's why i'm posting this TODAY. (Read between the lines and you'll know what i'm pointing out here.)
Logically between two years there's a huge gap of 12 months, right from the 1st of January til December's last breath, the 31st. But if you zoom in a little more, counting time by days, it is really just a one day difference!
Imagine if i was born 10 days earlier which falls on December's 31st, i'd already be a year older! Anyone's birthday that is on the 1st has really got one whole year to loose man. Imagine that! Schooling, exams, graduation... One year behind! Just because you crawled out of your mother's womb one day later. D: Tsk tsk.
Somehow i'm still glad i've fallen into my current time line in life. A day's difference would probably have brought me to a completely different state of a person from what i am now. I probably wouldn't fancy photography, or maybe i wouldn't blog either! Ahh.... another reason to love myself!
#1 Behold! Kevin's babe, held in the hands of Benjamin.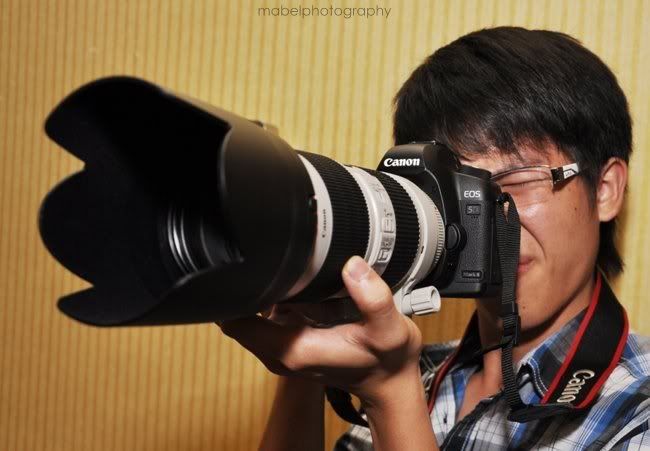 #2 Check out the sexy lens, baybeh!
#3 Tap dance by the KL lady youths. Marvelous performance really!
#4 There is something about this picture that i like. I just don't know what!
#5 John Lai doing the imaginary slamdunk.
#6 Met a new friend, Cecelia, who looks like a combination of two of my friends ; Sally and SueLi. Maybe not in the picture but IRL, you won't believe it.
#7 First time doing a random crowd cam-whore (fill the frame yo!) with my dSLR.
#8 Her skills amazes me. But when i saw her hamstrings, nah, that ain't a good workout.
#9 Turn your screen upside down and you'll see the real world behind this picture. ;)
#10 Woodwind family! Hearts!
#11 Cockamamie superstition steals all fourth floors.
I ain't typing much for today cause i'm still quite ill. Have been having fever since the last two days of my eighteenth year which died down today (thank God!). Some remains still linger round the back of my head though, and my throat decided to do an intense tickle on itself each time i release a cough. Bah. The saddest part was my homework are undone! D:
This was a drafted post which i prepared halfway on new year's eve. But i was caught up with New Year itself, so... this is sort of my late Happy New Year greeting to all of ya. Teehee.
Alright. Can't type anymore. The head is doing the merry-go-round thing. @@ What a way to start the nineteenth year.
* * *

ADV
:
I'm not an Xbox user, but i thought this may come by handy for those who does out there.
Many Xbox problems can be easily solved at home, without costly repair. This site reviews the common fixes, and helps gamers get back up and running quickly without weeks of downtime.
Check it out at
Xbox repair! [
xbox 3 red rings
]