Yes yes! They no kill us! They kill spongecake!
So the last post (
A Mabel Ghost
) were pictures taken from the big gun or more specifically known as the Nikon D300 dSLR owned by Ms Cass, adjusted to various modes that suits nature's glam.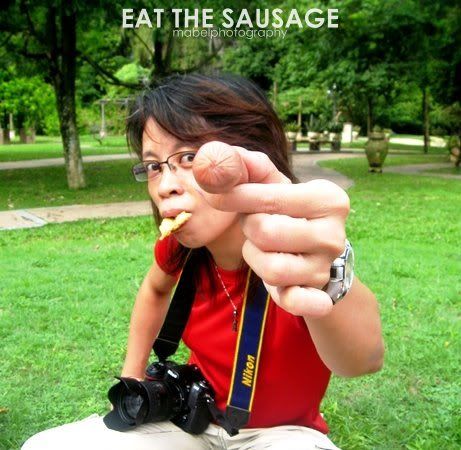 Now my small gun, the Canon Powershot S80 compact camera, has a different tale to tell. Pictures are very much contrasted by microsoft's basic editing software, which is pretty obvious since Malaysia's greens are far from looking gloriously fresh.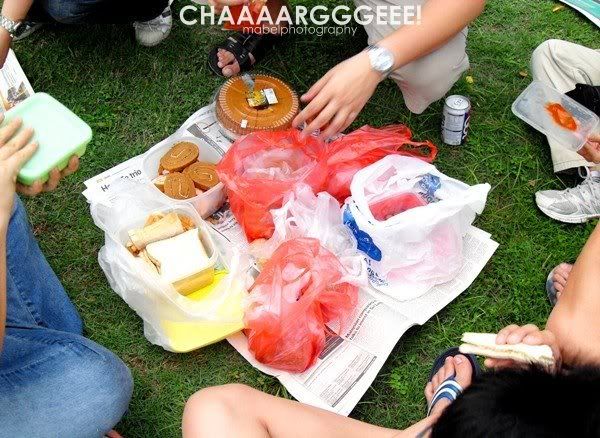 Alrightey... I mentioned something about
the natives
from my previous post and if you were quick enough to relate it to this post's title, you'd make out what's about to come. I've never had such a happening and (rather) thrilling picnic ever before!
Hakuna matata peeps? Mushumushu wakawaka whateverlanguageyouspeak! Please no scratch me camera lency! Actually i didn't have to worry about my baby being touched because all this fella concentrated on was our food.
Do you see it?? The green spongecake in the trees?? I tell you, they're first class stealers! First give the cute face, sniffin' a lil with its eyes locked on yours. Seems like love at first sight, until a split second later, daggers shot out from it's gaze and then came the gnashing of its teeth. Immediately, it snatched the handbag! No, i mean the spongecake. Good thing, we saved the rest of our mini food kingdom.
Nasty spongy landing for the cakes. I didn't even manage to try that cake before that mini ape got hold of it. It was funny looking at how the monkey was trying to unseal the container, and even funnier looking at the sponge cakes 'escaped' down the tree. Hahahahah...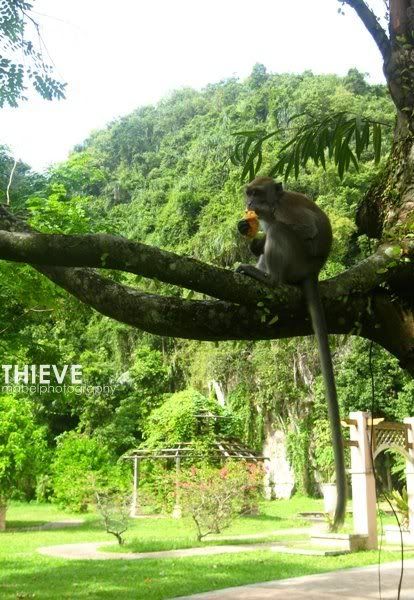 Nevermind lah. Consider it as a visiting token from us... At least the 10second live drama was interesting. It would be a bazaar if a camel somehow pops up on the roof or something! Or maybe the monkeys start juggling ze cakes! But y'know what's even more piquant?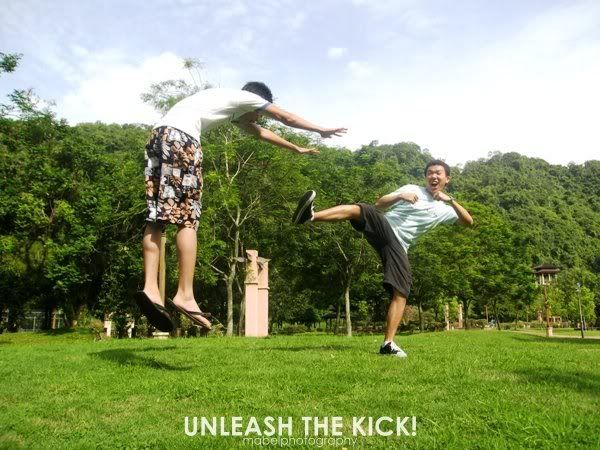 Julian's smashin' kick on Jo's *insert body part*. Hahahahha! All it takes for this snapshot is a good poser kick and a dramatic jump. Easy like anything. If you fail, then safe yourself... and crawl your way to the next stop :
Ahhh... what else is easier than invading this prohibited playground? There is nothing better than being indulged in our nostalgic moments. Acting like over-sized toddlers with enhanced abilities such as this :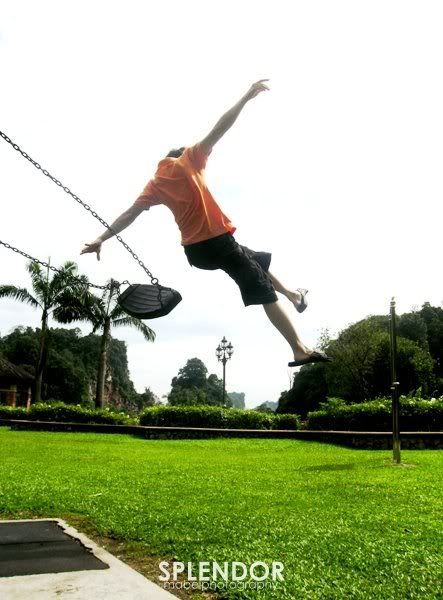 If your baby does that, you make sure he/she don't go stealing other people's spongecakes next time!
Going back to the time where men's best friend were these gentle giants... that don't bark and can't afford to roll over.
No seriously! You can ride on them blue dinos! They won't bite! Can even slide down their..... ..... .....
Gunung Lang can really steal the heart of your child. Or , steal a child into your heart?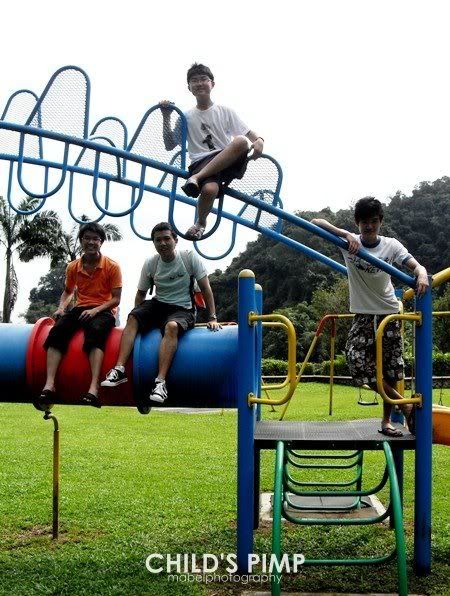 Besides the fact that the grass ain't as green as it looks in these pictures, you can definitely go for the romantic factor from these
balaks
/ tree trunks.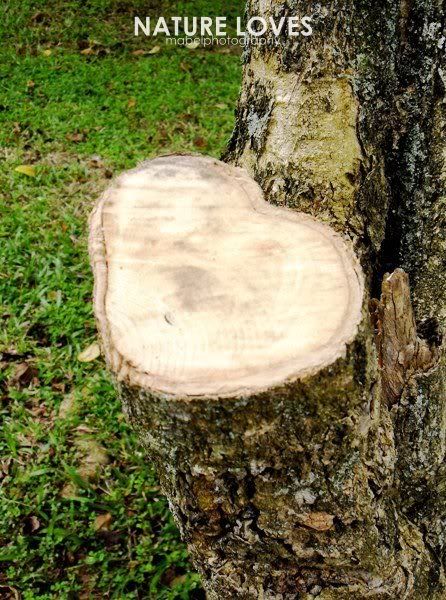 Don't forget to visit some other friendlier natives too... that wouldn't steal sponge cakes!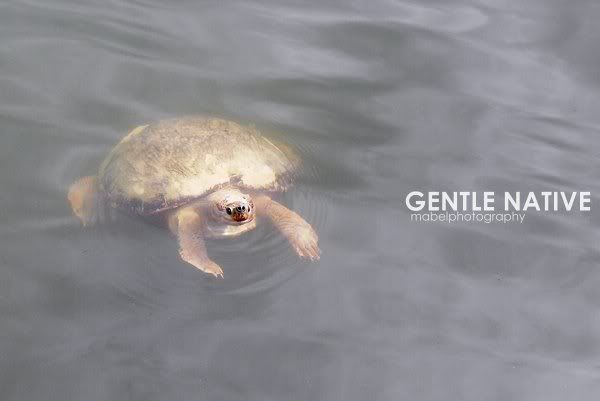 While some may appear shy, others are really nosy. And smells unworthy. Urgh!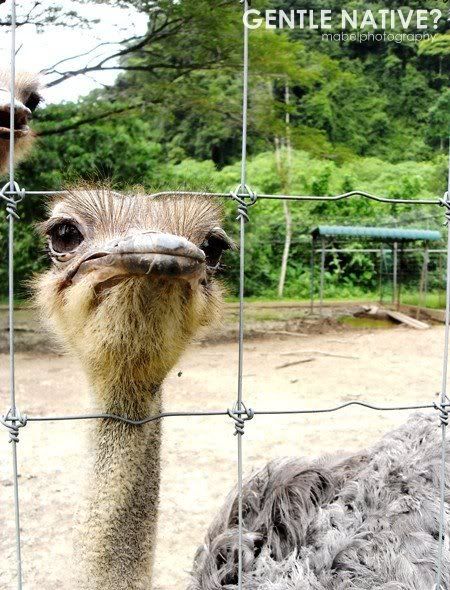 If i were an ostrich, i would specialize in math. So i can calculate the mass of that teeny wheeny thang in that head of mine. And then die of depression.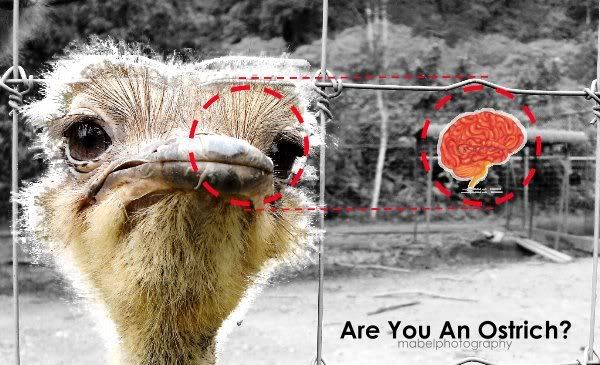 Anyone, by any chance, has a close relation to these pea-brains?
* * *




Pinky : Gee Brain, what are we gonna do tonight?
Brain : The same thing we do every night, Pinky. Try to take over the world!



They're Pinky and the Brain
Yes Pinky and the Brain
One is a genius
The other's insane
They're laboratory mice
Their genes have been spliced
They're dinky
They're Pinky and the Brain, Brain, Brain, Brain, Brain.


Boy do I miss these brainiacs!