When you think logical thoughts could give you a headache, any intensive usage of the right brain (the creative side of thinking) can cause you a migraine!
And if you haven't used that other half to the east of your brain before, you'll probably have no idea what i'm talking about. Hypothesis accepted.
I have been absent for quite some time before i put up that new header of mine : the Cina in Toga. (How did you like it?? :D) That's why i'm using this post to justify my disappearance, presenting you the proof that i was in fact still alive for that period of time.
I was actually having a hard time coming on to blogspot ever since i started indulging myself in my new gadget, the D90. And no, i wasn't really enjoying myself throughout the time cause every shutter release i made came with utter disappointment... because the pictures didn't come out as i expected.
And you know what's worst? I was using it to get pictures for my very first photography competition : Ipoh's Living Heritage. How the hell was i supposed to get a good picture when the camera is ruling over my shots??? :(
Headache headache headache!
Luckily i still managed to submit a few out of the many failed ones.
#Picture one
#Picture two
#Picture three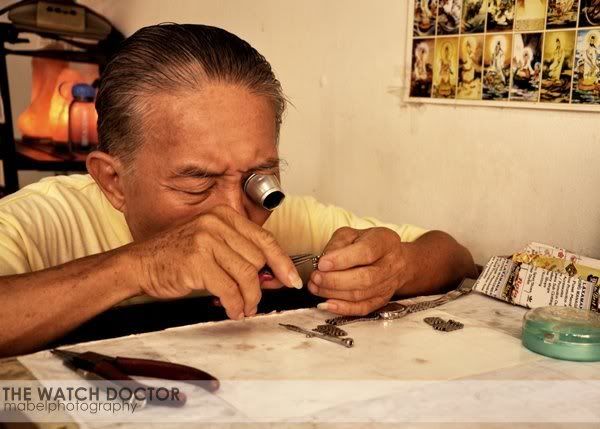 I kinda over edited the pictures, but oh well, no big. Check out the
not so living side of Ipoh's Heritage
and find your way to
NOMNOMNOMNOM on Ipoh's foooood
!
Talking about food, i just realised how much i've spent to get myself fed. After the rough calculation, FOOD came in second after PHOTOGRAPHY. :O I remembered how addicted i was to my former school's canteen food. It's a must to have either an ice cream, a packet of kacang puteh, sweetish fat french fries or some other junk at least once a week. And no, that doesn't explain why i've grown to be 171.5cm in height, but it definitely tell me something about my vertical growth!
My submission for the Star newspaper's NIE project.

I've also declared my number one favourite most food of all times : the hamburger!
Page two. I think you can click on the image for a larger view - then read it.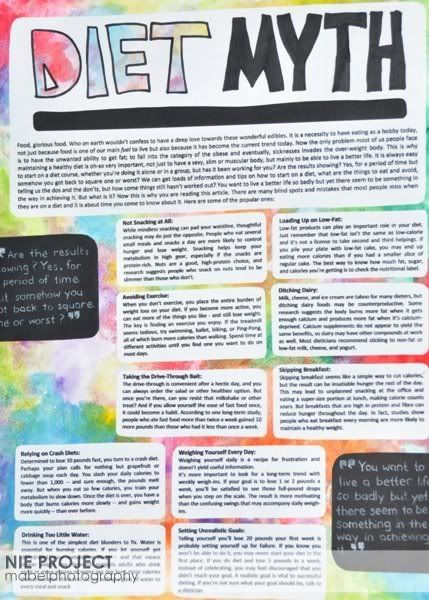 Doing the project was... fun i guess? I did enjoy every moment designing this out though. All the rushing and the clamping for my right brain's immediate attention, boy, it's impossible to not have a headache!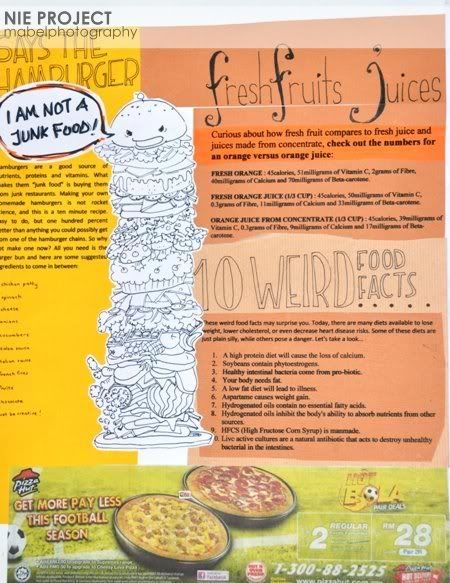 The only motivation that has driven me to complete that piece of thang is obviously the free pizza hut voucher that was promised to every completer of the project!! :D
When you thought it was time to make the work shift back to the west side and have your right side put to rest, emergency started screaming out loud for the presence of creativity - once more.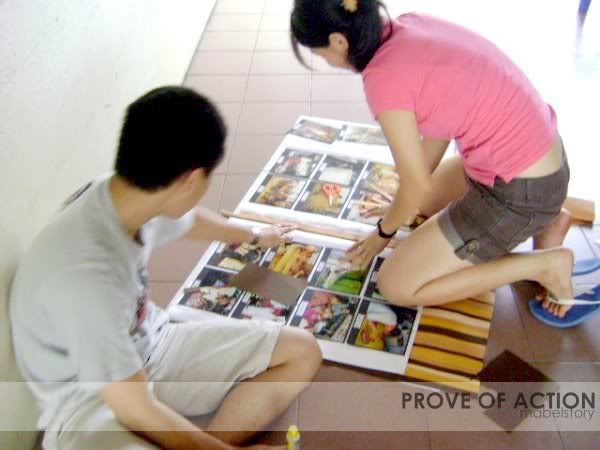 Yeeeaahhh... One project after the other. I received a called from MunMun and by the time the call ended, adrenaline rushed in me. Argh.
MM : OMG mabel how what to do now? Did MsCorrine call you??
Me : Why why?? No she didn't. What happened?!
MM : OMG she just called me...
skipthedetails
... The board is rejected!
Me : Gotta do it again?
MM : YES! How now? Gotta be displayed by this monday!
Me : Calm down.. Nevermind i'll help you. Meet you in school at **** time.
MM : OMG OMG! Okay i'll see you there. OMG!
And so my supposed date with Julian and my dSLR for a photoshoot became the exclussive 'romantic' scandal with the photography bulletin board.
Cutting and pasting sounds pretty romantic?-Sounds more like a scandal to me=.=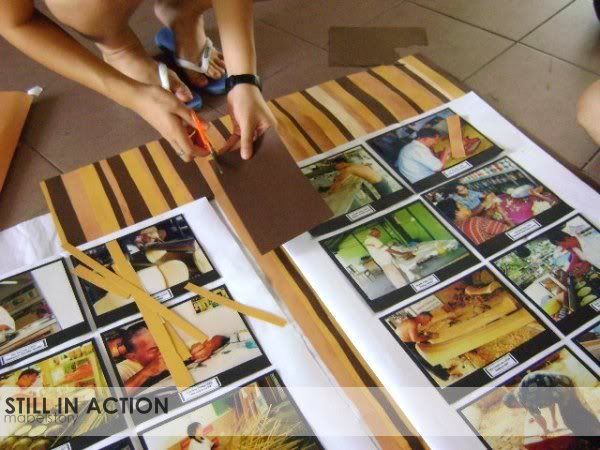 I've never been in such a hectic mode since i've retired from my highschool life - leaving behind the coy and rangering years. I gotta admit, such headache MunMun has gotten me into, was kinda nostalgic. It's like back in the old times. :D
Finally done! Part one...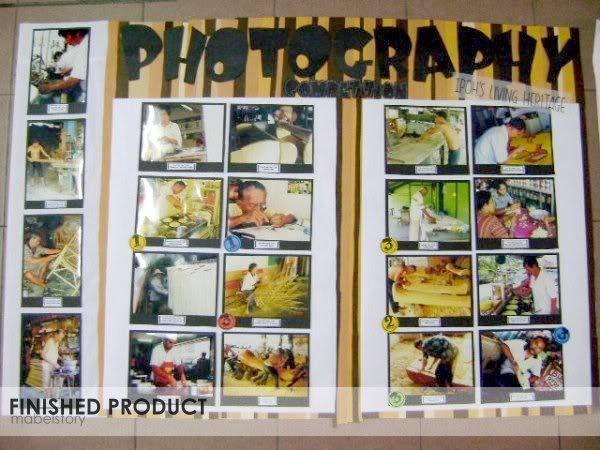 ...and part two.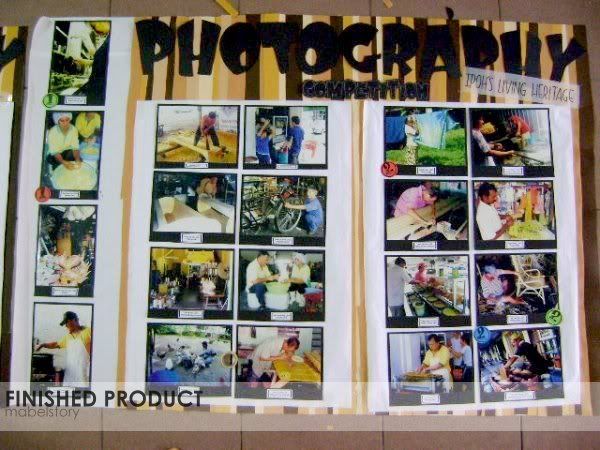 By the way, there's one good thing to this project also. Hehe.
Yesh! I get to know who's the winner of my category. :P
Ah, bliss. Reminded me of the previous projects i had in hand... which came with a HUGE headache.
I was involved in the designing of my year's graduation booklet. Booklets are always a headache since you have to design every single page of it.
One of the pages in the booklet designed by mua on behalf of my class. :D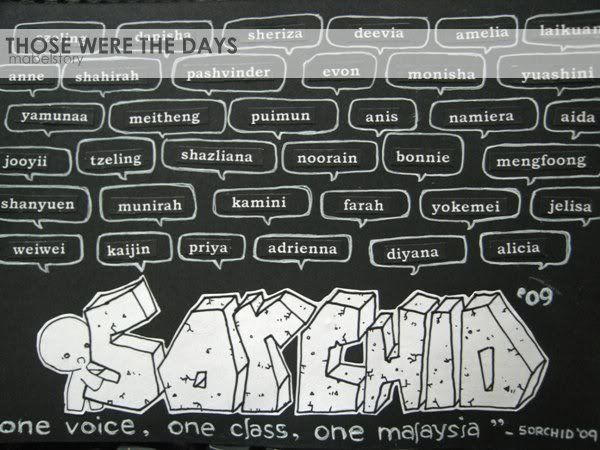 No wait, correction! It was a
migrane
to be exact! If you haven't heard, you should definitely read what
conflict i had with my principal
because of this booklet project. >:((
Somehow, at the end of the day.. it's all still very blissful for me. (: Every artwork marks a new born star in my portfolio.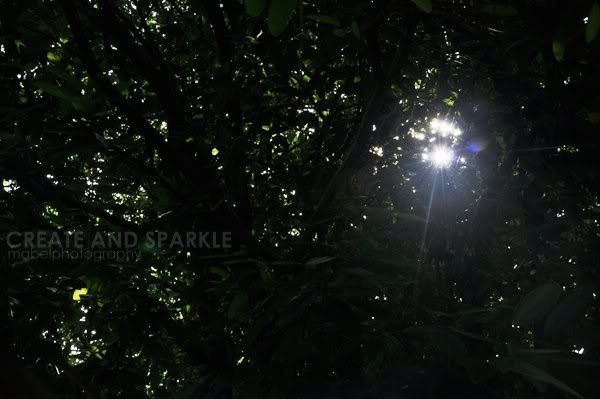 And with every artwork comes with descriptions defining every angle i was viewing things at.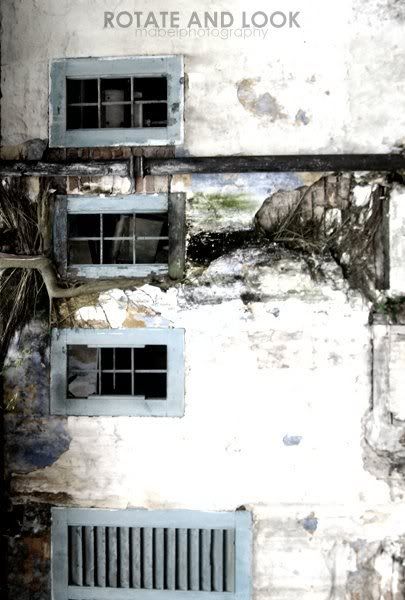 The best of a headache is what that is worth it. Period.
Bah! Time to do some heavy shifting back to the left brain. Gotta prepare for next week's exam!