Note :
There are quite many pictures in this post, so do allow them to load since sometimes photobucket is a pain in the arse.
Tissues ready please, droolers alert!
Time to make a change to my initial thought of : ladies should only start learning from the
kichin
after marriage.
It wasn't the fact that i don't like cooking that i had that thought in mind, but it's just that i have very little patience. I seriously thought cooking would take up very little time and i was educated to think like that when playing Cake Mania - the java game. Yalah.. after fifteen seconds, the cake pops up, completed. Can be sold some more.
As for the real thing in the
kichin,
things don't turn out as good and as easy as it looks like when done hands on. After fifteen seconds, the water hasn't even boiled yet. No sign of steam.
I was ready to band cooking / baking completely... until i met someone who cooks better instant noodles than i do.
The someone was a guy.
A guy cooks better
maggi mee with egg
than a girl who is me. Hypothesis
not
accepted lah!!!
I have to save myself. And i chose mum to be my savior. She gave me a task that
changed my life forever
proved that there's a
laydeh
in me. Ehehehehe....
So this is what
we
i did... First off, gather the things needed for the 'mission'.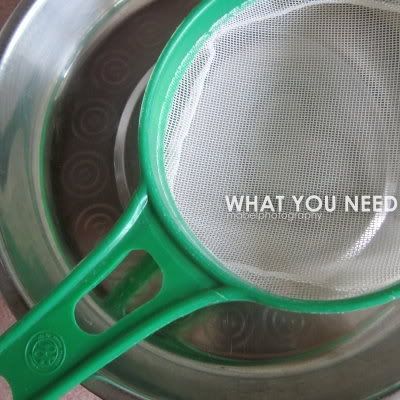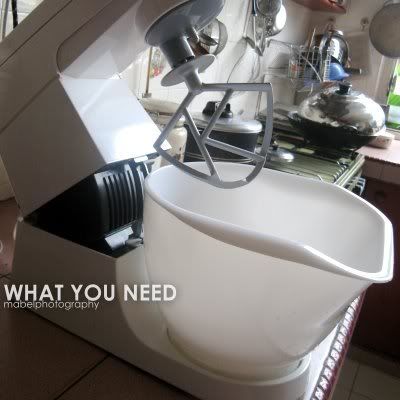 Then sift 'em powders together.
Force the stubborn ones through.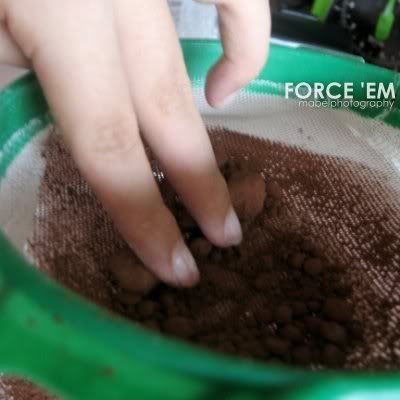 When all is through, smile. Cause you know you
pass
the sifting test.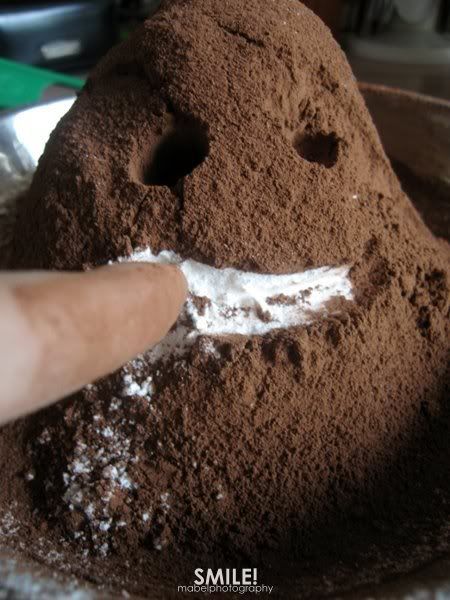 Now the eggs. For me, trying to break them with one hand was an epic fail. As for double hand, double failure=.=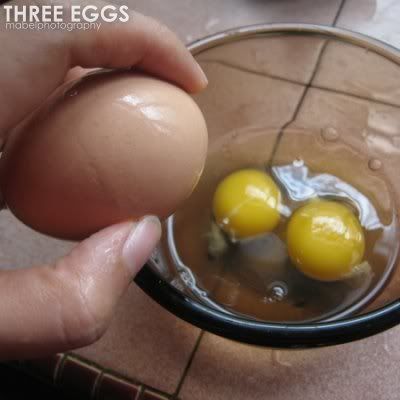 Seriously... I forgot that you're supposed to hit the egg on the edge of the bowl first. So much of a common sense i had... pfft!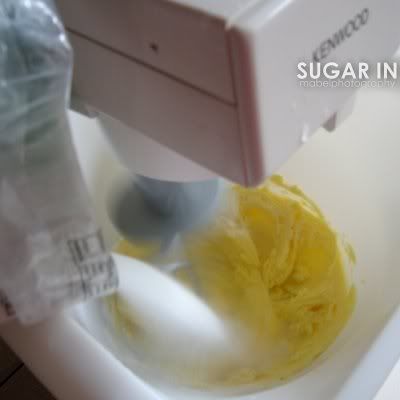 Pour in the sugar... with patience, into the beating butter. As for the remaining butter on it's wrapper, you do this: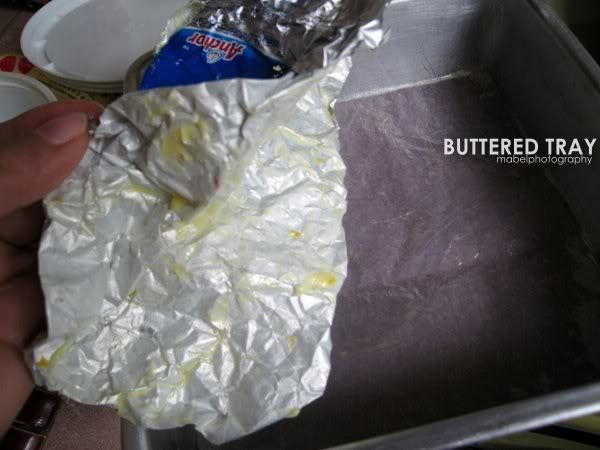 ...wipe it on the tray. Then move on to the eggs again.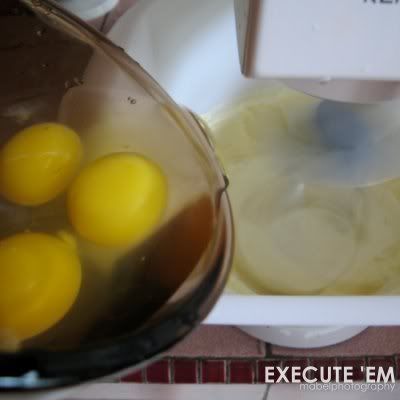 Okay, i'm getting lazy in typing already. :S
Preheat the oven, and go back to the mixer cause it's time to get messy!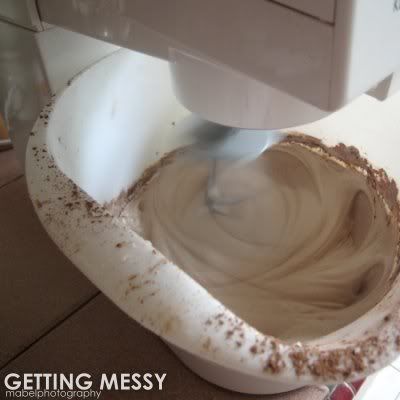 One tip mum taught me for this process; don't pour all the flour and the milk into the mixer together. Put in little by little, alternately in turns.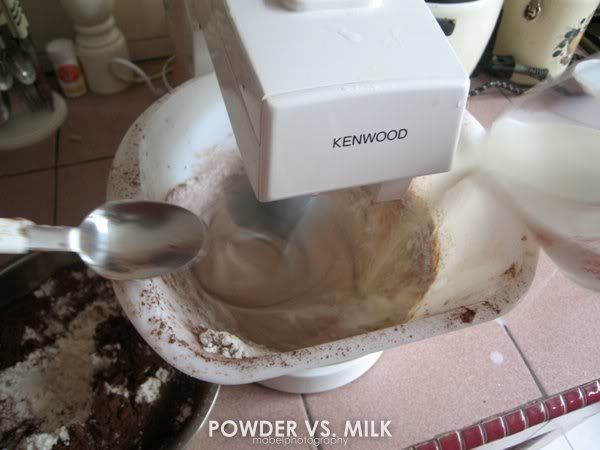 Sweep 'em sides with 'em flat spoooon. Dunno what's that called.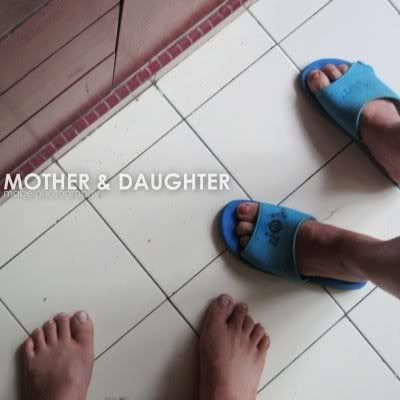 Yes, the picture above proves that i really did these tests. I think i did pretty well, except that i forgot to put in the choco essence. So had to put it in now lah... but double the amount.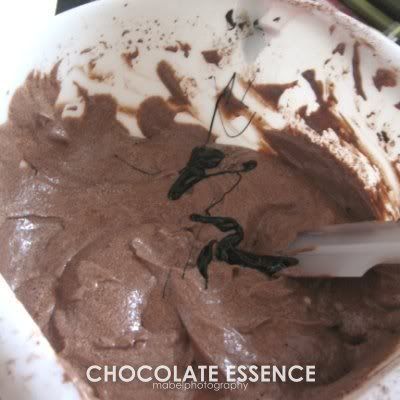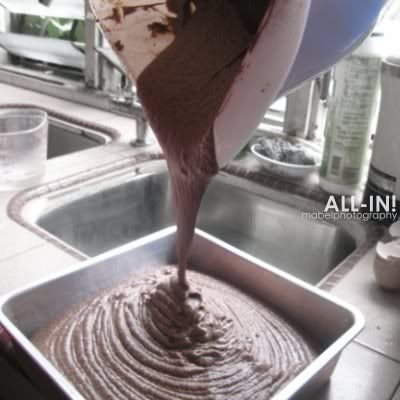 Next, time to bake it.
Can say this is the hardest part of the process - the waiting. I remember when i was younger, i used to bother my mum with one and only one question, "Still not done yet??"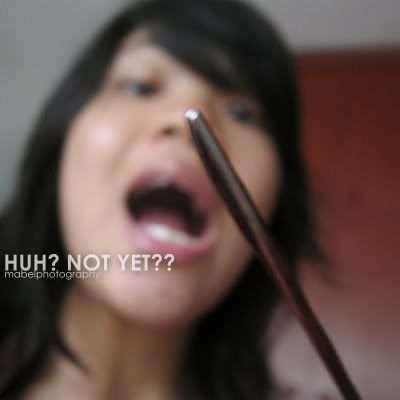 There's this thing for you to poke poke with to check whether it's fully baked or not. You'll know when it's not, and it's disappointing. ):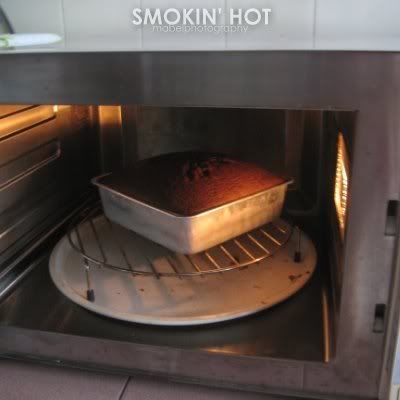 But when it's finally done, you feel like hugging
the cake
yourself!
The next test is getting it out. Leave it to cool first of course. If you hadn't enough common sense, probably your sensory neurons would help.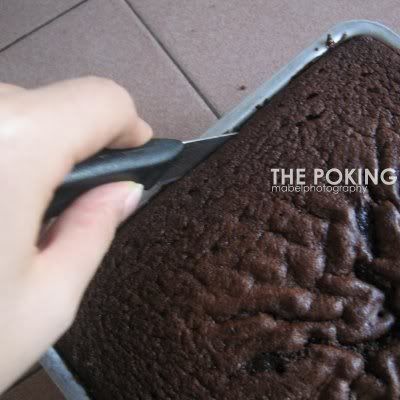 I baked this cake not because i'm not fat enough. I was thinking of sharing it with my
teddy bear
and some other
bears
as well lah.
As for my teddy bear, of course have to share the part that is best - the middle, ugly-most part.
Seriously! The wrinkly part is the best! Cause it's the damp most, soft most, and definitely safe from burn. Lol.
I did my wrappings like this. And since i like it freezing cold, i decided to ice it!
Yeeeeaaaahhhh! Task done. Conclusion: A guy cooks better
maggi mee with egg
than a girl who is me. Hypothesis not accepted.
Ohhh yeeeaaaahhhh!
By the way, if you're interested with the recipe here it is (my test paper. lol.):
180g butter, cold and cut into pieces
380g castor sugar
1 teaspoon vanilla essense (i used chocolate instead)
3 large eggs (each about 80g)
340ml (1 1/3 cup) cold milk
Sifted together :
240g superfine flour
1.5 teaspoon baking powder
1/2 teaspoon bicarbonate of soda
60g cocoa

Line a 22.5cm (9") square cake tin with greased greaseproof paper.

Cream butter and sugar together with vanilla essence until light and creamy. Beat in eggs, one at a time.

Fold in sifted flour, cocoa, baking powder and bicarbonate of soda mixture alternately with milk.

Turn into prepared pan. Bake in preheated moderately slow over (165 C) for 60-65 minutes.