Pooh! Finally got some time to breathe in the
blogosphere
! I could hardly find time to place any appointment with the loo, what more here.
Thank goodness i still can breathe a little at work, despite the fact that my boss has been trying to keep my mouth shut... from yawning, that is.
Hehe
.
Can't help it when the brain lacks oxygen, thus the yawn.
Tadaa

! BEAD & MORE. A shop full of colorful-

blingifying

accessories mostly for women.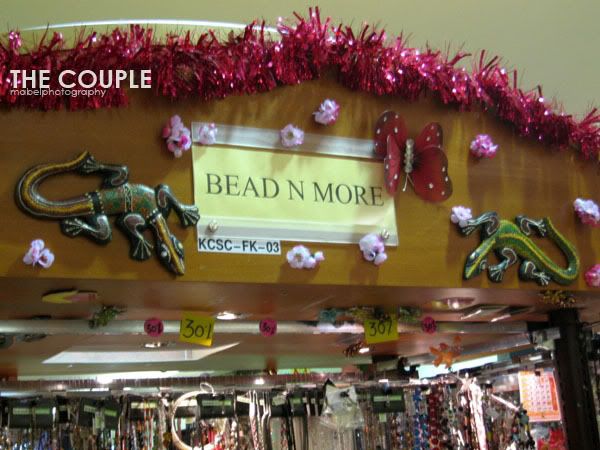 Talk about getting paid to learn how to make these awesome crafts. I seriously didn't expect so much to learn from here. And little did i know,
JJ
has so dang many weird people! Will talk about it in another post.
Customers. With a mouthful of grandmother stories that are surprisingly... uninteresting.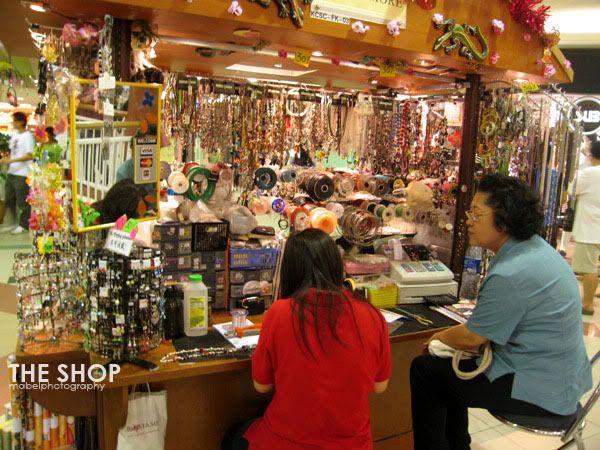 Despite the fussy customers, working there has been a great time for me mainly because of the people
I'm
working with. My colleagues are great, while my boss is fantastic! How's that for a start in the working world huh?
My boss believes this is her lucky mirror - 'cause can make people look slimmer.

Lol

!
She was so nice to invite us to her new house for
dinner
supper one night, so we went there right after our work. We were all so excited. And hungry too.
Wonder where she got all those shells!
It was around 2345hours when we headed to her bedroom. Yes, my boss punya bedroom. Guess what we were checking out...?
Yeah, don't be surprised. This is my boss and her hubby. Seven years ago (i think).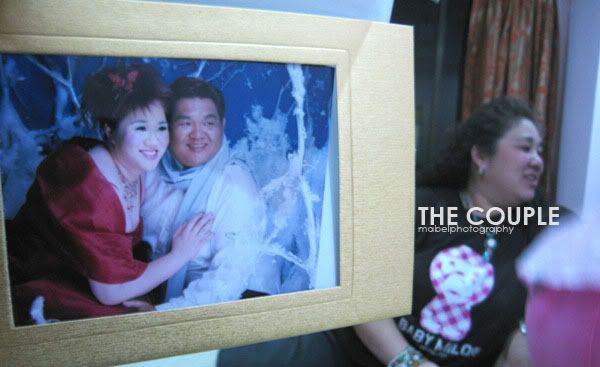 You thought i wasn't surprised?? Wait til you see this!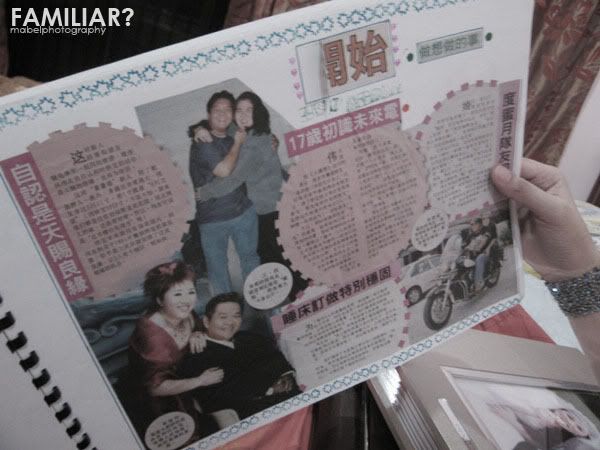 Do you see it??? Her wedding was all over in the newspapers!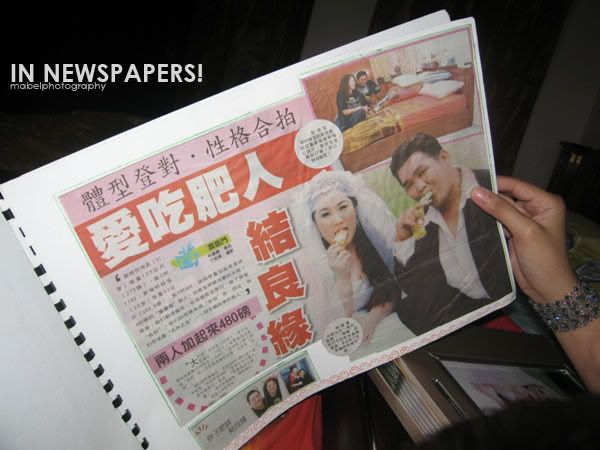 She said a kind friend of hers did all the cutting & pasting and made a scrapbook as a gift for her. I was really really very surprised to not only be checking out her wedding pics in her albums, but in newspapers as well!
There were over 30+ bikers (if

I'm

not mistaken) that supported them at their wedding!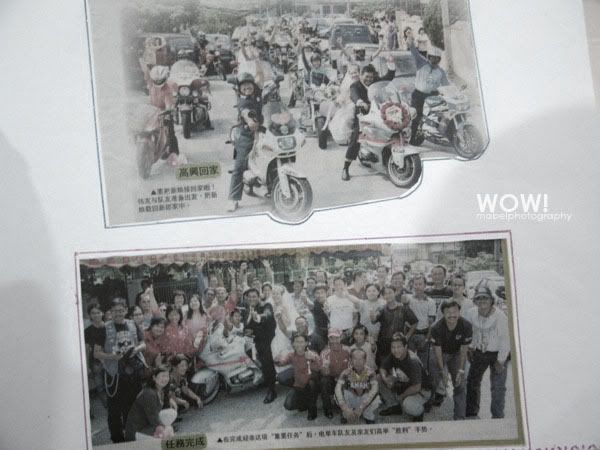 It's my first time seeing such an extraordinary wedding, really. Which makes
Xiaxue's
mafia-themed one the second.
Check hers out too!!
She was champion in some baby competition.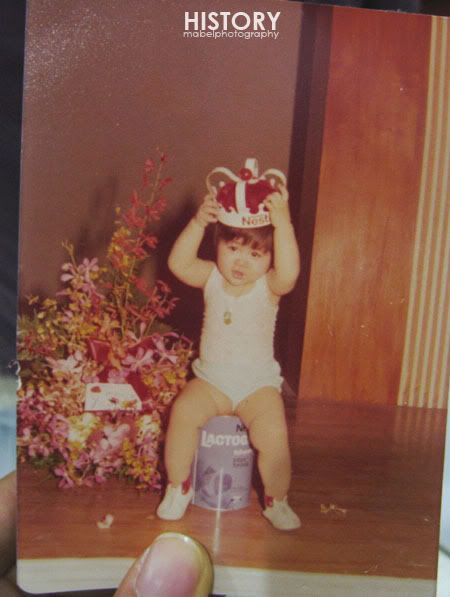 Her four-year-old son had some similarities of that baby pic of hers. That night he was rather grumpy 'cause when he saw his parents' honeymoon pictures, he asked what we grown-ups may find funny, "Mummy, why am i not in the picture?"
And his mum said, "You weren't born yet."
"I want to go there now!" he said.
"You were in mummy's stomach
lah
..." Chris trying to explain to him and he replied, "I don't want! I don't friend you!"
LOL
. Cute
lah
!
Gloomy atmosphere.
Okay, now to neutralize the gloomy moment, let's talk about the house. I like how brightly painted it was. Orange. Apple green. Lime. Yellow. Too bad there wasn't red though.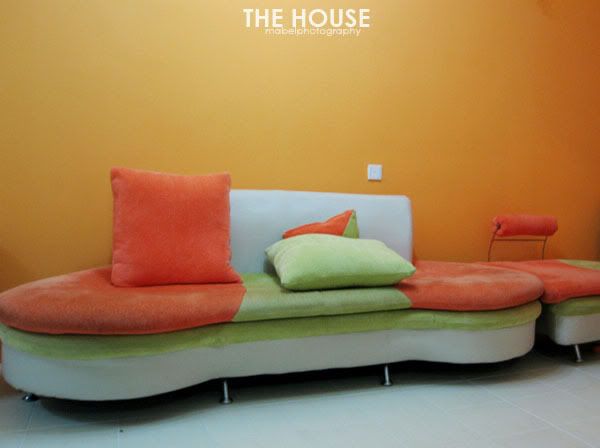 But of all things and colors in that house, i still favor the red 'hand chair'.
No one knows what it does when you sit on it. It may turn you 'red' as well.

HAHA

.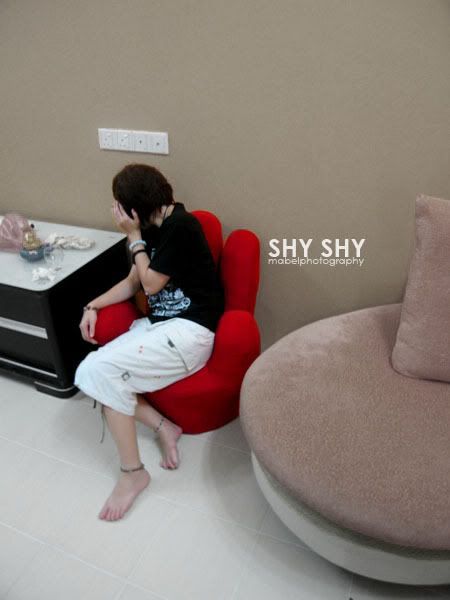 What to do, red still appears to be the color i fell in love with. And guess what, my work shirt is red! My boss, on the other hand, favors green instead. Thus the green walls?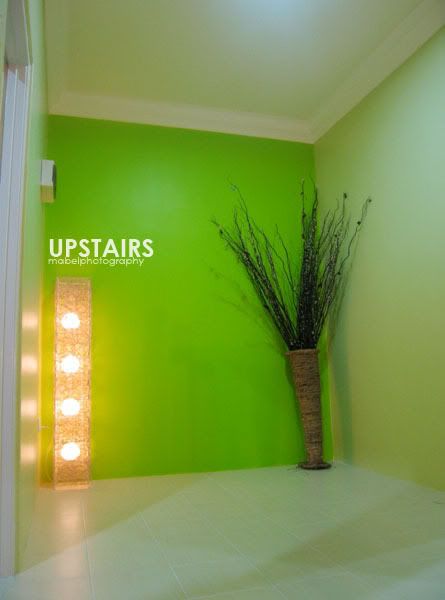 Time for some close up shots! I never knew why she loves beads so much. It's enough to see so much of 'em in the shop, but now there's even some at home??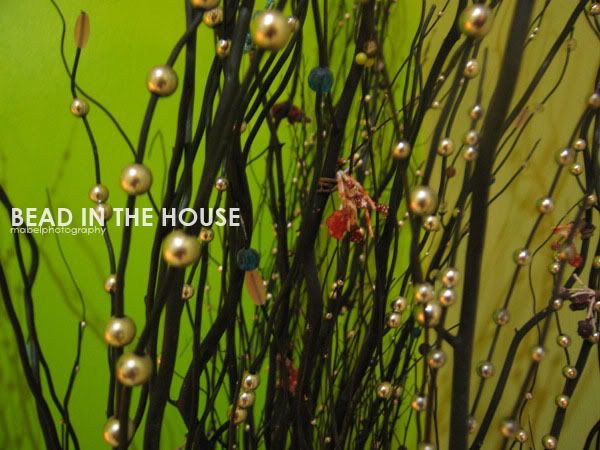 She did say once that there are much colors in beads, and the many colors seem to cheer her up a lot. So i guess that's the reason? *
shrugs.
Close up shot on the lamp.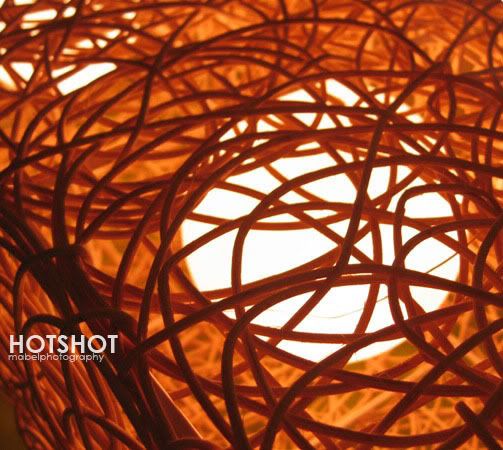 I was fascinated with this lamp, really. I remember my batteries were starting to die when i shot these, but luckily i managed it anyway. What to do... i still haven't upgraded my camera. Low light requires a lot of power from a camera, and you know how much i anti-flash (simply because i'm still not good in handling flash
lah
).
Feels hot, no?
Of all the hotshots, i like the following one the most. Simple and neat.
I

don't

know about you, but each time when i look at this, i feel hungry.

Mmm

...
Y'know
what else is fascinating?
The one and only thing abandoned in a vacant room.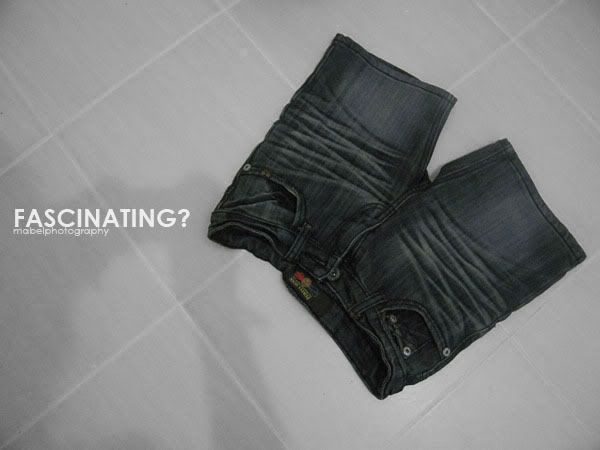 Haha. Very unexpected. Now you know how hungry my camera was. Anything that has potential turning out good in my frames i'll surely snap! Another thing that may surprise you is this...
Will your boss do this with you?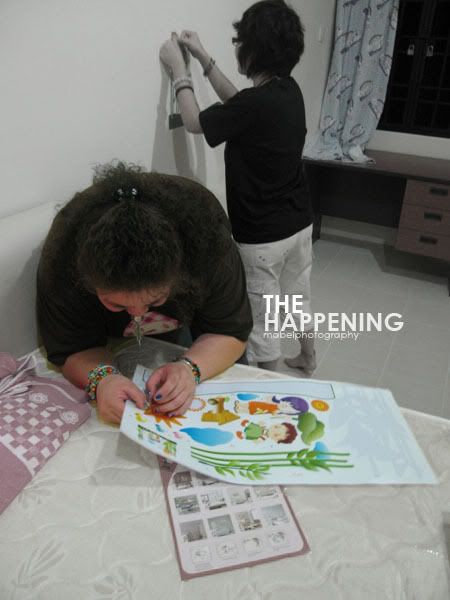 She's really sporting when it comes to group activities. Although i can sense that she's kinda shy sometimes at certain moments, but i have a feeling that anything under the roof she'll surely do it!
Can your boss cam whore?
If your boss can't cam whore, don't expect he/she to even stick wallpaper art with you.
We definitely enjoyed the moments working together. And when there happens to be a mistake somewhere, we just laugh it away.
A mistake? We call it creative.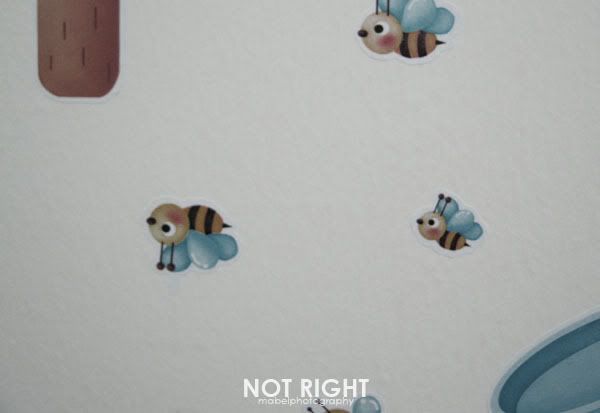 Whatever done is wrong, we just undo and redo it the correct way. Every knot can always be undone, right? Otherwise, get a new string, make a new knot, and
practice undo-
ing
it!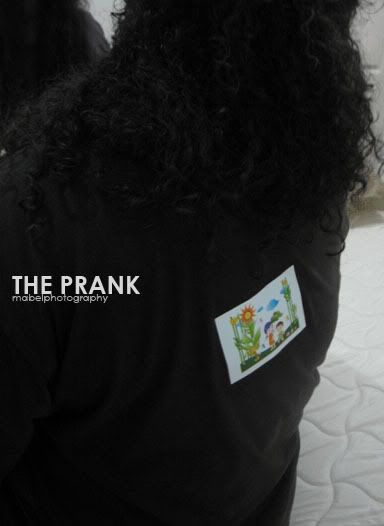 As long as we keep looking at things from a different angle, the brighter side will always show. All you have to do is open your eyes. Don't look, but see!
My boss... she plays Farm Frenzy. And she got me

playin

' it too. :P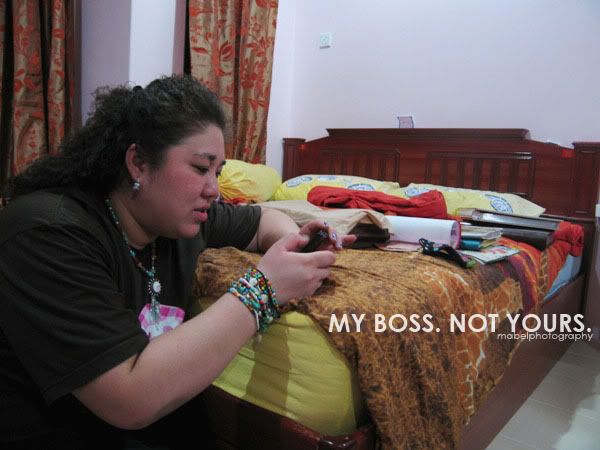 So what do you think of YOUR boss?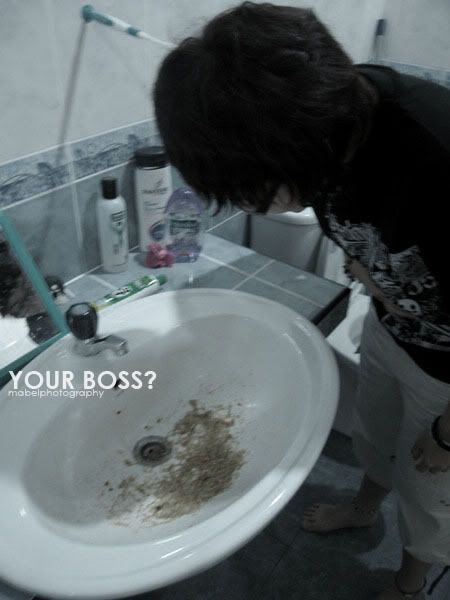 Well, if you think he/she is just like vomit, i feel sorry for you. Because you haven't even tried looking at things from a different perspective.
My previous boss was nothing like her. She literally stabs you from the front. To add on to the pain, she smiles while doing so. Despite her attitude, i thank her for the exposure. If it wasn't for her, i think i would still be the naive girl that thinks everyone is good. Frankly, she was the one who made me realize that people don't come in 2D.
The boss is never the problem. It's how you see things that matters.
For me,
I'm
glad my team was '
looking into the same lens
'. Cheers, peeps!!!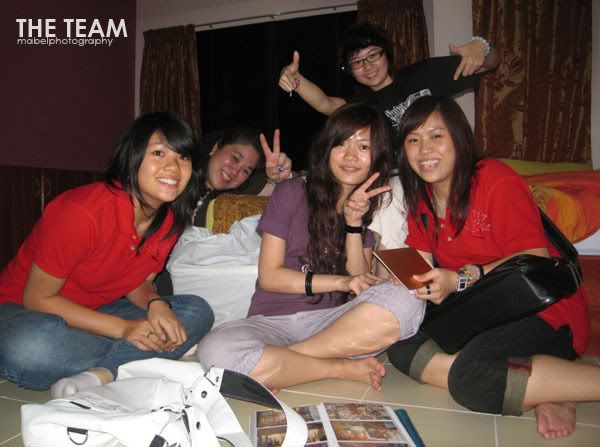 * * *
P.s. : Gasp... i'm going to form six!