As promised! This is
ze
post that i was talking about. There is one and only one reason why i put up this today and no other day, but
I'm
not gonna tell you why. Whether you know it of not, it
doesn't
matter.
You know when the 'special day' of a person comes, be it one's birth date
or death date
, we all have difficulty figuring out what presents to give. So perhaps this post may help you is
so happens that today is

someone's

birthday
or maybe it's Christmas now in your planet or whatsoever.
I think the most common thing that people would do to get a present is to purchase something of which the other would like. For girls, it's pretty simple to impress her with almost anything. But i always find it hard to get something for a guy. Usually i would opt for food when i couldn't decide.
I think it's cute to have a little message along

with

the prezzie.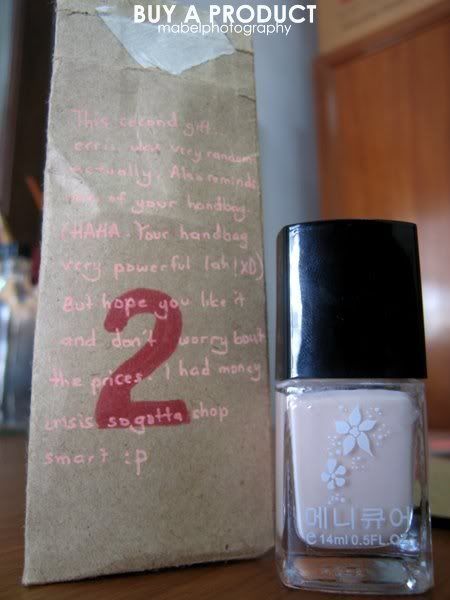 You can try finding out what is his/her likings towards stuffs, colors, etc. Maybe you can hang out with them and try to get some hints of what they want. Otherwise, just buy what you like
lah
and hope if they don't like it, they'll pass it to you.
HAHAHA
.
No, i DON'T do that.I made that ring. You can't have it cause it is out of stock. The material i mean. :(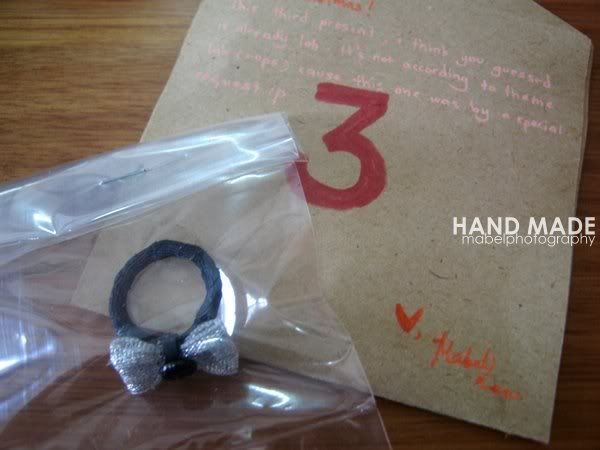 You can try to hand make something. Anything handmade, in my opinion, is always more meaningful. One, because the person made it with love. Even if it was a disastrous outcome, it's the effort that counts! Provided if the present isn't a waste product e.g.
tahi

.
Lets say that you really have no idea what to give the fella and you have no money, no time, no ideas, no nothing. Be sure you have no worries as well cause you can always just give him/her a short note in a card or simply a letter. The person will for sure read it twice but whether the letter's lifespan is long or not depends on
how much you love them
your relationship with them. Too bad
lah
if they hate letters or may mistake yours as junk mail.
You can write poetry, songs, or lyrics of a memorable song, history, etc.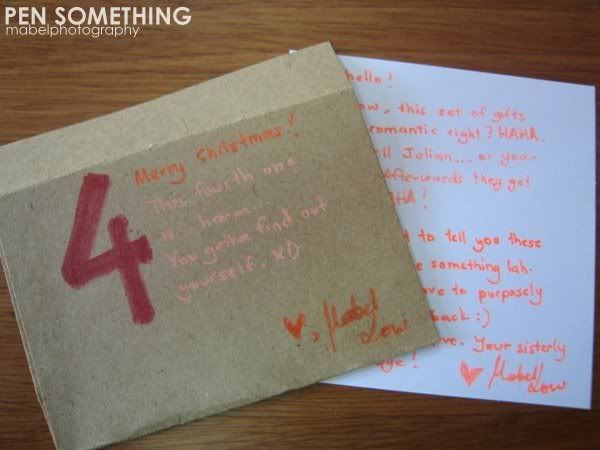 Or if you're creative, just doodle something out that relates with him/her. Perhaps this is your time to draw out nasty stuffs about the person in a pretty awesomely nice way.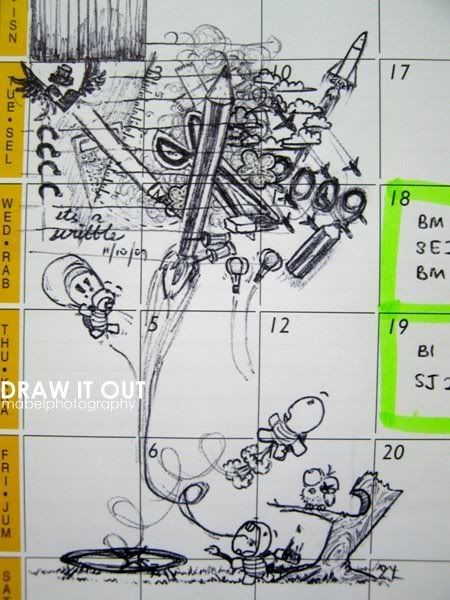 You can also give them pictures you've taken together. Compile them and but in an envelope/album is also a good idea.
What i tried doing last year for Christmas was to bake a cake. Don't laugh, you who read
this
post! The cake i made this time was successfully delicious okay! Will share with you guys on this later.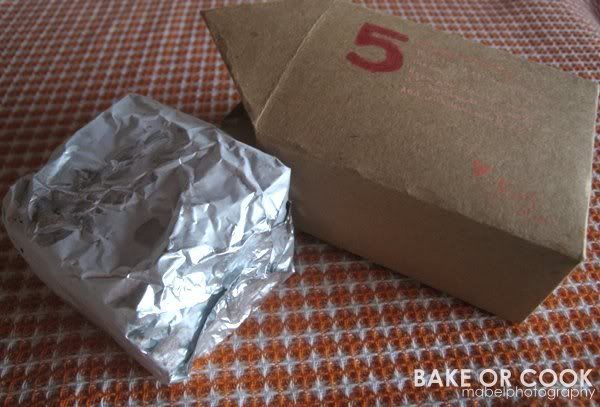 You can still include a note with the food present. No problem at all.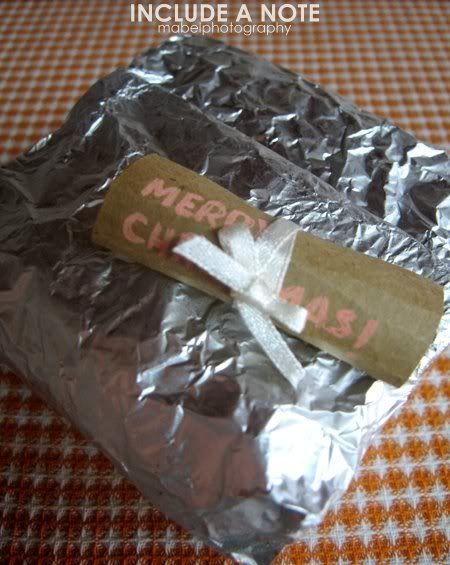 But you gotta pay more attention on the wrappings. If you're planning on a surprise and not want the person to know what it is, you really gotta juice up the wrapping style. As for my case, i needed to keep the cake cool so proper planning is necessary.
I like my wrappings to be simple since the emphasis isn't placed on the outer look. What's important is the inside.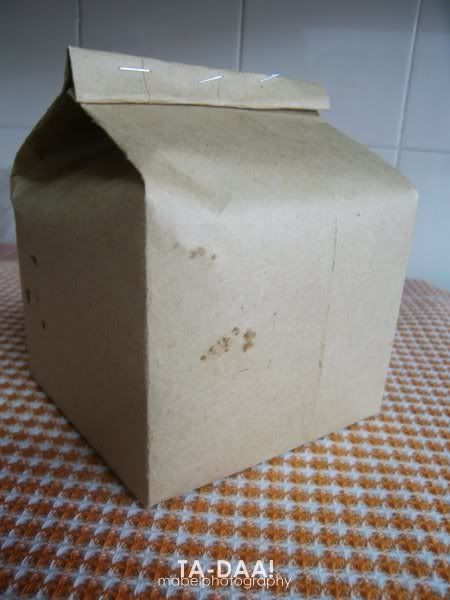 Sometimes, you can make things more exciting by wrapping something pricey with newspapers. Neatly, of course. The impression that
contradicts
is what makes things more surprising. They probably thought you didn't have any money to get proper present wrappers let alone the present. A favoured present is what they might least expect. *winks.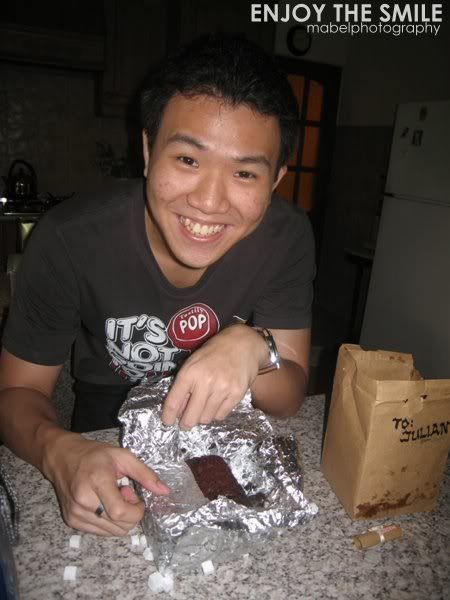 If you do bake a cake or buy any food, don't worry if they don't like it. Good things never come to waste.
Eat it yourself.

HAHA

.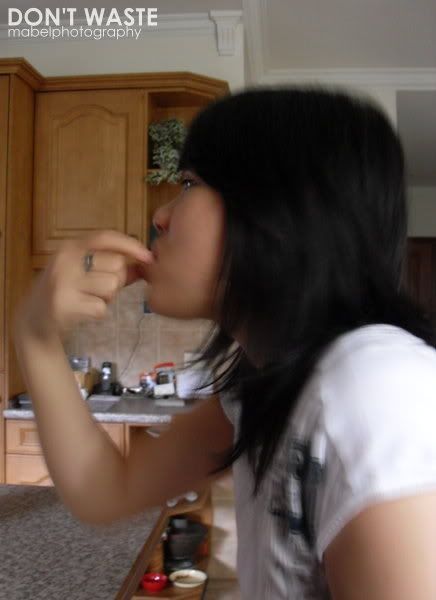 I believe everyone loves surprises as i do. And yes, i just received one last year (for Christmas). There was this sneaky little bear who made a small chimney in my room and somehow placed a gift in my cupboard!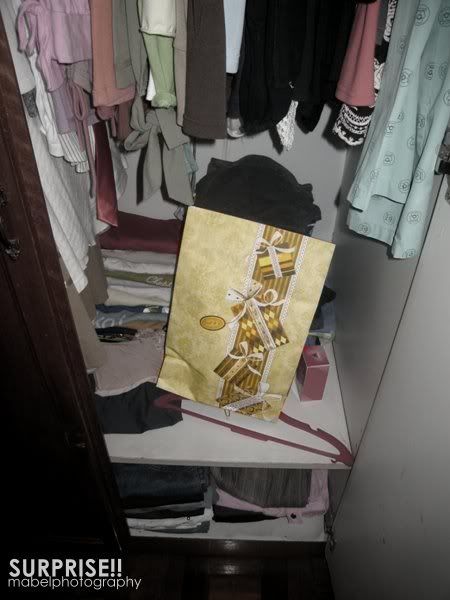 Boy was i so dang shocked when i saw it. Yes, not surprised but shocked!
I heart it so much!!!
Difficulty in present wrapping equals no difficulty at all. Anyone with common sense who faces that problem would know how to solve it. Just buy
lah
... No money? Like i said, use newspaper. But if your present is
cheaplak

,
don't bother wrapping
lah
. No point. If it's a waste product, just flush.
Or you could opt for ready wrapped presents.
What's this?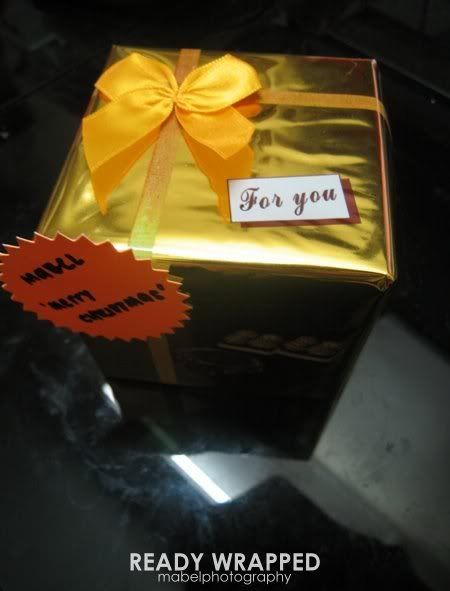 But usually the wrapper would give the surprise away since you'll find it's logo and brand on it.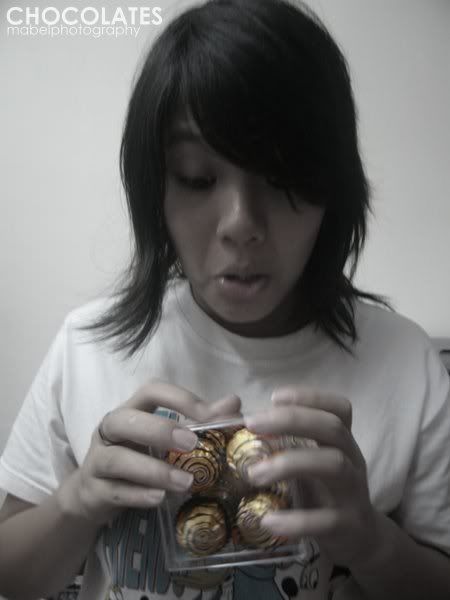 Even if they know what's the present, it doesn't fail to make people happy.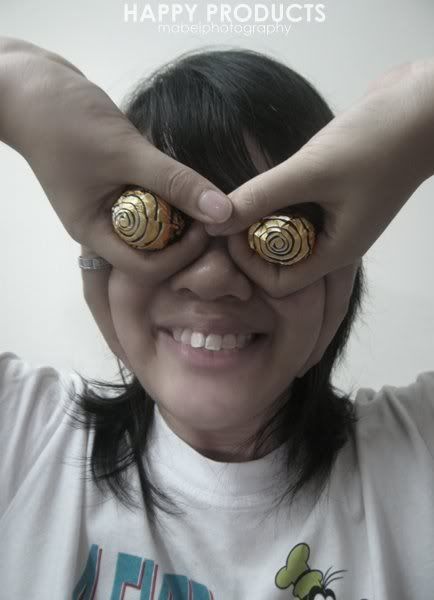 Things would be much easier if you could find his/her favourite something. If it's not too pricey and they simply love 'em to death, you can make them happy by buying in a bulk.
Usually you can do so with food only. They're the cheapest and the easiest to get in bulks.
If all these still don't work, simply give him/her a warm hug. Sometimes your presence mean a lot to them. *winks
By the way, notice the first few pictures of the presents, there are numbers on them? I placed them there because i wanted my friend to open according to the numbers since i didn't just give her one present. It's another way to improvise things a bit.
Never mind
about what's the first present
lah

.
Well, i do hope this helps.
Cya
!
P.S. : So dang rush man, while writing this post. Anyway, KELLY! I HAVE NOT FORGOTTEN STILL! So paiseh lah, until now still haven't finish
"the assignment".
Sorry ah Kelly!!!>.<