It's getting hot here in
Ipoh
. Can't believe that it's actually January already. For me it still feels like it's the holidays. Maybe that is what all form five graduates felt like (except for the pitiful ones who are chosen for the national service). The feeling is like no one is going to school anymore.
Seriously, the thought of people going to school and me going to work makes me sound so... old. Anyway, brush brush.
Chinese New Year's coming and the heat is really beginning to roast things up. But before this, things had been heating up already on a special night.
Almost a hundred bucks gone here. Grocery shopping is worst than any shopping.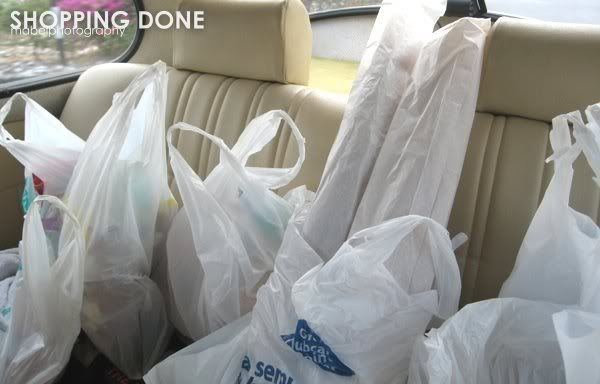 We had this last minute gathering the night before
Christmas
New Year. It was Casey's idea, i think, to have a BBQ in Emily's place. And because all the others were working except for Julian, and me, so we had to get the food ready on that very day itself.
Uncle Rolland's S

martshop

shades. I figured things would get pretty hot.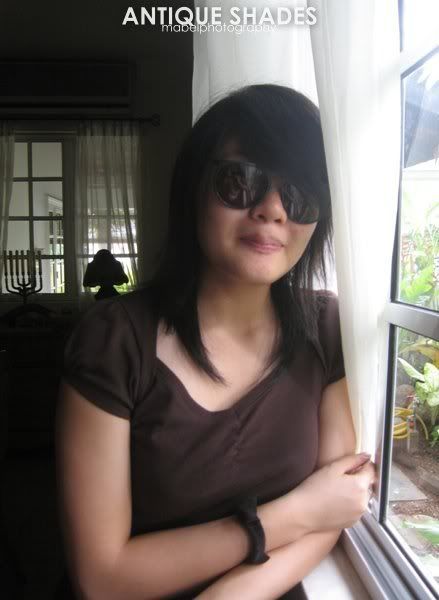 It was really a long day man. I was so blur also...
aiyah
, not gonna mention about it. Too much to write until nothing to write.
Wet floor - it rained awhile. At least not that hot

lah

.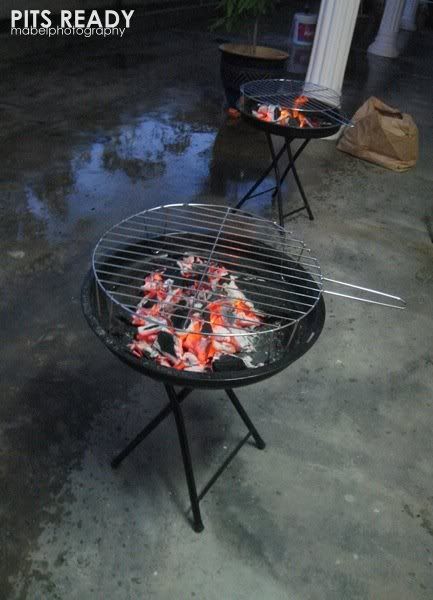 When there's a
BBQ
, there's always chicken wings - marinated chicken wings. Because everything was so last minute, we didn't get to marinate our own meat.
Jusco
ran out of stock and so it was
Tesco
that saved the day. They tasted pretty good
y'know
(complimented by the aunties)!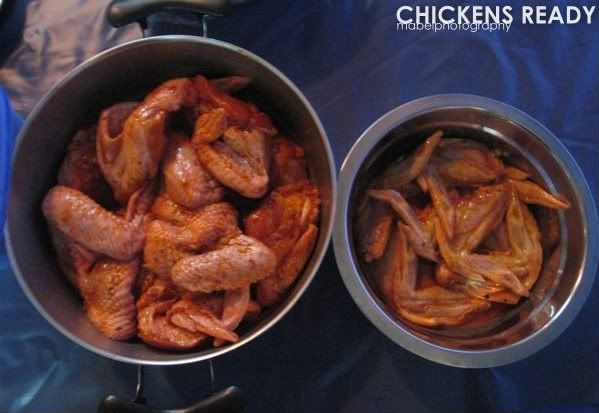 We also bought sausages; lots and lots of sausages, potatoes, french bread, garlic butter and
fish balls
. Yeah, we
BBQ
-ed the
fish balls
.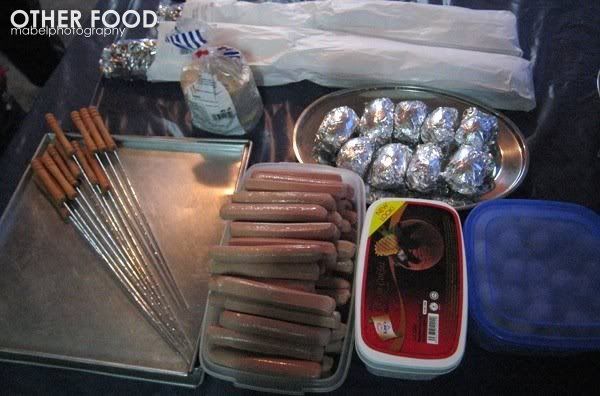 Not forgetting the one element that cools us down - drinks!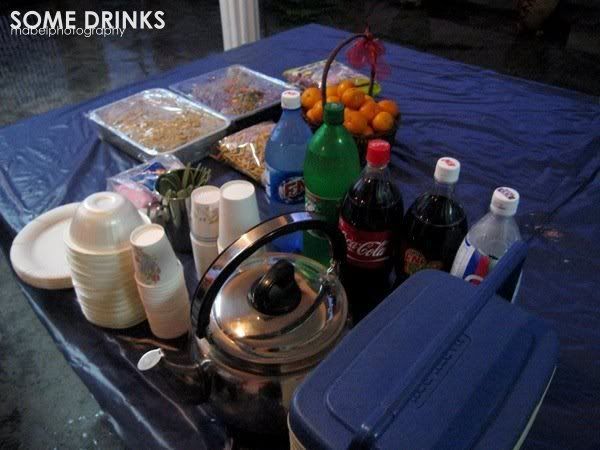 Some
'side dish'
.
We had to set up a few fans 'cause the rain wasn't enough to chill things a bit. The pit was heating up
from hell
and we gotta get things
moving
to start the event.
Don't kill yourself. You'll ruin our appetite!
I've never participated in a
BBQ
event before. I only tried marinating the wings and of course, feasting on 'em. This is considered my very first time... er... poking the chicken wing? (Sorry, forgot the term for it.
Hehe
)
Don't even think about it.
The wasn't the only beginner around. Joshua too was trying out the new skill.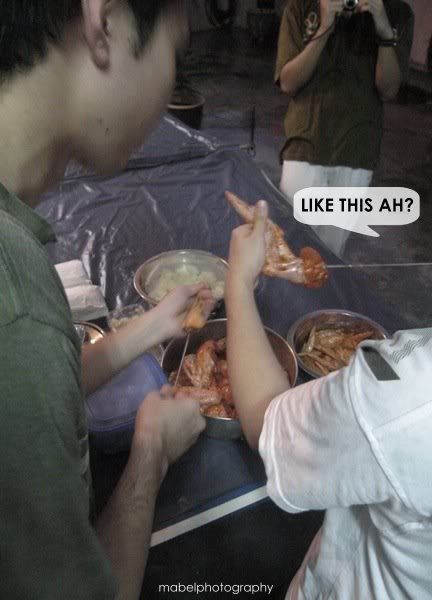 And Eric was there guiding the both of us.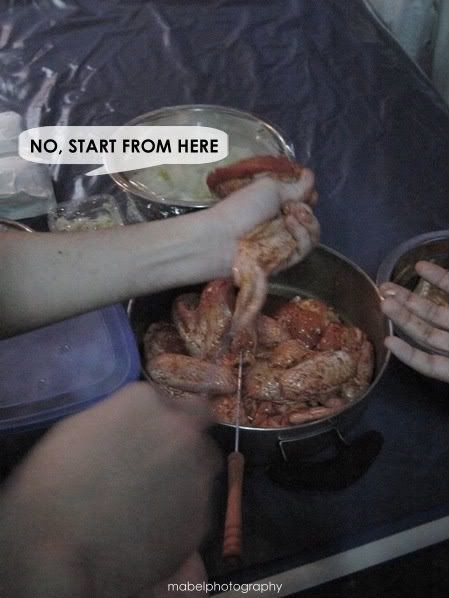 It was kinda hard at first. Can't bear the thought of poking through my hands instead.
With much determination.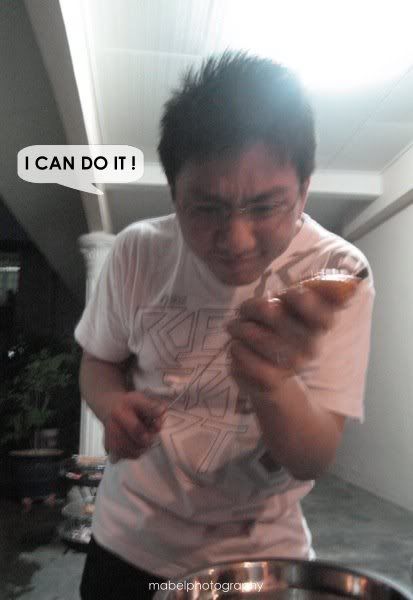 While Casey, dealt with the sausages.
"
Sausages, die!"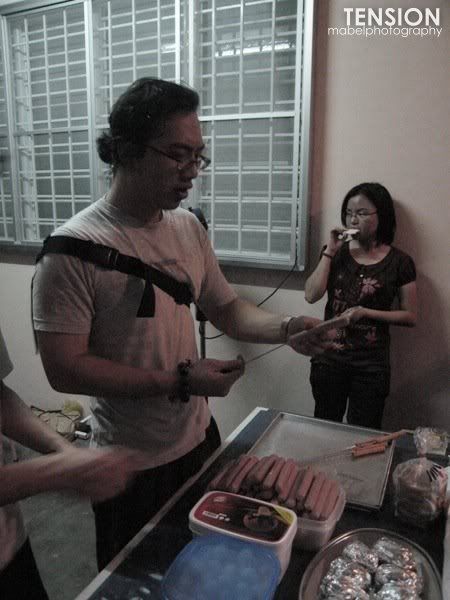 The tension built up along with the heat. And they blew up!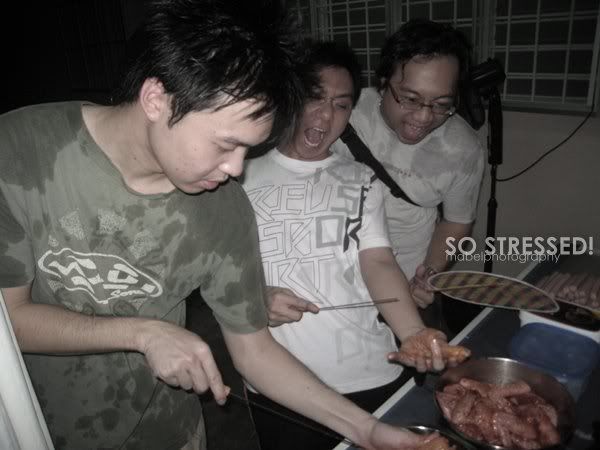 Haha
. Silly silly. Wait! Don't eat it raw!!! *gasp
I didn't help much in the
bbq
-
ing
. I still haven't got used to the smoke.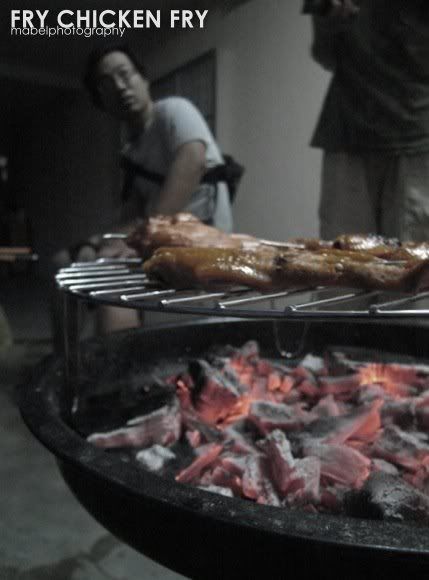 Other than that, the heat is another problem. Wished i brought my
hairclip
along.
But i still made myself useful
lah
.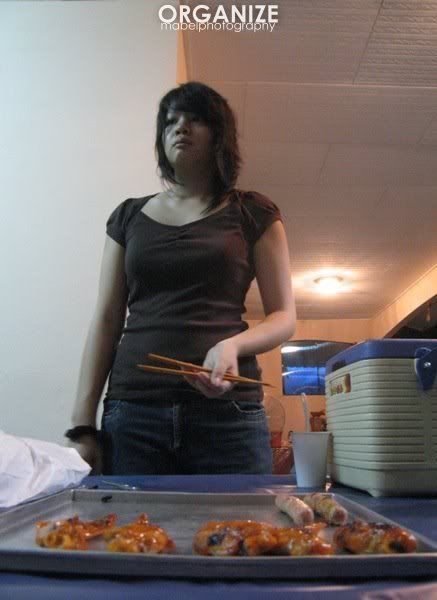 Ta-
Daa
! Neat huh?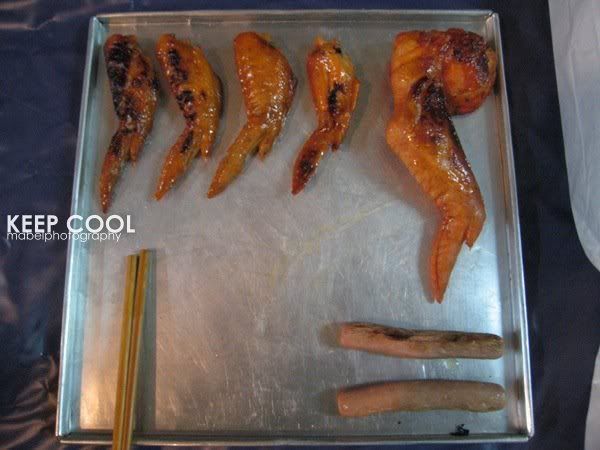 Someone brought hamburger patties also. But we overcooked them a
lil
.
And the potatoes.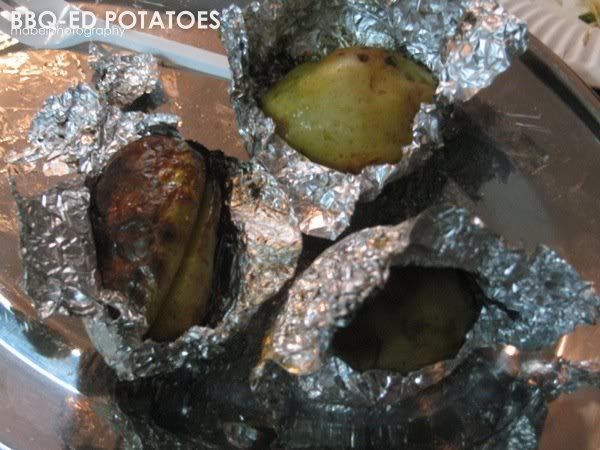 And
marsh mellows
too. For me i prefer eating it like that, without heating/
BBQ
-
ing
it. I'm not really fond of 'em melting in my mouth.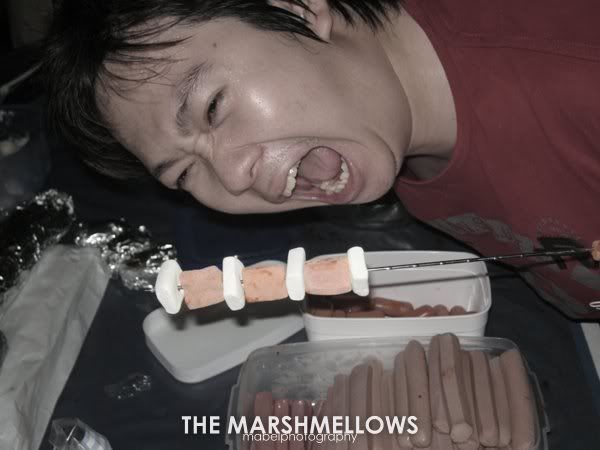 Edward suddenly had a spark of inspiration. He wanted to try something new with the
marsh mellows
and improvised the usual way of
BBQ
-
ing
them.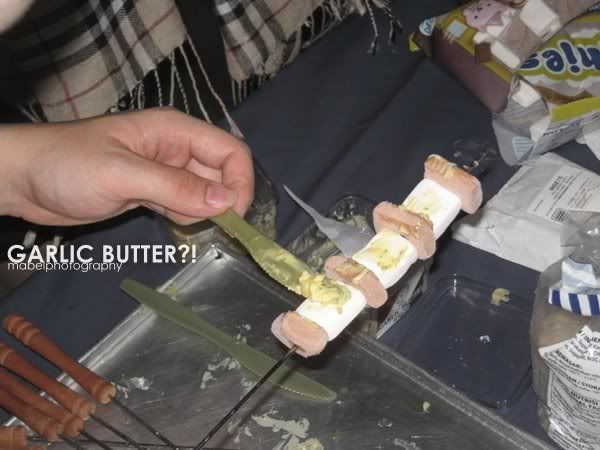 Yeah, garlic butter. But it doesn't stop there.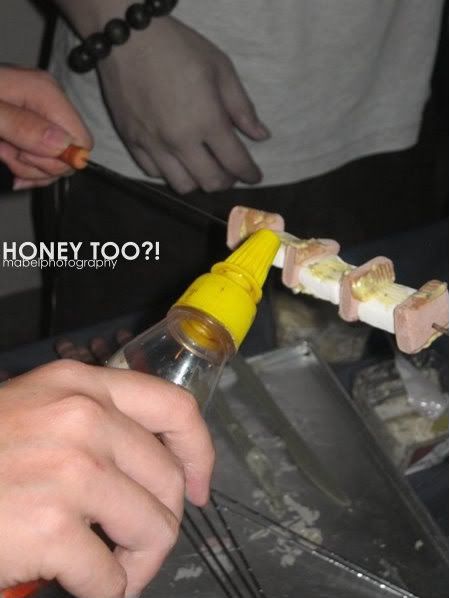 Please please please, if you do not have the courage, don't try this at home. Who knows what type of
marsh mellows
would come out of your anus afterwards.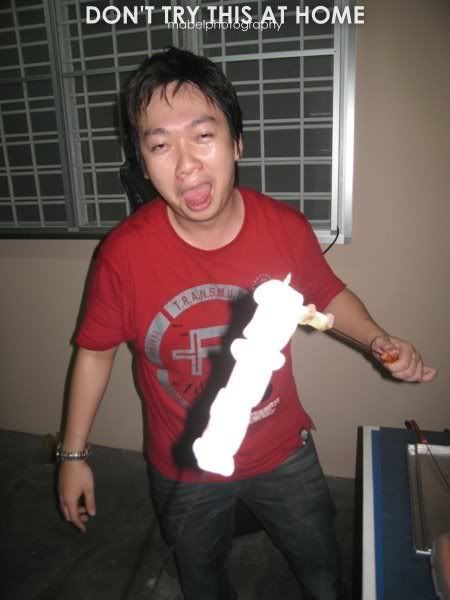 TIP: Adding garlic butter to sausages and
fish balls
before
BBQ
-
ing
/frying enhances its taste. To me it tastes slightly sweeter.
Mmm
....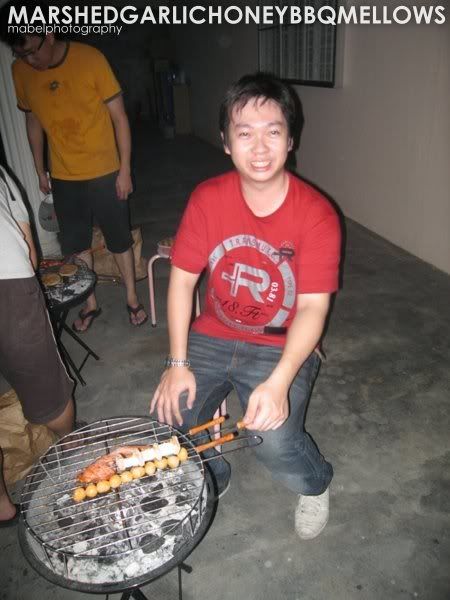 But if you add it on
marsh mellows
.....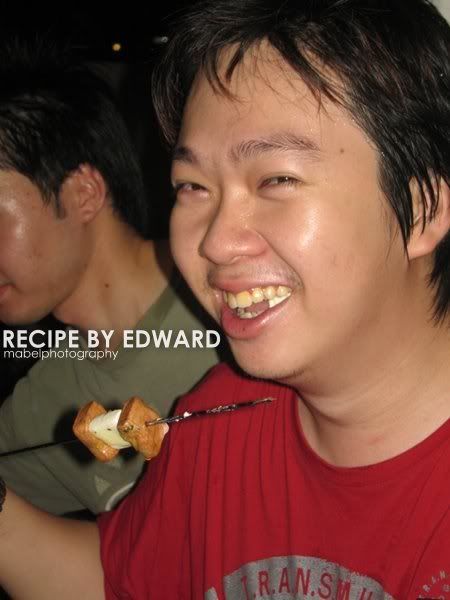 ...i assure you, it will taste weird. Says Edward.
HAHA
.
That isn't the end of weirdness. I discovered people playing tennis indoors.
No wonder children these days aren't as active as expected. I mean, tennis in an electronic box? What?? I cannot except it
lah

.
But at least it's better than this:
Julian's cat. Motionless.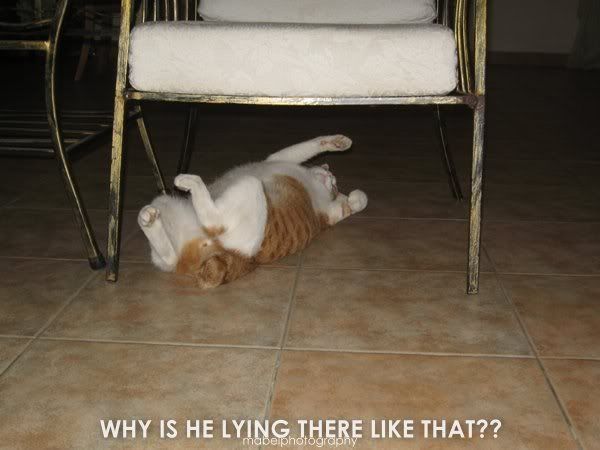 So cute right his posture?
HAHA
.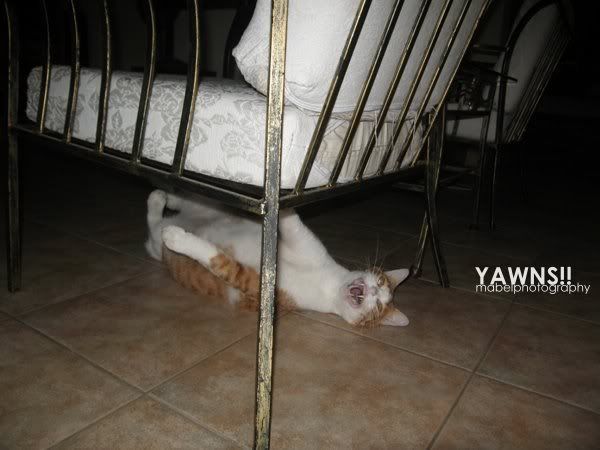 You'll NEVER see me sleeping like that. NEVER.
*
psst mum... don't say anything!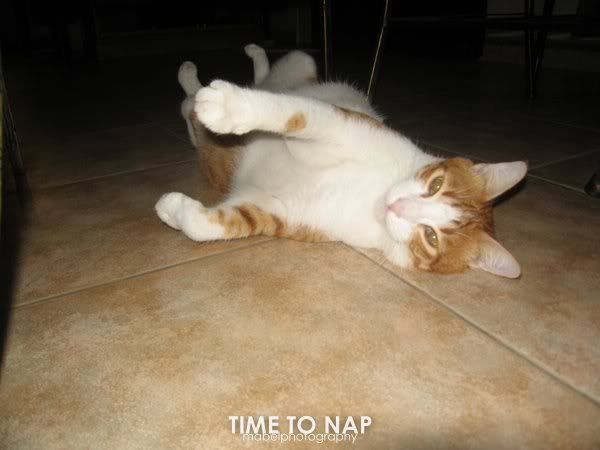 P.s. : Will be posting up something this Saturday. And yes, i'm rushing my new header. I just need more time. Stay tuned!