CAUTION!
THIS POST CONTAINS OVER THREE TENS OF PHOTOS.
There are actually more pictures than what
i've
posted here including the ones in my previous post
The Riding Hood Who Didn't Meet The Wolf
. I couldn't post all 99 images here because 1) i may start receiving
feed backs
about the loading error of either the pictures or my blog, 2) needed to save the storage space in
photobucket
, 3) some may not be fond of lengthy posts, 4) not all are decent to the eye, and 5) reserved for my own viewings only. I'll be piling 'em all up in an album in
facebook
you can browse through there anytime after
i've
uploaded them - which won't be so soon til my next post.
Event :

SMC

4

th

Unit Ranger's Farewell Party
Theme & Dress Code : Halloween
I seriously had no idea what to wear in the first place and yes, this was in fact my very first time dressing up for such a theme. Was it okay to wear something outrageous and extraordinary? Or should i just rely on the make ups? How would others wear? The time factor made things even harder and so i decided just wear something simple yet outstanding (?).


Thank goodness mum had enough black cloths for me to transform 'em into my black cloak, plus i bought this screamer mask in Cameron Highlands for RM5 and it finally came in good use! But because the screamer character is so very common, i thought the Black Riding Hood would be a great one! Thus adding the mini basket onto my necklace was an impromptu idea.

Me as Black Riding Hood.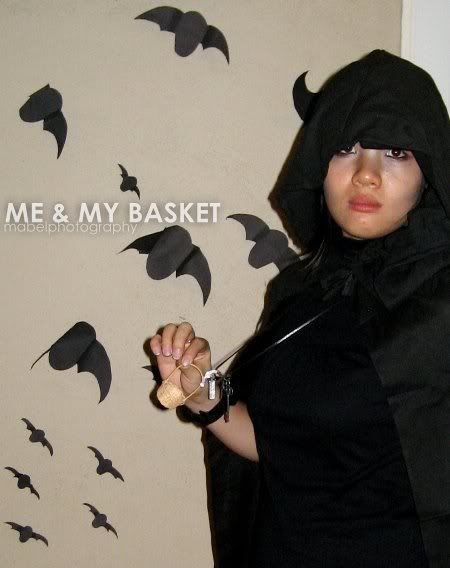 The making up was pretty fun, in opposing to my statement that i made in The Day I Lost My Youth. Perhaps the reason why i didn't like it in the first place was because washing it off felt like ripping my entire skin off my face. Not to mention how it hurts when cleaning areas near the eye. Guys, try having someone put eyeliner on you and not get to blink for 40seconds. Your eyes will start to banjir in no time (note : the element of exaggeration is used in here).


Helping YeanKit to live up to her name; Hot Nurse With Deep Cut On Neck.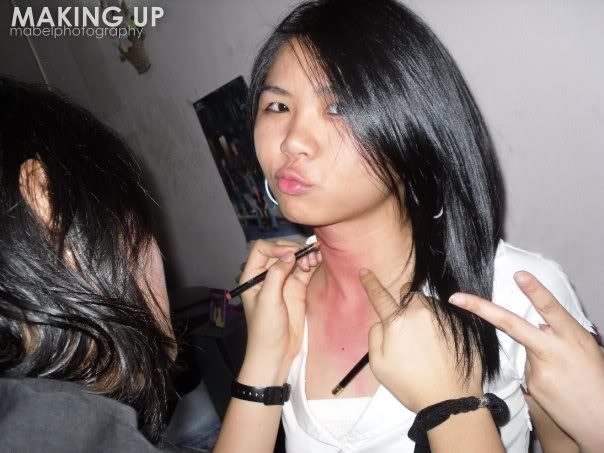 You won't believe what i used to draw that little art on her neck! I didn't have any proper tools since i was in Jane's place. What i had in hand was only my black crayon eyeliner and my lip pencil. Yes, the lip pencil. Used it to make the wound look infected or something. She also asked me to bring along some red water color and so i did. The blood looked really fresh!



How i did it? My Buncho paint came in a plastic tube, so putting the paint on was easy. Be sure the amount applied isn't too thin if not when it dries, it may crack. The thickness gives it a 3D effect which makes it realistic. Nice eh?


So no need to buy liquid fake blood or those in pill forms. Just use Buncho or any other removable/washable paints and remember to stay dry after applying. Also if the chosen paints stink, just relent to the real blood lah.


On the way there. Notice Jane's mouth (the devil)? She too used the paint's effect.




Another thang that is a must for me to bring to events such as this is of course my shutterbug. It may not go along well with my riding hood character, but not the screamer mask.


The camera serves the mask.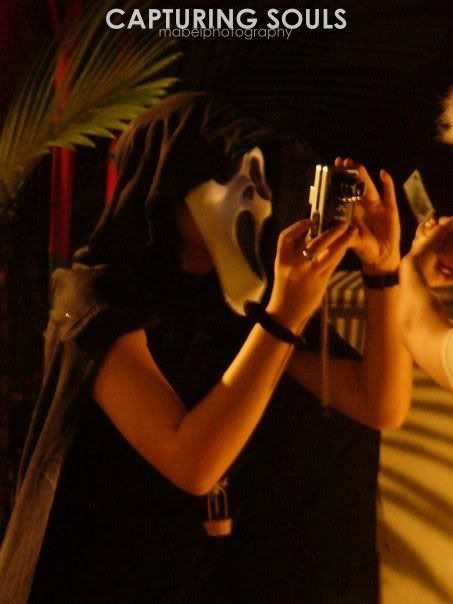 Many of my souls caught in these images are captured by my good pal JuEan.


From my previous post, you'll know that she's the Death Angel who wanted to kill me.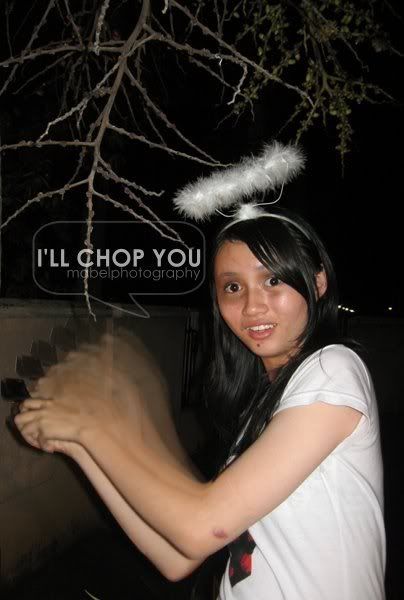 And notice the mini chopping knife she's holding? We actually found it in the garden in display together with a joker(?) doll which didn't seem very terrifying to me. Seriously. See for yourself if you don't believe.


Angelyn thinks it looks like Chucky, from Rugrats i assume.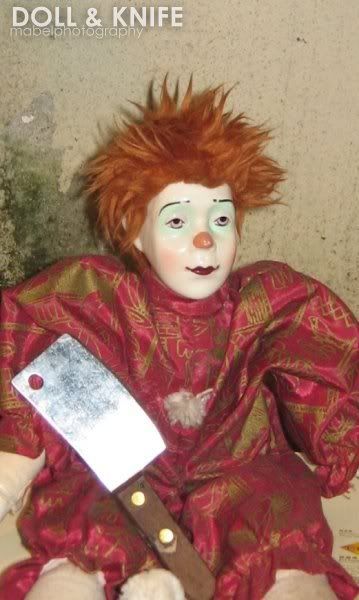 We had much fun with it really. There were so many things i could write about the pictures taken with it. No plannings made. No drafts. None. Just me, my brains and my pictures. Really had to crack my brain on how to arrange the pictures and stuffs. Eventually when i started writing, crazy story lines just appear in my head and walah! I have one post!


Glad she decided not to kill me anymore.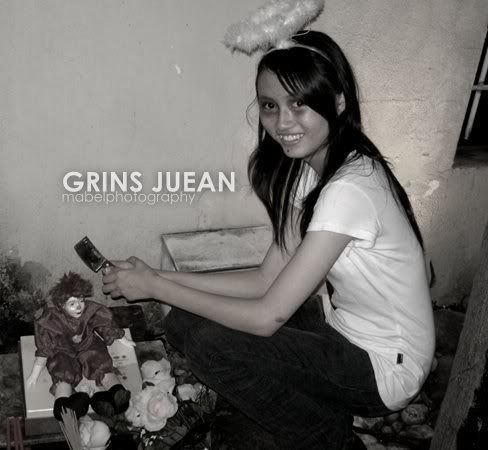 I wasn't the only one capturing souls that night. In fact, the moment i stepped foot into the house, part of my soul was ripped off immediately. Trapped in those SD cards.


Demonic welcome?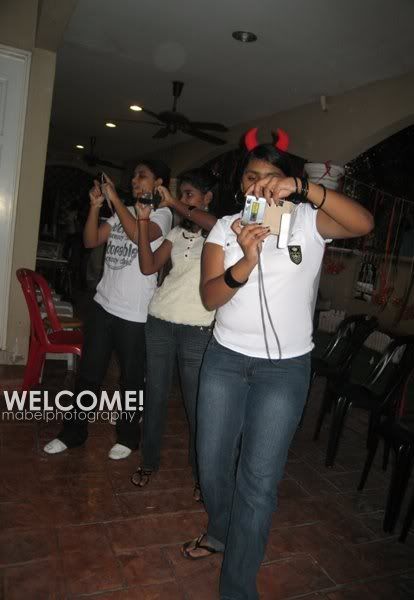 Even the Grim Reaper equipped herself with one of those gadgets, but more advanced. I was just about to bear fruits of jealousy til i found out it was the D60. Phew, not D90. Hehe.


Careful Auntie. Watch who's beside you!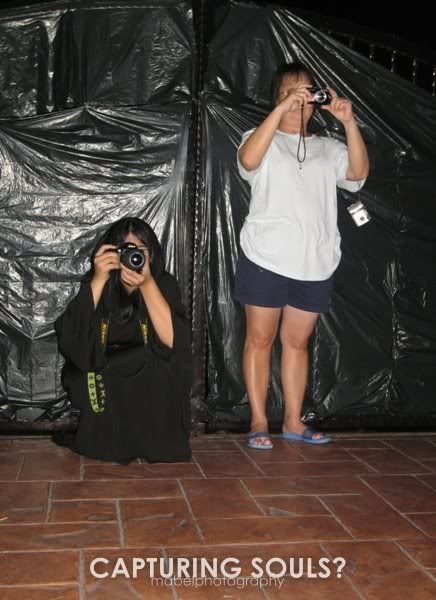 There was this one camera which was different from the others and if you've tried it, you'd definitely think it's one shocking thing!


Eva the Rock Star trying it out.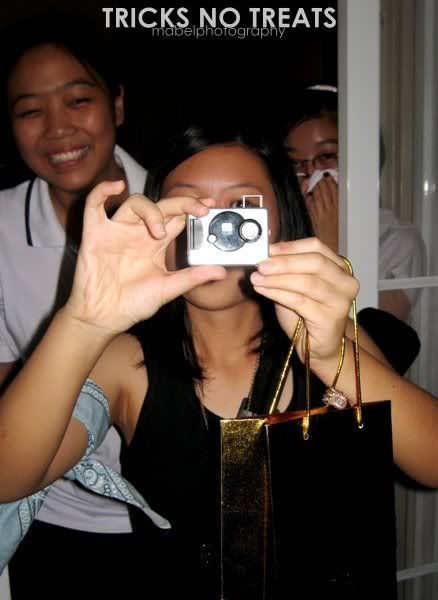 What is it that's so shocking you ask? It is shocking not because of it's space efficient size nor it's cute looking design. But because it is in fact shocking! Press the button and hold for three seconds, your nerves will receive painful electric shocks which may probably make your fingerprints disappear! (Note: once again, the use of exaggeration is present)


Laid on the table.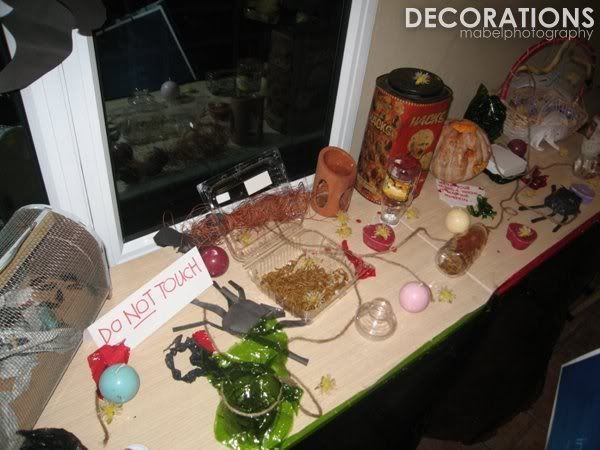 They all belong to Sharon whose father owns a pet shop. There were worms, maggots and crickets. Edible, probably.


All these are the Death Angel (JuEan)'s most feared stuffs. Lol.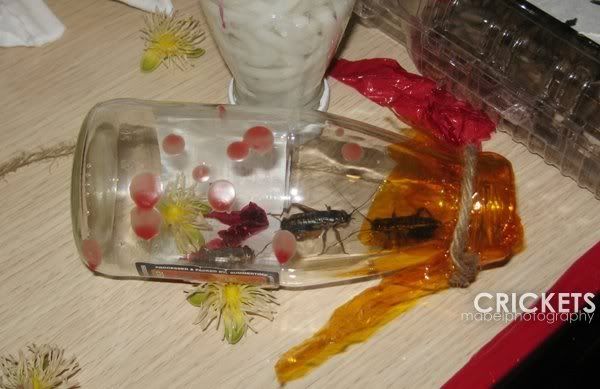 Notice the bottle behind the one containing the crickets? I think the white stuffs are noodles. Lol!


Some other nice deco.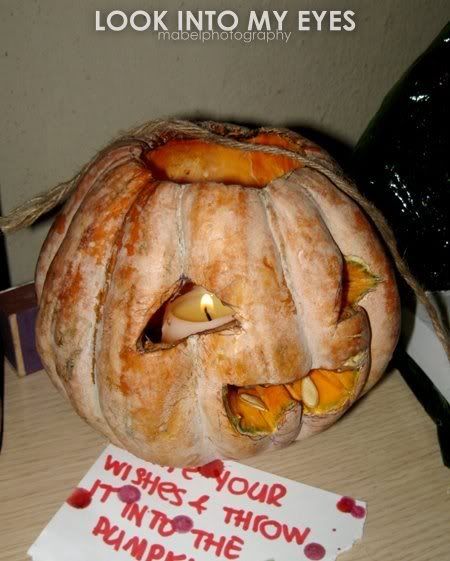 And me posing with it.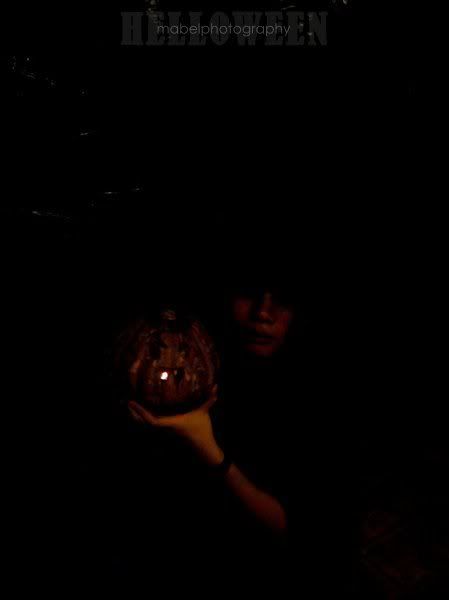 The pumpkin stinks very much, but I didn't dare pose with the little wormies though. The stinkifying is better than the slimmy disgusting creepers. *pulls a disgusted look*


Just look. I'm lazy to list what was on the menu.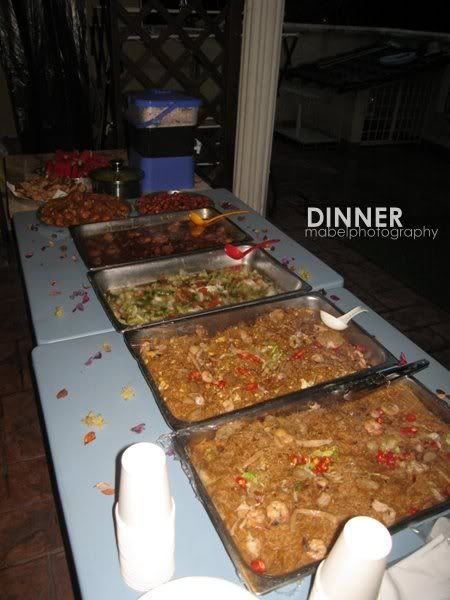 The food didn't taste too bad but the oil content was rather high.


They initially wanted us form 5s to catwalk, showing off our 'deadly' looks. But we resorted to story telling instead. Ghost story telling.



And the fire in the pumpkin blew up!!




It didn't blow up by itself though. The girls were feeding it with papers thus the large flaming.


Exchanging gifts session.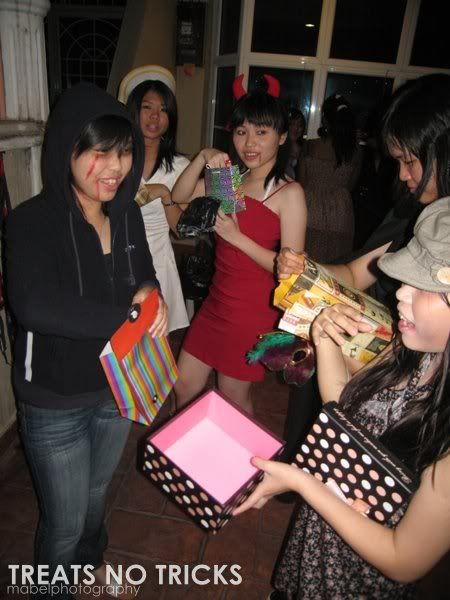 We exchanged gifts among the old and new exco members. Talkin' about gifts, it was another headache for me. I didn't know what are my treasurer-to-be's likings. Only knew she likes blue so i bought the following stuffs:


A letter 'C' which costs more than i expected!!




Some dessert tokens, excluding the hamburger.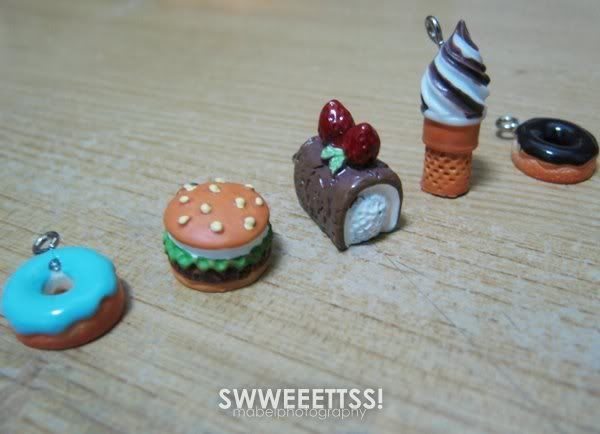 The hamburger was simply so cute! I stole that out of the list and kept it. I combined the remaining tokens and made a key chain for her.


Added a ribbon and a button. Gave it some chocolate touch with a brown string twirled round the main chain.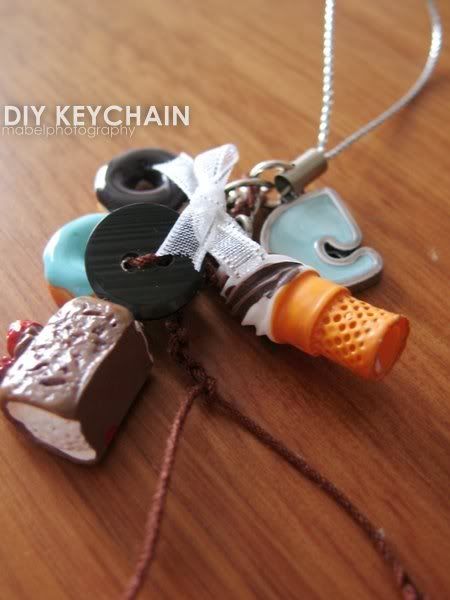 I also bought a gadget protector for her. Thought it'd go along well with the key chain which she could hang it on her hand phone.


Chose her favourite color.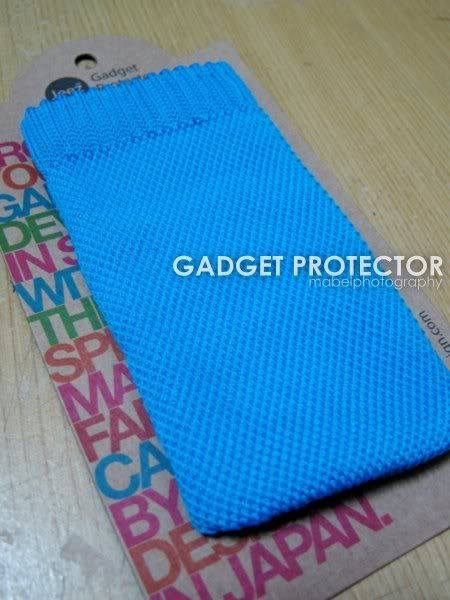 Next was the wrapping. Also a diy. Needed to save some money since the tokens were so pricey.


Fairly simple.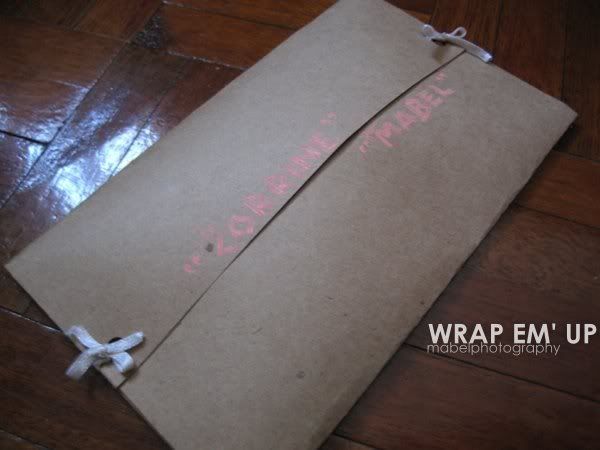 If you're wondering where i bought 'em, they're from the S&J in Jaya Jusco (Ipoh). Not so sure if you could find 'em from other outlets though.


Next up was the awards. Sorry that i couldn't remember the awards that were presented out so I'll just show you the pictures ya. The winner were given a handmade trident.


Jane doing her thang.



And me doing my candid.




Surprisingly, I was awarded the Most Spookiest award. Unfortunately it was my Black Riding Hood character that got the title, but my screamer mask. Y'know there wasn't anyone who have guessed that i came as the Black Riding Hood. None!


How is it possible that the mask plus the cloak plus a black sleeveless top and a pair of jeans could have won me that title?? I mean, look at the Grim Reaper. I'd think that she deserves it better. The cloak she's wearing is perfectly sown and the weapon she carried was neatly done!

The only factors which i think chopped her off the title was 1) she didn't have any scary mask or make up, and 2) her shoes.


Reaper shoes?




I didn't thought my screamer mask was that a scare either. Instead, i thought it was pitiful to just stare into it's screaming eyes.


How is this scary? Tell me!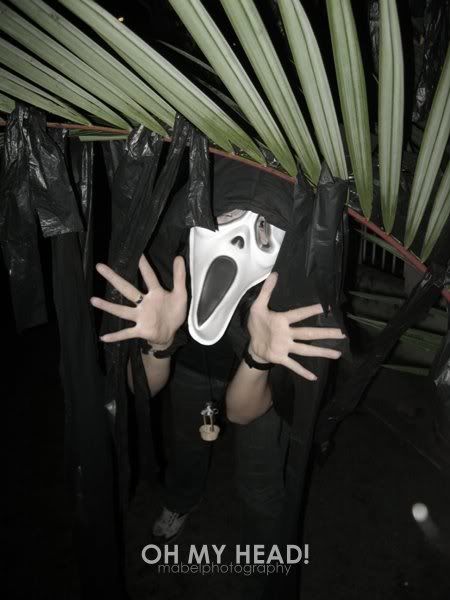 Or even this?




And maybe my edited picture was scarier.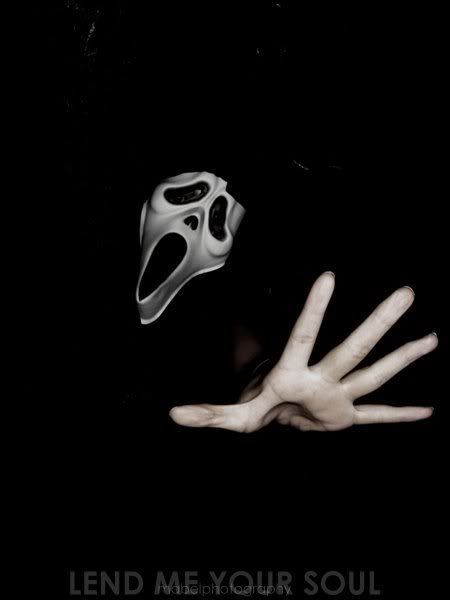 Didn't do much for that picture. Only fiddled around with the saturation, brightness, contrast and midtone adjustments.


Perhaps you may prefer me without the mask?


A group shot. Spot me!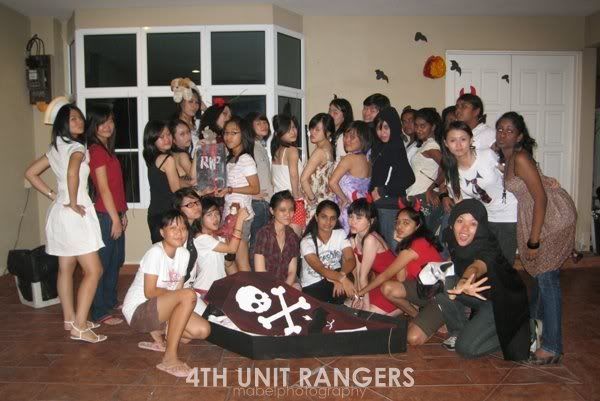 Once again, sorry for the long post. Will try cutting things down in my upcoming posts. Bye!
* * *
I wanted to go as a vampire in the first place so i bought these really cheap fangs (from Parade's Cultural Walk area).

Unfortunately, they not only taste very plastic (duh) but they do not fit. They make my lips look like a fish's and my teeth in terrible condition.

It looks like i'm in desperate need braces, no?
* * *
Another thing i'd like to tell you girls! Remember the dress i told you guys about that only costed RM20?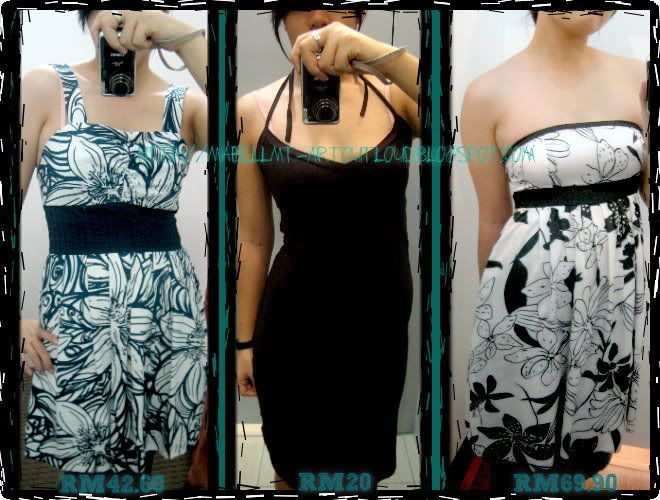 Yeah, the brown one in the middle. Many of you have asked where i bought it and that i should have bout it. So, I was telling Stephy the other day that i would be going to check whether the dress is still there or not. I went there on Saturday yesterday and........... (to be continued).