Enough about all the greens from the previous post. that reminded me so much of my mother's garden in a bowl. It's not that i don't eat 'em green flavoured salads, i just prefer the meat flavoured ones.
Hehe
. Okay, enough. Let's move on to reds instead - the reds of strawberries!
Before i proceed, to be frank, i am actually having my finals now before i can
finally
graduate from
high school
. And i wouldn't have to meet
her
again. Thus I'll really have to post this up real fast.
I have never really liked this red little berries ever since i was young. Unlike my friends, they have grown to love it even before tasting it. The only types of strawberry flavoured thing that
I've
ever tasted during my childhood years were strawberry jam and the cough syrup
prescribed
by the doctor. Seriously. During my primary years, my mother would always pack me bread with strawberry jam, so i have pretty much grew tired of it. And then the cough syrup that makes my body shiver all over after tasting it. My hair stands. The smell would travel up my throat and to my nostrils.
Urgh
. I can almost smell it as i type these words.
There were much change in expression even at the sight of the syrup - squinting eyes, an automatic shut in the nostrils, a pout that bends downwards, and probably tears? These two stuffs has really gave me a bad mark on strawberries and because of that, i can hardly take in strawberry ice cream also!
So imagine how hard was it for me when everyone in
Cameron
Highlands was talking about strawberries. My parents wanted to buy them even and my friends they all want to have a taste of it. I had no choice but to just go along with it
lah
.
A shop we stopped by while in

Camerons

.
Thank goodness some stalls they don't just sell strawberries. They had a variety of other fruits as well. But for this particular stall, the food was dang expensive! And because we agreed to share our order to save money, the majority of them wanted the strawberry one. Oh how i dreaded that moment!
A combination of what i like and dislike.
We had to
divide
the dish into four since there were four of us. I definitely like the waffle and chocolate alright, but not the whip cream plus strawberries. For a moment, i was so tempted to just sweep off all the chocolates with my portion of the waffle and leave the cream and the red thing for them. They liked strawberries so much,
I'll
give 'em all they want! Just leave me and my chocolates alone!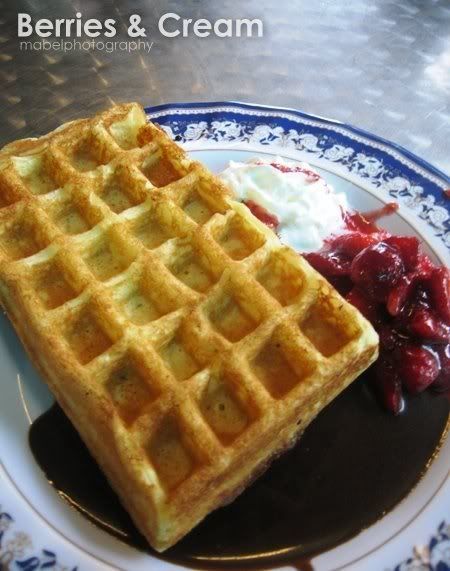 But nah, i wasn't such a selfish brat. I had to taste the
syrup
strawberries simply to not make my pals start questioning my dislike towards it.
How can you not like strawberries? Every person likes them even babies! How can you??
Ish
. It's not like
I'm
driving them strawberries into becoming some sort of an endangered species right? Besides, it isn't me that's
killin

'
them.
Pfft
!
And yes, i had to smile after tasting it for the first time.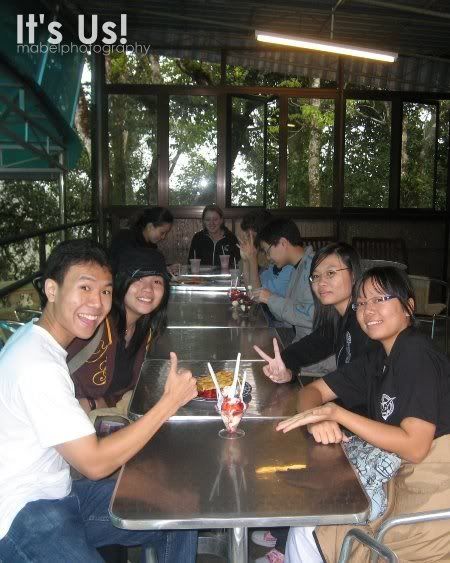 Perhaps i wasn't the only one that disliked
strawberries
??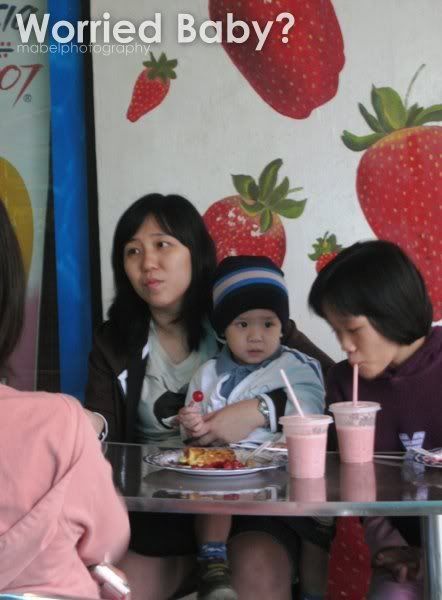 The taste is tolerable actually. But i still am not very fond of 'em, and don't ask me why. If you fellow people can turn your hate towards
durian
to love,
I'll
gladly eat strawberries everyday!
He seems to like it. Much.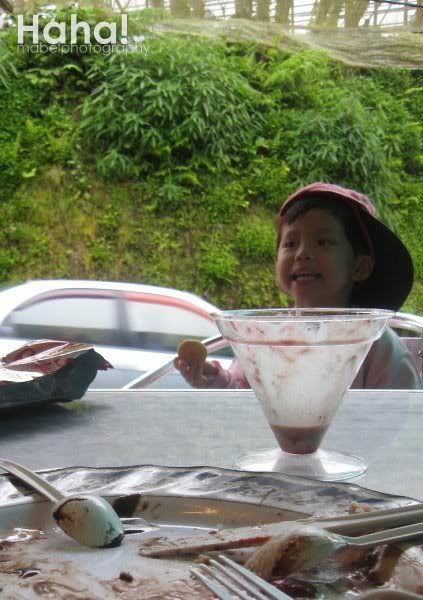 Alright. Back to my study table now. Two more weeks to go before i can light up firecrackers!
P.s. : Fuiyoh! Ice kacang open house... anyone?? :D