...by PJCAD.
Happened on the 24th and 25th August 2009.
From 0930 - 1430 earth hours.
Overall i think it was rather good but quite boring at the beginning when they did the introduction (all intros are boring right? Mine is exceptional). All that i was waiting for was the assignments or tasks
or the work on the shops
that will be given to the groups. My group consist of
AmeliaLim
(who eventually quit later)
,
ChrisNg
(linked herself to fashion designing), SyanYuen and TzeLing. And the task was to create/design an interior/ clothe/ packaging+logo using the given raw materials. Sounds pretty easy huh? You wouldn't think so if you found out that they didn't have any sewing machines for you to put your clothe together. Even the thread used is wool, the ones mums use to knit baby clothes for their lil ones. And i'm serious.
No uhu gum. Limited color papers. Pearl beads (like my grandma's). And... (wth) wool with 3.5inches long needle.
Our group chose to take up all three tasks. With an empty white shirt given to us, we made it into a long almost-body-fitting tshirt and added a hand-made vest.
Me & Chris.
This one's incomplete. Still many more to do. *shiver* Both of us had to sew the chips one-by-one onto the vest layout. I didn't enjoy it much.
Of course it was impossible to finish on the first day itself so Chris took it home and completed it. She did some finishing touches the next day.
Me, Chris, TzeLing (our chosen model
)
& ShanYuen
.
Be prepared to see the transformation. Lol.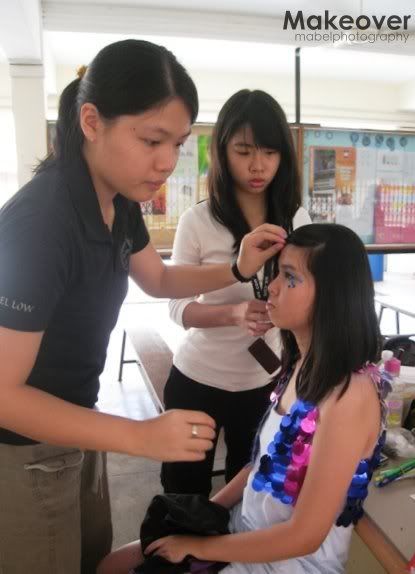 The front.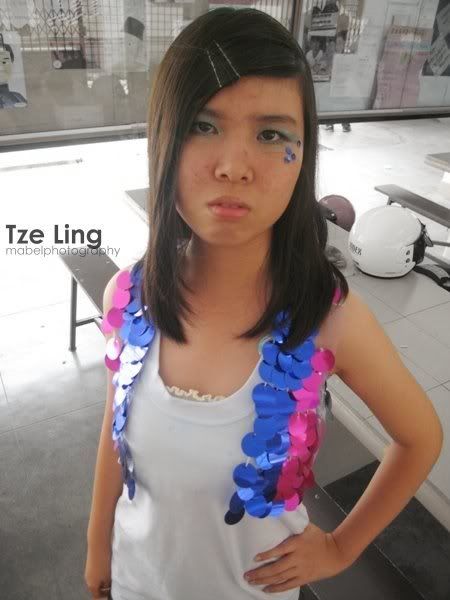 The back.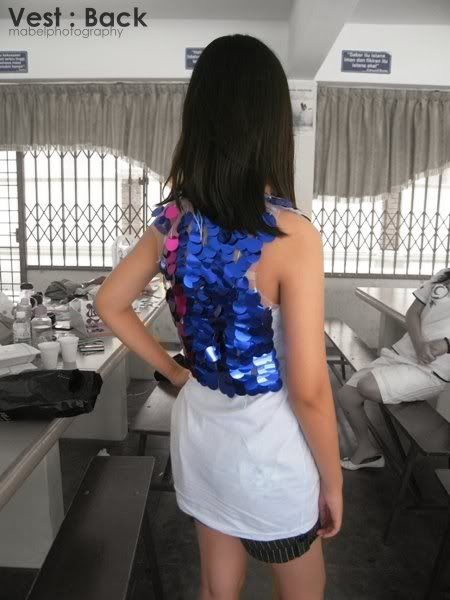 I'm just really happy that we got to finish it in time. Thank goodness they allowed us to bring it back home.
While Chris was finishing on her lovely dress, ShanYuen assisted me in my last minute decision to do the interior designing. At first we didn't thought to take up this task since the abundance of ideas that we poured out seemed rather impossible to be executed. But the thought of not doing it seem like a waste to me and had my mind unintentionally occupying my afternoon naps by thinking about it. The decision of not doing it in the first place made me restless.... Pfft.
So ya, i individually took it up and managed to finish it with of course, the assistance from my team mates. Ta-daa!
A runway themed boutique.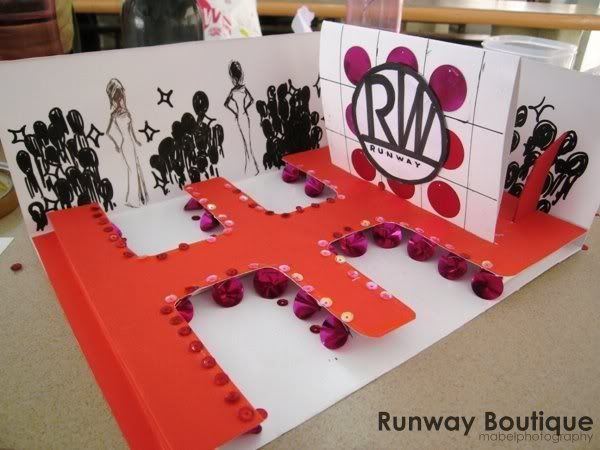 Notice the cones under the runway? They're lights. Hehe.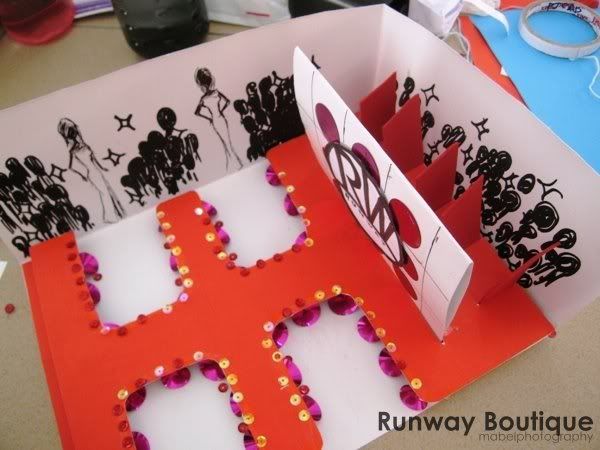 The idea is to have the customers feel like they are on the actual runway while shopping here. And by the way, we chose 'RUNWAY' to be the name of our product/brand. Nice huh?
*winks*
Next up, we have our packaging and a closer view of our logo.
Last minute design by me.
Before i started on the interior design, i rush to complete this. Managed it in 40minutes before handling it to ShanYuen for the touch up.
Why so simple?
Because i wanted to attract more attention to the logo on the transparent plastic. Customers can also see the product that they have bought inside the box. Classical, i call it.
Bag packaging done by TzeLing, ShanYuen & assisted by AmeliaLim.
The bag is another reason why i made a new packaging (the box). Wanted to make this err... elegant and fun (?) styled bag as a limited edition. LOL.
Our model pretty hor??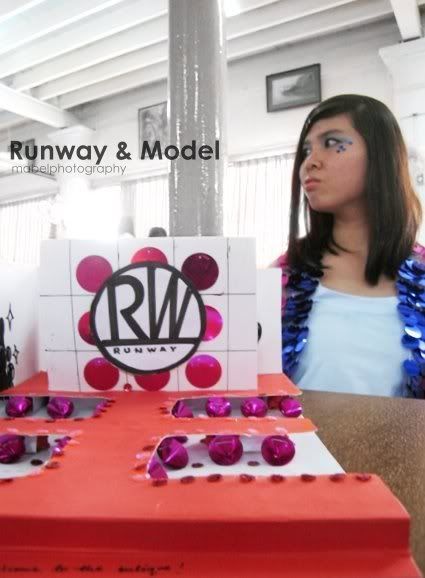 And so are
some
of the other models ;)
Time for presentation done by me and Chris. Frankly, i jolly enjoyed the presentation part rather than the process, though i didn't mind the brainstorm session. Seriously, too excited to have stage fright.
I didn't quite manage to present all the main points properly and even missed out a few. But i think it was good enough to earn some compliments from the lecturers ;D Good job Mabel! Haha.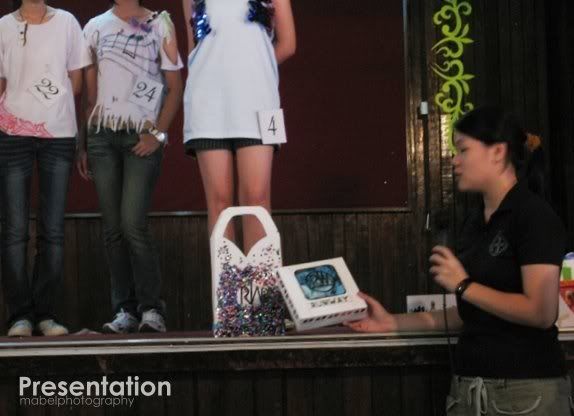 Oh by the way, the lecturer complimented my box. He liked the idea of the 'attracting attention toward the logo'. Woohoo~