It's finally the last batch of WanYee&WaiLeng's Wedding! A continuation of WanYee&WaiLeng's Wedding (P7).
I know you must be pretty bored with this right? Me too, i apologise for that ya.
The whole day of photographing may be tiring to some, but i still think it's a pretty good sport!
Aunty Elaine made these as a gift. Neat huh?
And oh, i spotted an uninvited guest glaring at me rudely. Hmm.. Sorry mate. Must have been the food? Notice it lost a leg?? Poor fella.
Julian, Hansel, TheCouple, Mabel, EeMeng.
I was drawn by the cuteness of the lil pup. Didn't know it's owner was as cute. Lol.
Look look! More photographers!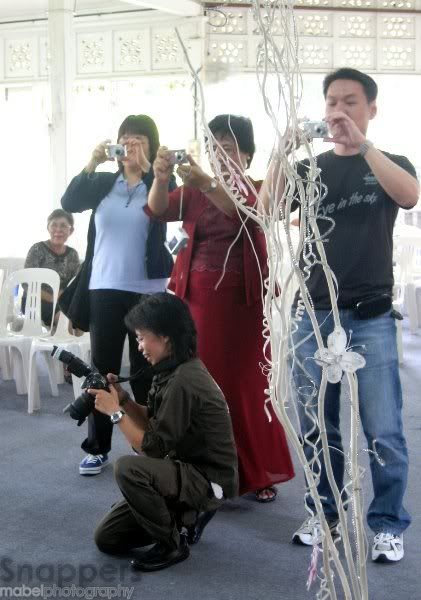 Presenting to you the family. Brother WanYee's the youngest among his family, excluding the third generation and in-laws and wife lah.
The next night was the dinner. Only managed to take one picture due to the fact that flash will have to be used indoors. Heh. No good.
Cheer all ye people! This long-winded post-chain has come to an end alas! Now, wondering what i should post next....