I must say that i was quite busy during CNY. Maybe not for the first few days but being engaged with so many events wasn't just tiring, it was fun as well! At least i don't have to rot at home, since my parents had no intentions of paying others a visit. Heh.
Sunday;
It's the first day of Chinese New Year, and obviously, spent it with my family; including aunts, uncles, grand aunts and grand uncles. The red packets started coming that night! Had it in Ben's place. Though i had my camera with me, somehow i didn't have the mood. Wasn't feeling very easy that night. I wonder why.
Monday;
Nothing happened. The only highlight of the day was probably when Julian came over sometime after dinner, with a set of anime disks (Boys Be) - old story but it's a good one, says he. We browsed through videos in youtube and laughed like dunno what. Haha. Great way to start off the CNY huh?
Tuesday;
Went to Lost World of Tambun with some of the youths. Enjoyed myself tremendously! I believe that was the most tiring day of the week, yet, i didn't feel exhausted at all. Haha. Loved the rides on the 'black hole' and enjoyed the moments i tried learning how to float - yes, i can't swim, but i'd really like to learn!
Then at night, went to Hansel's place for dinner with some church members. Had some alcohol with punch - slurps!
Didn't manage to take much pictures but i still did! Check 'em out
here
.
Wednesday;
Just went to church at night for the regular meeting. Stayed at home in the day, playing the good girl role. Hoho. Was supposed to go to Aunty Wanda's house with some of the youths to bai lin but didn't manage to find transport.
Thursday;
Went to WanYee's to bai lin, together with the youths and Aunty Wanda's family. Played blackjack and lost quite a bit. Nevermind, it was my first time. Hehe. Had dinner with Julian's family before going to the cybercafe with him and his brother - they taught me how to play Left4Dead. Nice game! My first shooting game! (I know, i'm such a first timer.)
Friday;
Went to watch Ink Heart in the morn with the youths and had lunch together at wooley.Headed to Julian's after that and played poker. Woo, i still had the beginner luck. Hehe! After dinner, went to Evon's place to bai lin. Again, i didn't have the mood for pictures, but Evon took a few.
The host who invited me over.
Half of those who came. I guess she couldn't fit 'em all in the picture?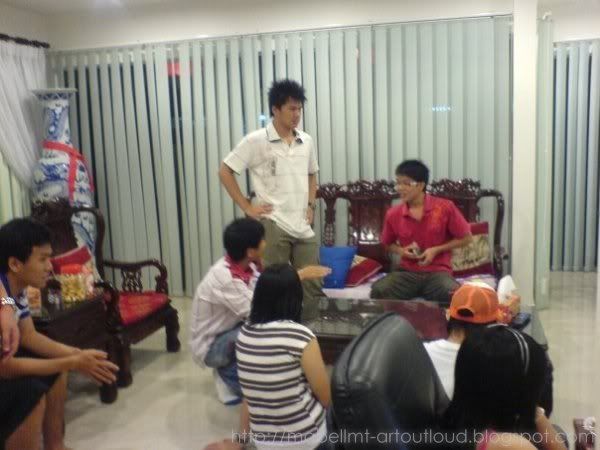 The deck of poker cards saved us from the realm of boredom.
Amelia and PuiMun, chained to the television set with loads of snacks before them. Leisurenya. Lol.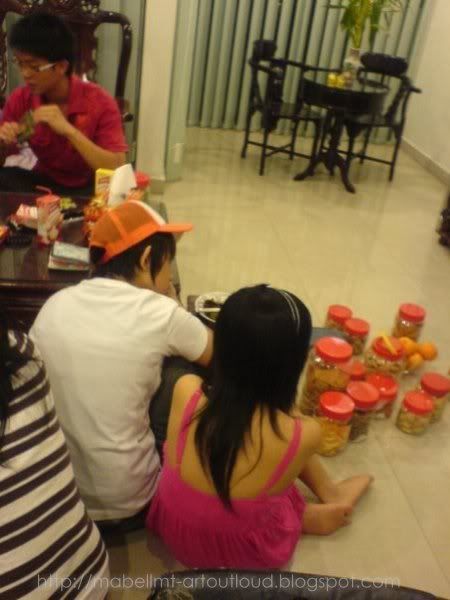 We played 'dai di' with no cash involved.
And i helped Julian out.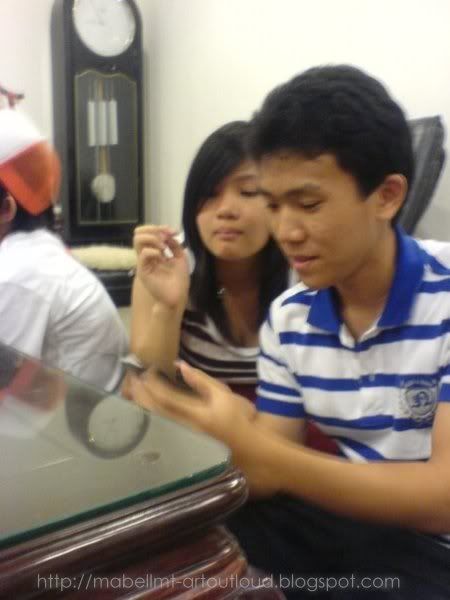 We played poker before this also. Won a bit of cash again. Hehe!
Saturday;
So much to write. I'll just keep things short.
Played left4dead + went to gym with Julian + to church for choir practice + left4dead again.
Haha. Don't worry, i'm still not addicted to that game yet. Only played it three times. Hehe.
Sunday;
Church service, lunch, left4dead. Okay, it was my fourth play. Still not addicted.