It's actually the last day of holiday for me today, and back to school tomorrow! Wasn't able to post up any pictures for the pass few days; my pictures were in somebody else's hands then. I've just gotten it back so the updates should be coming pretty soon. Hopefully, this year i can improve on my photography skills. I do hope i can try out
street photography
. Seriously, it's such an interesting sport! Needs much skills though.
Anyways, i was tagged by two people. While i get ready for my upcoming posts, just tolerate with this one ya. Hehe. *apologies.
* * *


Tag 1
by
KimberlyOng
Ten random facts about Mabel
.
`still remembers the dream she dreamt when she was three years old.
`grows horizontally and vertically much.
`the full-stop of her favorite sport (doodling) lasted since many months ago til now.
`was obsessed with poetry since three years ago til last year.
`wrote songs and thinks they are suitable for cats
`intends to unofficially get married soon - this year, when the price of my 'husband' drops.
`her unofficial husband will be a digital SLR
`she's using a cracked laptop (Hello, i'm hinting something here! =P )
`used to have two blogs before this one; none of them had any pictures - not a single piece.
`i had a twin for a few months in my mum's womb
RULES:
1. Upload 3 pictures of yourself that you find sexy/cute.
2. Not necessarily revealing, even a picture of you smiling will do.
3. Describe why you find those pictures sexy.
4. Tag 5 of your sexy friends.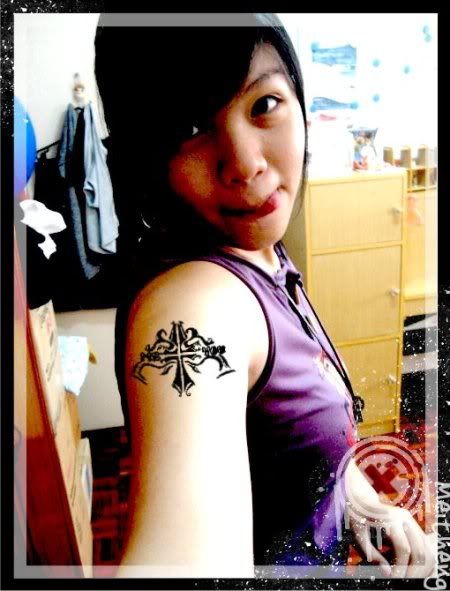 This picture is cute/sexy because : the colours made it happening? I don't know.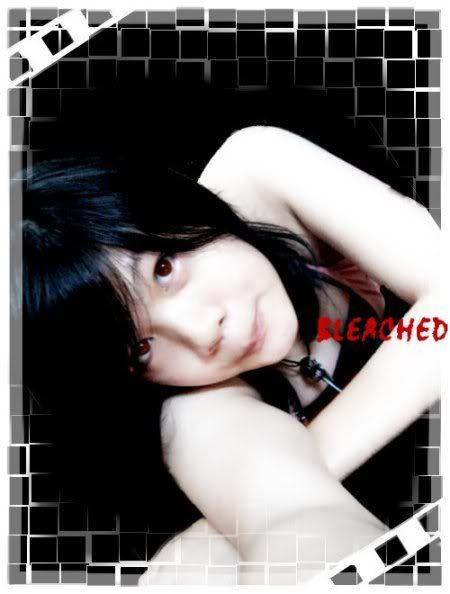 This picture is cute/sexy because : red, white and black are the main colours of sexiness? (wtc)

This picture is cute/sexy because : my husband is in my dream bubble!

Tag 2
by
Angelyn Ho
.
1. Put your music player on with all your music, then shuffle.
2. Press forward for each question.
3. Use the song title as the answer to the question even if it
doesn
't make sense. NO CHEATING!
4. With the answers, give your own comments on how it relates to the questions.
1. How are you feeling today ?
Song : Kenji (by Fort Minor).
Something like that i guess. This song speaks of world war 2. Wtc.

2. Will you get far in life ?
Song :
I'll be the one (by Backstreet Boys)

The number one i guess? Haha.

3. How do your friends see you ?
Song :
Tear Drops on My Guitar


Dude, i'm single. Lol!

4. Will you get married ?
Song :
Stuck (by Stacie Orrico)

Eh?

5. What is your best friend's theme song ?
Song : Bye Bye Bye (Backstreet Boys i think)

Oh really? I don't think so.

6. What is the story of your life ?
Song : Superman (by Five for Fighting)


Pretty much.

7. What was high school like ?
Song : Bu Tuo Bu Qian (by Sammie Cheng)
No comments.

8. How can you get ahead in life ?
Song : With You (by Chris Brown)
With God. (:

9. What is the best thing about your friends ?
Song : I Can Take You There (by Sean Kingston)

Yup. Take me here and there. Haha.

10. What is in store for this weekend ?
Song : The Last Song (by All-American Rejects)


The last days of freedom before school reopens. Sigh
11. To describe your grandparents ?
Song : Superman (by Five for Fighting)

Pretty much the same as i am? Lol.
12. How is your life going ?
Song : Stop and Stare (by One Republic)

In a way, yeah.

13. What song will they play at your funeral ?
Song : Cassis (by the Gazette)

Uhh? No one will understand. XD

14. How does the world see you ?
Song : So Simple

I hope so. (:

15. Will you have a happy life ?
Song : Shine (by Take That)

Haha. Sounds possitive!

16. What do your friends really think of you ?
Song : Just a little blue.
Really? Not navvy? *looks at my blog skin. Haha.

17. Do people secretly lust after you ?
Song : Don't Play with Out Love (by Craig David)

They think that i'm taken? >.<
18. How can I make myself happy ?
Song : Kenji (by Fort Minor)
Being a soldier?? What the... No way!!

19. What should you do with your life ?
Song : No You Hang Up (by Shayne Ward)
I don't point fingers.

20. Will you ever have children ?
Song : Say (by Ryan Cabrera).
What ever he says i guess? LOL

21. What song would you strip to ?
Slow song? So i'm supposed to strip slowly? Nuts.

22. If a man in a van offered you candy, what would you do ?
Song : Love Like This

Yup, encourage him to give me more. XD

23. What does your mum think of you ?
Song : Back For Good (by Take That).
I feel like a good girl now. Hehe.

24. What is your deep dark secret ?
Song : Over It (by Katherine McPhee)

Never under it. XD I have no idea what i'm trying to say.

25. What is your mortal enemy's theme song ?
Woo... so catchy. XD
26. What's your personality like ?
Song : You are My Everything
I appreciate everything.
27. Which song will be played at your wedding ?
Song : The Way That I Love You (by Ashanti)
.


I reckon he would have another bride if this song was played. =.=

* * *

I'm tagging whoever that feels like doing it, cause i've no idea who has done it or who doesn't like tags.