Hello all! I'm still feeling kinda tired from the overloaded tasks that i had to do for the past few days. I had an intense preparation for the Sam Tet gathering competitions for girl guides and scouts. Then, at the same time, i had to rush for the completion of a booklet for the upcoming Christmas concert, which was only a week away. Now, my next task is to rest!
Here are some pictures from the gathering; theme: Haunted Mansion. The pictures were poorly taken, though.
This mansion, designed by me. Couldn't have completed it without CheahKee and TengKuan's help. And not forgetting JuEan, who willing stayed up through the night at my place to complete this. We both we awake for 28.5hours, by the way. No rest, just kept working and working. *pooh*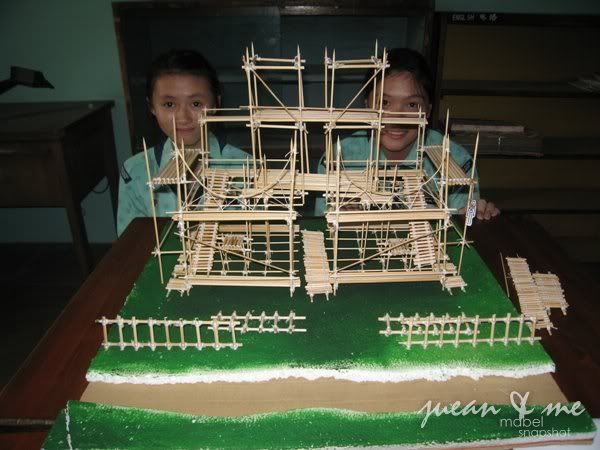 We had to build another four more mini gadgets on that day. Reminder, not that we didn't have enough sleep, we didn't sleep at all! So yeah, pardon the flaws.
I couldn't think of any decoration, which bares 10%. So i drew and hung this. Haha.
This was dinner. Edible, but i didn't like it. The spoon could have tasted better.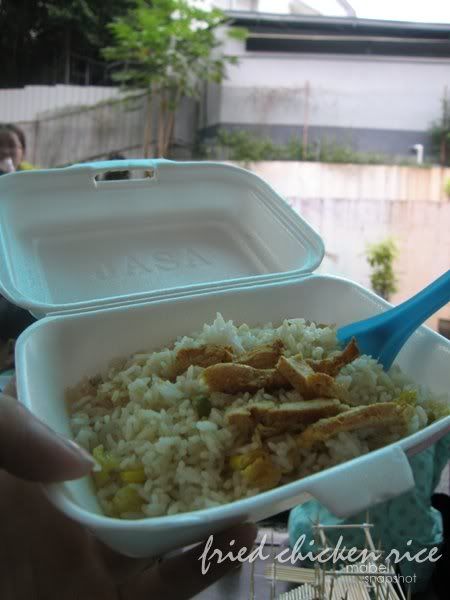 The gathering was held in the Yuk Choy hall. The primary one. As for the competitions in the day, such as backwoodsman, mini gadgets, marching, modern cooking; were held in the Sam Tet primary school.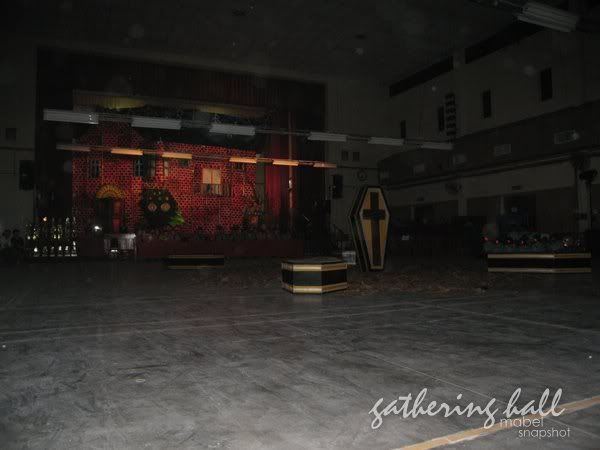 The hall wasn't bad. Love the stage a lot!
Now, presenting SMC's banner! This is the 'first' look. At the second look (which i didn't manage to take a picture of it), is way better than this plain one. When the coffin is opened, you will see a dragon/dinosaur fossil behind it, glowing when the light shines from the back!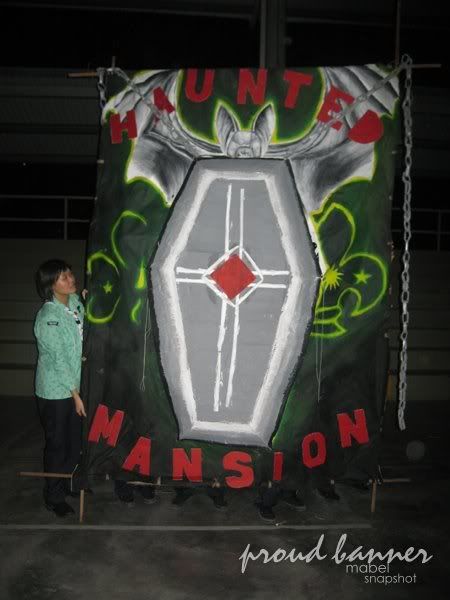 The banner wouldn't have completed without the help of Angelyn, SookYee, Adeline, JuEan, PuiMun, and others who helped. Thanks a lot!
There were other contestants too.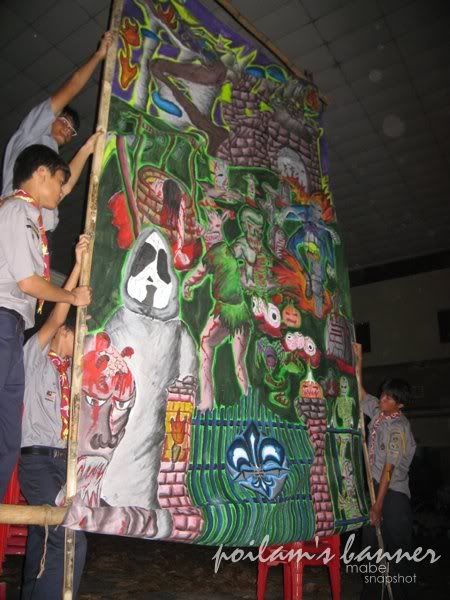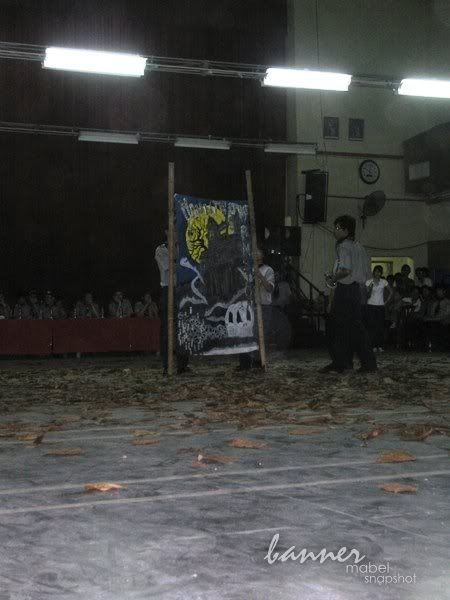 There was the costume design competition too. We didn't manage to join though. But i was sure, if we joined, we could have easily grabbed the winning trophy!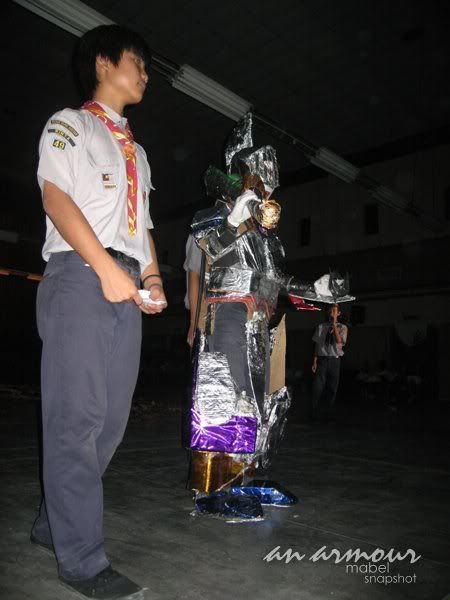 I like the blue spotlight effect in this picture. Very solitary. Would have looked better if the warrior was clearer.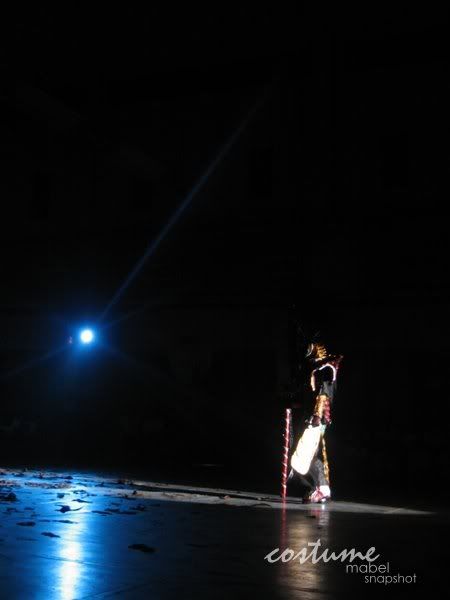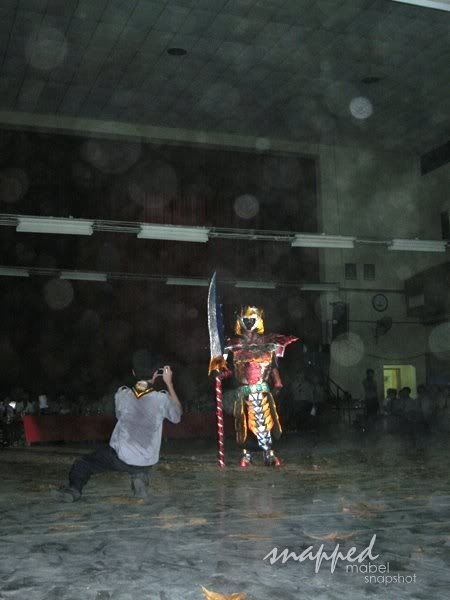 Presentation. They had to explain how the costume relate to the gathering's theme. Nicely done right?? Sadly, they didn't win. Didn't have enough relevance to 'Haunted Mansion' i guess?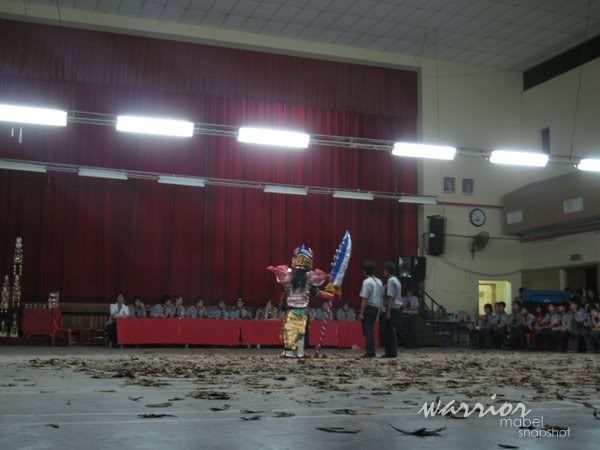 The music boomed real loud as we all danced and jumped, despite how worn out and tired we were. Crap, there were water vapour on my cam's lens!
The cutting of cake - i smell the use of much cash here.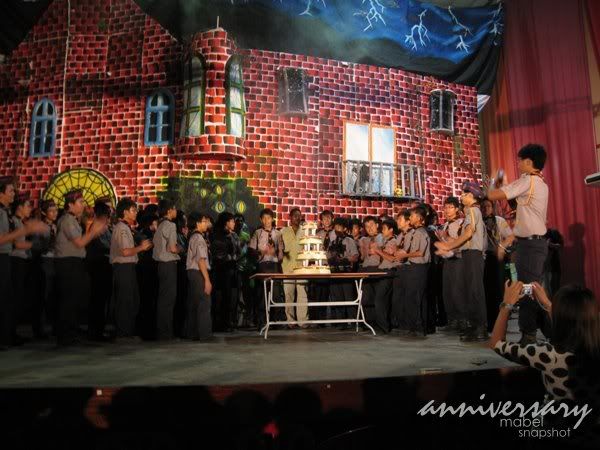 I can finally rest in contentment! I never thought we could have gotten this since the other school's banner were actually not bad!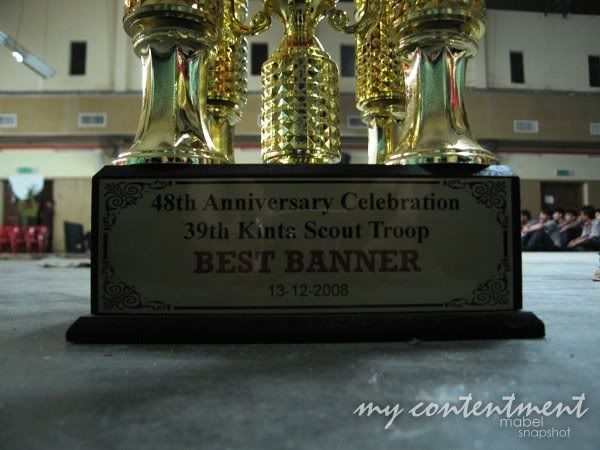 Nah, we didn't get the overall. I think we could have if we managed to join the costume competition, but nevermind. We joined three competitions; banner, marching, minigadgets, and all three made us proud!
The overall champion goes to Poi Lam scouts. Congratulations to them, but they should watch out next time when MC's around.
That's all for today. I'm feeling a very tired already. Pooh.
By the way, Happy Birthday once again to Aaron!