It was all most hectic on the last few days of last month, also on the first and second of November! Tension, stress - invading all peace and persecuting rest!
Representing the Art & Creative Club (SMC, Ipoh), me and JuEan decided to raise some funds for my club with no reason by selling bookmarks; handmade glass-painted bookmarks, that is, for two ringgit each. After collecting all the necesarry items, tools, designs, etc. we started working real hard. Why? Because we only had
two days
to get
400 bookmarks
done! I even had to stay over a JuEan's.
Yes, only two of us doing all these work. We couldn't ask for any help from the other members since they too are busy preparing for some competition, representing our club. So we had to cut our resting hours and start painting!
Glass paints.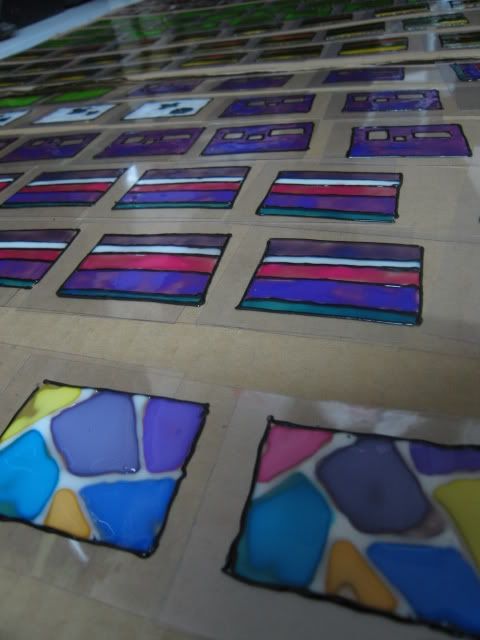 My designs. In the drying process.
On the first day of work, we started at 8pm - 3.45a.m. That's 7hours and 45minutes all together. Of course, we didn't fail to get up at 6.45a.m. and prepare to go to school. The only thing we couldn't do was to recover back our energy. Never mind, we thought. There's still one more day.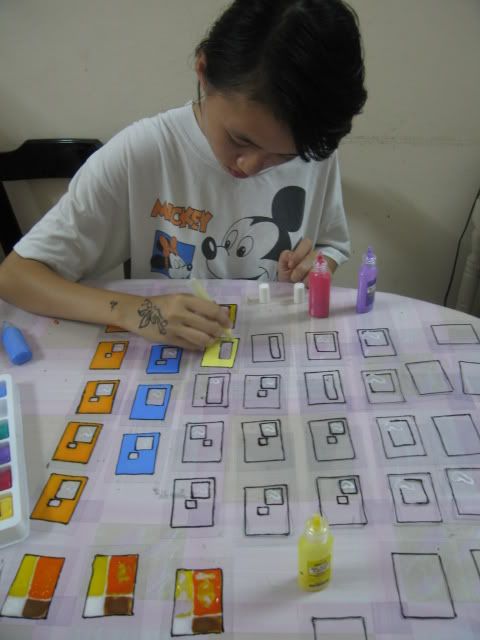 JuEan; still workin' on it.
Didn't do a single thing in school because we couldn't. I followed JuEan's school bus back to her aunt's and managed to boost up a little bit of energy with a short nap. Back at home, it was around 3.30p.m. Bath and back to work. Work, work, and work!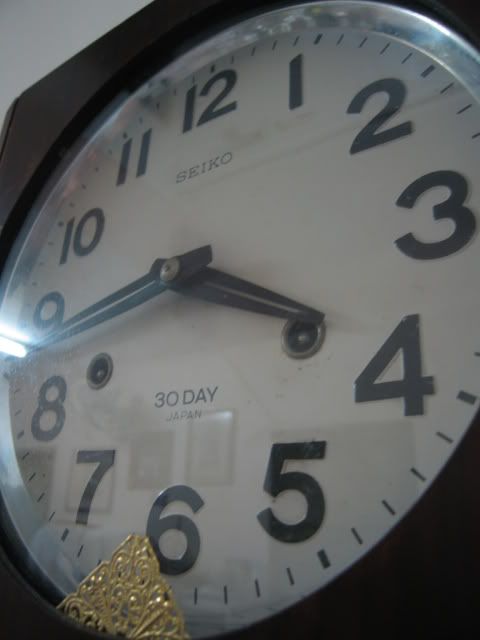 So early.
Glass paints are transparent. Nice?
For display's purpose.
Now, we didn't get to complete 400bookmarks, but we managed to produce 312pieces after 15 hours. The times reads 5.30a.m. and we're supposed to be in school by 7.30a.m. Crazy right?
I was seeing double then, but somehow managed to plurk before i start snoozing. Argh.

7.45a.m. Slightly late to school (not bothered). Opened our little corner at the school's Lower Hall. JuEan took over the bookmarks while i set up my tattoo booth.

RM1 for each tattoo that can last for 2days, drawn on-the-spot, by me. I drew
103 tattoos
before shutting down our shop at 3p.m!
Faints
.
It wasn't easy, you know. The customers just came one after another. I had cold sweat when i saw the existence of a queue in front of my booth!

Double faints!
I recharged my 'batteries' once i reached home. Woke up at 10pm to have dinner and snoozed again. Zzz.
It doesn't end here, sadly. Had to wake up at 7.30a.m. the next day.
Cries.