My final examinations are finally over! Miss my blog so much!
I went to Johor on the 11th of October, which was the second week of my finals. Had to miss some of my subjects because of this. Good thang the head allowed us to take the exams later. Anyways, i took lots and lots of pictures with dad's
Canon PowerShot S80
! Even made a few friends there!
I don't want to write too much. Would like to keep the space for the pictures. So i'll just keep it short.
We had to reach school at 4a.m. that Saturday. Slept over at Ju Ean's house and followed her car there. The bus headed off to Anderson at about 4.30a.m. to pick up the Andersonians before shooting off to Johor. It was almost 12hours before we reached there. These were some of the pictures that i took on the first day.
After the briefing we went to our respective homes.
After unpacking our stuffs, we went for a walk.
Unfortunately, my teacher exchanged my place of stay with hers because she thinks it's more cosy over at my place. This was her house.
Helplessly, we began unpacking our stuffs once again.
But the good news was that we had a proper place to do our studies. Haha.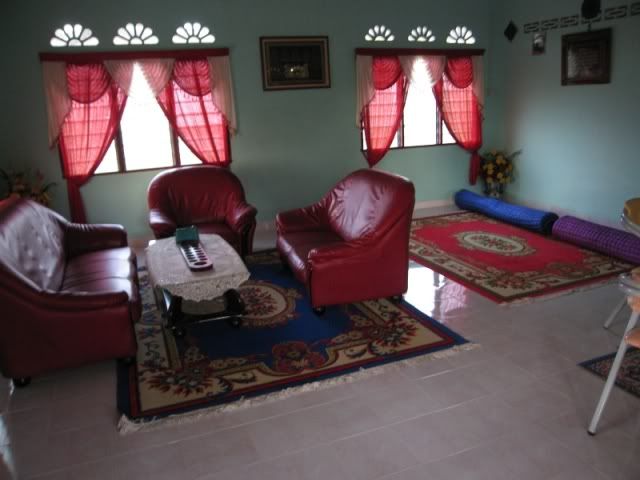 Notice the purple and red mattresses on the mat? That was where me and three of my other friends slept. Didn't want to sleep in the room where we placed our bags in. Too stuffy and small.
There was even the congkak! It really did help make our study hours less boring.
This was where we had our meals. It looks similar with the japanese tables.
This is where our foster parents would spend most of their time at. They hardly enter the hall, unless to greet or chat with us.
The father's about 75years old; fit and was soldier during the Japanese invasion! Now how's that! They already have 24grandchildren, only one unmarried son if i'm not mistaken. They were most kind to us. The food was fine and it was very cooling there, especially at night. But i must say that the mosquitoes there are ten times the size of Ipoh's! Man, those lil sucking beasts can really drain the blood outa you! You can't shake it off or blow it. Smashing it is the only way!!!
Because of that, the father had to close all the windows and doors when the clock hits six. We even used the shieldtox. And the routine went throughout our stay. Good thang our sleep was most peaceful. Haha.
Stay tune for my next post: Johor Trip Part Two!